Staying in a yurt can be great adventure if you are on a camping or glamping holiday. You can use yurts for a variety of other purposes including events, a fair or exhibition, or even on a movie set.  If you have land, they're an affordable way to add space for guests or other purposes like an office, yoga or mediation space.  Given the temporary nature of these structures, it often makes sense to buy a used yurt for the time you'll use it.
Buying a used yurt makes a lot of sense when you only need it for a temporary purpose, or if you plan to use it longer term but are looking to save time and money.  Numerous places sell used yurts online and offline. A thorough search and you'll find used yurts to suit your needs and budget. We make your task easier with information on the best places to buy a used yurt.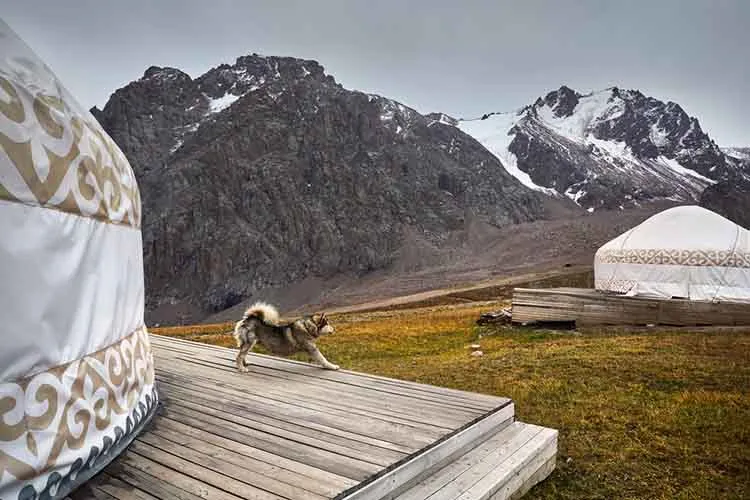 Best Places to Buy a Used Yurt Near You
It might surprise you how many people buy used yurts. The result is that you can find countless sites advertising them  – some sites sell both new and used yurts.
Although most of the information here feature online sites, you can get the physical addresses and visit many locations to inspect the used yurts. Here are some of the major websites offering used yurts:
Yurt Forum Classifieds is a useful platform to bring buyers and sellers of yurts together. You will find a lot of information on used yurts on this website. The sellers provide the essential details of what they have to offer. You can get in touch with the seller and arrange to visit the site to inspect the yurt if you live near the seller.
For better access to the information on the website, you can register by providing your basic details like name and email. If you register, you will also be eligible to receive alerts regarding yurts for sale.
eBay is a household name and many have used them to buy and sell a wide variety of items.  But you may not have realized they deal with yurts too which you can find in the filters.  Being eBay, there is a large volume of used products, so you can generally find a wide choice here. You might have to search through a variety of camping gear including tents among the yurts.
Yurt Market is one of the most comprehensive classified sites for finding used and new yurts. It's free and because it is dedicated only to yurts, you can find the widest range of yurts to suit various requirements. Each listing contains a link to a web page that provides all the seller's details including their location on Google Maps.
Alibaba is another e-commerce tech company that has been around since 1999. It is a good place to find used and new yurts. However, with this website, you need to register if you want to communicate with the seller as communication is done through the website only.
If you're looking for an American portal to buy a yurt, then Colorado Yurt is a good place to start. You might have to sign up to get better access. Although the choices may be limited, it's worthwhile to register with this site and keep looking for updates if you don't find what you are looking for immediately.
Another good feature of Colorado Yurt is that you get a lot of information regarding yurts. When you sign up, you get access to great information, what to expect from your yurt, how to set it up, tips for using it, and so on.
Another American yurt-selling site where you can search for a used yurt.   They have more new product than used, but a good site to keep your eye on if looking for used product which comes up from time to time.  Also a great resource for with a comprehensive FAQ section that provides information about yurts.
Used For Sale is a great site to search for used items, camping gear, and even used yurts. Because the company specializes in pre-owned products, you have a good chance to find a used yurt here. You don't have to register if you are a buyer but you need to communicate with the seller via email via through this portal.
Used For Sale features both overseas and American sellers so you need to ensure that the address is convenient for delivery purposes- the complete address details for the seller are provided.
Because Etsy, Inc. is an e-commerce company that specializes in hand-crafted products, it is an ideal place to look for largely handmade yurts. You will see a wide range of yurts on this site if you search.
Each product usually has multiple reviews, so you can get an idea of the quality of the yurt being offered and the firsthand account from users. Pay special attention to the bad reviews, to see both aspects of the products being offered.
The emphasis of Tiny House Marketplace is of course on tiny houses and mobile homes. But you can also get some good deals on used yurts on this website. A drawback of Tiny House Marketplace is that they don't remove listings that have expired or where the item has been sold, although they will update the status. So, when you browse through this website, ensure that the status is active.
Facebook Marketplace was launched in 2015 and is a trusted platform for buying and selling used products. Using keywords like "camping," "glamping," "hiking," or "outdoor activity products" will return results on camping accessories, and with a bit of searching, you might see some used yurts for sale.
Of course, you need to be registered with Facebook, but most of us have a Facebook account so that shouldn't be too much of an issue.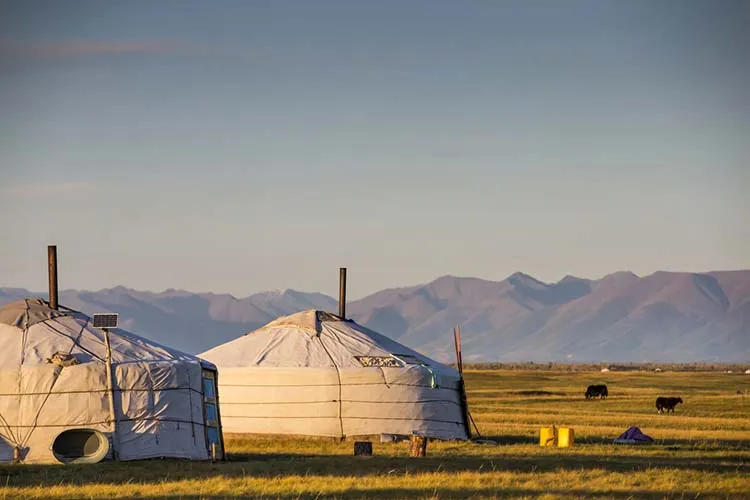 FAQs
Once you find your yurt, you might have more questions on where to go from here. Some of the commonly asked questions for people buying a yurt:-
Can you install plumbing in a yurt?
You can install plumbing through the floor of your yurt. If your yurt has partitions, you can also install in inside the walls. You can use standard fixtures if your site has existing plumbing and septic hookups. But if you're off grid, you would need alternative systems like composting toilets and so on in rural areas. Contact a local plumber for professional guidance.
Are yurts portable?
Many manufacturers produce yurts of high-end materials that might not be portable. If your yurt is a basic model, you can transport it and set it up easily. But generally speaking,  a yurt is different from a bell tent or other camping tent that can be constructed as a pop-up structure.
Can you install electricity in a yurt?
Yes, you can install electricity in your yurt  – this can best be done by pulling electric cables through the flooring of your yurt. The outlets can either be flush mounted on the floor or the partitions if your yurt has them. Use a professional electrician to install your electricity for the best results and optimum safety.
What are the different types of yurts?
There are two basic types of yurts – traditional and modern. Traditional yurts are lightweight and feature natural materials like wool and leather. They are quick to set up but low on durability.
Modern yurts have superior materials and are more structurally stable. Their design makes them withstand extreme weather conditions. You can also add more comfortable amenities to a modern yurt like separate kitchens, bathrooms or even connect two yurts for a bigger space.
Does a yurt require a foundation?
Yes, unlike camping tents, yurts generally require foundations. It is essential to seal off the interior from adverse weather conditions. The foundation can be made of concrete, wood, or other composite materials. An experienced carpenter can help you install a foundation for your yurt.
Living in a yurt can be a great adventure base camp for connection to the outdoors and Mother Nature.  If you are shopping for a pre-owned yurt, there are many great resources to search for your dream structure.