For outdoor enthusiasts looking to escape into nature in comfort, structures like bell tents and yurts are great options. They provide a base camp to the outdoors with luxury and coziness.
Both provide an elevated experience in the outdoors and both can be temporary structures.  They are often found in glamping resorts to provide a luxurious experience in nature.  They are also used at cabins to add extra sleeping space for guest or for events and parties.
If you are considering a Bell tent or a Yurt, you might be wondering what the difference is between the two. While the two structures are often confused, there are some notable differences between the two. We break it down here for you.
What is a Yurt
The history of yurts dates back centuries.  They were originally used in Central Asia by nomadic people to provide shelter that could protect them from weather and wind as they were strong and durable.  But they could also be moved and transported to a new location with relative ease.
A traditional yurt is made of a circular wooden frame in a lattice pattern held together at the top by a wooden ring.
Today, yurts have gained in popularity for people seeking affordable accommodations – both for a primary home or as a vacation home.  They are often used as more permanent structures erected on a wooden platform. While they can still be dismantled and moved, they are often customized with modern conveniences and serve as a base camp at cabins and resorts for a luxurious experience in the outdoors.
Modern yurts range from simple structures that closely mimic their historical roots to more elaborate structures that include all the amenities we expect in our modern homes including plumbing, electricity, and other conveniences.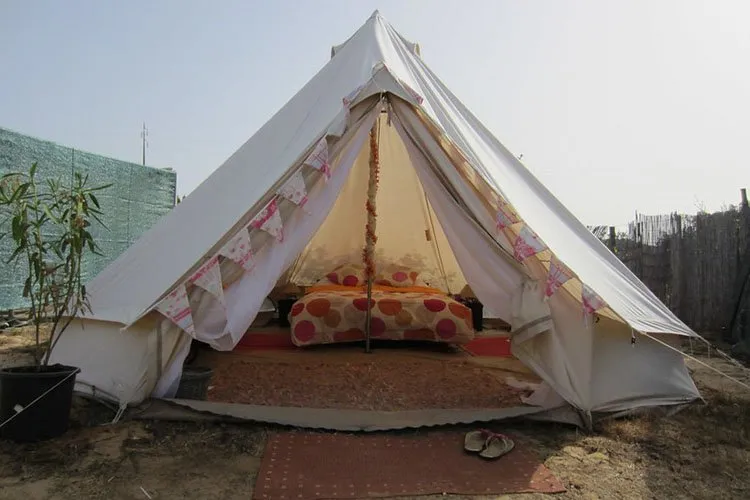 What is a Bell Tent
The bell tent design is inspired from the Native American design of a tipi, although the roof is held up by a single center pole instead of several poles crossing in the center to make the structure. The Bell Tent design was first used by European militaries as far back as the 9th Century, and the design was in regular service with the British Army by the Crimean War (1853-1856).
The bell tent is constructed from rugged and tough canvas and a single center pole to provide spacious accommodation.  The design was used in both world wars for bunk rooms, make shirt hospitals and storing supplies.  They were easy to erect and take down.
Bell tents are easy to move and don't require a platform or flat ground making them easy to set up for camp.   Unlike a yurt, they don't have walls or flooring.
Today, bell tents are popular in glamping resorts, and are used for weddings, events and parties.
What are the Main Differences
Construction
Yurts –  are made using a circular wooden frame in a lattice pattern held together at the top of the structure by a wooden ring.
Bell Tents – are made of rugged canvas and a single center pole to support the structure. They are also reinforced using guy ropes around the top of the walls. The exterior is usually pegged to the ground to keep it stable.
Foundation
Yurts – while they can be erected directly on the ground, they are typically built on a platform to make them more sturdy and weather resistance.  Platforms can be constructed from wood or concrete.
Bell tents – are usually constructed directly onto the ground without a platform making them less secure but easier to move.   A platform can certainly be used if they are erected for a more permanent use.
Size
Yurts can be scaled to any size as they are circular in shape.  The design remains the same but can be extended to any size to accommodate larger families and groups.  You can also connect two yurts to maximize living space or to add separate rooms like kitchens or bathrooms to the main living space. Yurts also feature higher walls and a domed roof so they are comfortable and spacious to live in.
Bell Tents are generally used for smaller groups – 2 to 4 people.  They are perfect for a spare bedroom or a place to gather or just chill.
Simplicity
Yurts take longer to build and take down than a bell tent.  They're also harder to move than a tent.  While they can be relatively simple to build, they're more elaborate than a tent.
Weather Resistance
While a bell tent is certainly sturdy, constructed from tough canvas, it's not going to withstand the same elements as a yurt structure due to their design difference.  Yurts are built to last and are can be used as permanent homes.
Walls
Yurt walls are formed from the lattice pattern and provide a sturdy interior for the yurt.  Interior walls can also be constructed and added to create separate spaces including bedrooms, bathrooms and kitchens.  Walls make the yurt a more permanent structure vs a tent.
Windows and Doors
While both structures can accommodate windows, yurts can utilize high quality windows that are energy efficient.  Windows can be large enough to meet building codes for egress.
Yurts also have front doors that can be customized from a standard canvas door to wooden doors and other upgraded door options.
 

View this post on Instagram

 
Roofs
Yurts have a domed or conical roof which is created with a circle at the crown and rafters radiating down to meet the walls. There is generally a circular hole at the top which functions like a skylight.  It can also be used for a stove chimney.
Bell tents do not feature roofs due to their shape and structure, they are more comparable to a tent.
Modern Conveniences
Yurts can be customized to make them as comfortable as any modern home – including plumbing, electricity and kitchens.  While they can remain relatively simple structures, they can also serve as year-round homes with heating and modern conveniences.
A bell tent will not support these types of additions.
Budget
The cost of bell tents and yurts can vary depending on size, customization and options.  Bell tents can start as low as $500, while a basic yurt will be around $20,000.
Finally Word
Both bell tents and yurts can provide a comfortable shelter in the outdoors depending on your budget and what you use the structure for. Consider all the factors when deciding between the two.
Bell tents are simpler and easier to erect and take down. Yurts can be customized from a basic structure to a family home with modern conveniences.
While they have key differences, both structures can provide a cozy and homey retreat in the outdoors. Which is better? That will depend on your needs.