What are Yurts?
Are you looking to escape civilization and the hustle and bustle of everyday life? Then, you should consider a yurt. Yurts offer the shelter of a tent structure but with better support and insulation with customizable options.  A circular structure with a collapsible wood frame and fabric coverings, yurts provide a large open living area.  The circular design allows the yurt to scale to large sizes, and the portable home was primarily used by the Mongolian nomadic tribes of Central Asia.
They are typically constructed of lattice walls and roof poles that attach to a center ring, known as a crown. The crown remains open to circulate air, and the main living space is used for beds, wood-burning stoves, or other furniture. Modern and traditional yurts are built with the same design, but they differ in building materials.
How are Yurts Different from Tents?
Similar to tents, yurts can be put up or taken down as temporary structures.  But yurts can also be constructed to provide a more permanent shelter.  They are often used at cabin properties to provide additional sleeping space and privacy.
They are more structurally sound and offer more sleeping space compared to a tent.  Yurts can be equipped with beds or futons instead of sleeping on the hard ground.  Modern yurts have real windows and doors, while tents have them built into the structure.
Yurts also provide more protection against the cold, wind, and extreme weather so is a better option for all seasons.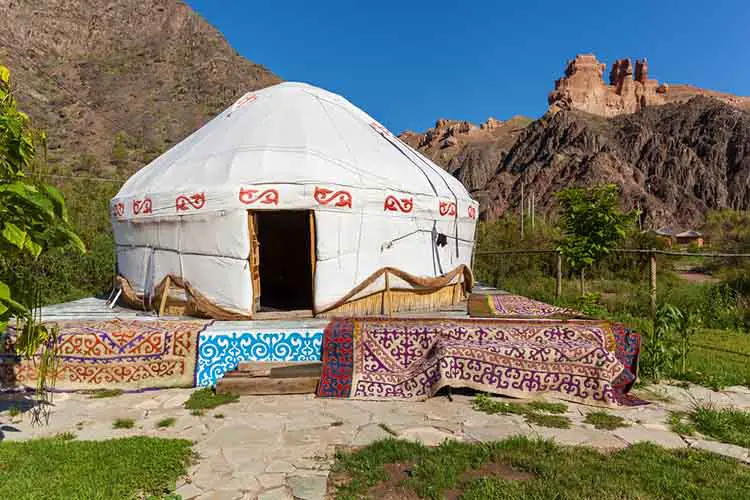 Traditional Yurts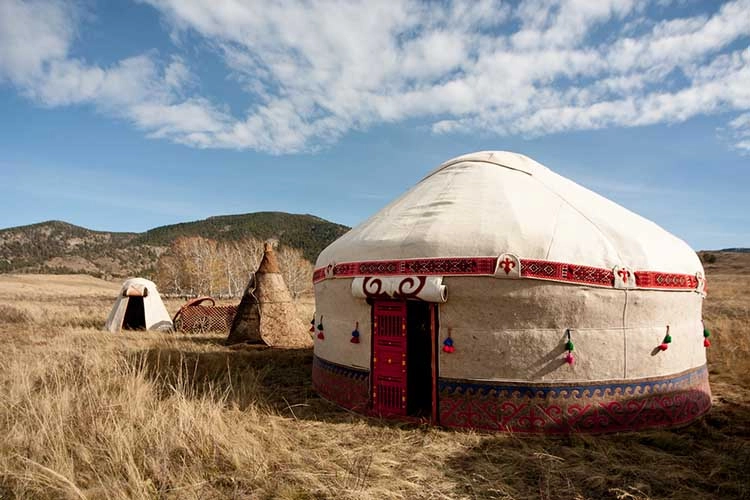 Traditional yurts look similar to a circus tent and were traditionally white with a red wooden door. Carpets covered the floors, and a wood-burning stove was in the center. The lattice walls were divided into transportable sections or khanas. They were usually made out of animal hair and formed in a circular shape. The khana is then placed into an upright position over the covering on the floor. Traditional yurt roofs were complex, and the crown was placed on support posts or baganas. Crowns are passed on from one generation to the next. They still have a large cultural identity in Central Asia and remain a popular housing option in Mongolia.
The interior of the traditional yurt was for different people. The men and all of their tools occupied the eastern part of the yurt while women occupied the western area. Women also set up their kitchen area, where a vibrant fire burned in the center. The northern section of the yurt was generally unoccupied by the inhabitants and reserved for honored guests. The traditional yurt's design was best for large and open grasslands.
Pros and Cons of Traditional Yurts
Traditional yurts are lightweight and effective for the nomads who moved frequently. They could be easily assembled and dismantled, and the frequent moves allowed the flocks to have access to lusher pastures.
The circular shape was ideal for bracing wind, but it was not for temperature control. The internal temperature of the traditional yurt could fluctuate dramatically based on the outside temperature.
Thin walls and insulation also created a noisy interior.
 

View this post on Instagram

 
Modern Yurts
Modern yurts are becoming a popular option in the western world. The circular structure and design of modern yurts are similar to traditional, but there are some key differences.
First, modern yurts usually have a metal frame that is covered with fabric instead of felt, or you can also choose other high-tech materials such as aircraft cables to solidify the construction.
Second, they are not designed for frequent moving, but they offer more luxurious options such as plumbing or French doors.
They are well-designed with insulation to withstand extreme temperatures and wind so they are better options for all seasons.
Modern yurts are popular for the glamping trend.  They create a unique and cozy experience for guests or visitors.
Pros and Cons of Modern Yurts
The modern yurt offers a significant upgrade to traditional options. Modern yurts can be fitted with electricity and heating elements or customized to fit your specific needs.  Fans and insulation also allow modern yurts to control internal temperatures better.
However, the additions to the modern yurt mean that assembly can take several days instead of a few hours.
Modern yurts are extremely durable, and it's also a good option for tiny house living. They can brace the elements from extreme rain to heavy snow.
The circular style of living of yurts allows you to connect with family and friends intimately. A yurt is a middle ground between a traditional living space and a camping tent. You still may have to deal with the elements of nature, including insects or other animals.
Plumbing is a challenge with modern yurts since you'll need to have electricity run through the walls. Remote areas will have to rely on a composting toilet system.
The openness of a yurt does not allow for much privacy, especially if you have a larger family.
Modern yurts also do not offer a lot of storage space, but the goal of being in nature is to live a simple lifestyle.
The Bottom Line…
Whether you are looking for a weekend getaway or a longer-term living arrangement, the yurt offers a different experience from traditional brick-and-mortar living. There are several opportunities to personalize your yurt to your liking for an awesome glamping experience.
The history and tradition of the yurt can be brought alive into your living space. You'll have the feeling of living in an ancient civilization with the comfort and safety that a yurt can bring. They can be expensive or budget-friendly depending on your project – whether you're handy and building yourself or choosing options from a kit.