Yurts can provide a unique and adventurous year round home or serve as a temporary base camp to outdoor recreation and nature.   Before you consider yurt life, there are many pros and cons to living in a yurt.
If you are considering building your own yurt, there are a number of ways to tackle this project.  You can buy a yurt kit, hire professional builders or you can build it yourself.  If you are thinking about building your own yurt, your first question is probably what components and materials are required.  Most yurts are made primarily of wood – but which type of wood is best?
The short answer is there isn't one type of wood that is best for building a yurt, but some are recommended more than others.  In this guide, we'll provide information on the components of a yurt and how to select the right materials for building your own yurt.
Background
Yurts have a long history and have been around for thousands of years.  They were first used in Mongolia where nomadic people used them as they could be relatively easy to transport but were also strong enough to withstand extreme weather and wind.  The traditional Mongolian yurts were typically red and white and don't look radically different from today's modern yurts in terms of design.  But modern yurts have come a long way in functionality and aesthetics – with many including modern conveniences like fully equipped kitchen and modern bathrooms with electricity and plumbing.
Yurts can be build from one of the many yurt kits available on the market.   However, many enthusiasts prefer to build yurts themselves from scratch.
 

View this post on Instagram

 
The Components of a Yurt
Although a yurt is a simple structure that can be as basic or luxurious as your budget allows  – they all contain the same 6 critical components. Let's take a quick look at the various parts of a yurt:
Platform or Base
The platform is the foundation that the yurt stands on.  While a foundation may not be necessary with a temporary tent structure, yurts used for permanent or semi-permanent living are built on a wooden structure to elevate it from the ground.  This protects and enhances the longevity of the yurt.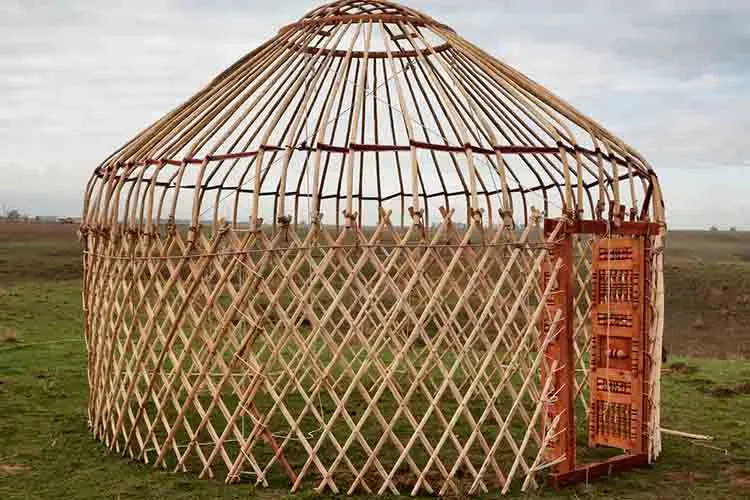 Lattice Walls
The yurt structure is made of lattice walls – also known as khans – that support and shape the yurt forming the circular structure.  The lattice walls are made of wood and there are several options that can be used.
Rafters
Rafters are used to match the number of points in the lattice walls and they attach to the compression ring at the top end.  Equally spaced rafters make up the frame of the roof.
Toono (Dome) or Compression Ring
Mongolians consider the toono the sacred part of the yurt where the earth connects to the sky. It is the highest part of the yurt and a critical component of the yurt construction.  The rafters attach to the compression ring which is usually covered with a round skylight or cover to keep the elements out.
Door Frame
There are a variety of different doors that can be used in a yurt from a basic canvas fly to an elegant door that might be found in a traditional home.  The purpose of the door frame is obviously for hanging the door but it also provides a spot to attach the ends of the lattice wall and secure the frame.
Top and Side Covers
The inner cover of a yurt, usually made up of several layers, provides insulation against the weather. The outer cover of the yurt uses fabric to cover the roof and walls with weatherproof material such as heavy canvas.  Traditional yurts used wool to cover the yurt structure but today's modern yurts are built with durable and long lasting fabrics.  Yurt covers may need to be replaced after a number of years.
Best Wood for Yurts
Wood is generally used for the main structure of the yurt as well as the platform, flooring and even the footing.
Best Wood for Yurt Platforms
The platform for your yurt is generally made of wood. – similar to what you would use for outdoor decks. Here are some popular choices of wood for this purpose:
Cedar
Cedar is one of the best options and is also cost-effective. It is durable and resistant to moisture. Cedar is soft so easy to work with and it has a natural to rot and insect attack. It is also dimensionally stable so you are less likely to get any warping, twisting, or cracks if you use cedar for your yurt platform.
An added advantage of cedar is its good looks with its attractive wood grain pattern. You will see intermittent knots which impart an added rustic appearance.
Redwood
Redwood is another great wood that you can use for your yurt platforms. It is also durable like cedar in terms of resistance to moisture, insects, and rot. Redwood contains natural oils and tannins which give it its characteristic color and durability.
You will need to maintain redwood every year or so but you will get satisfactory results by using redwood for your yurt platform.
Tropical Hardwoods
There are many durable tropical hardwoods that you can use like mahogany and Ipe and even teak. But there are a few downsides to choosing tropical hardwood. Firstly, especially teak is not easily available. Secondly, they are the most expensive among all the other woods. And, finally maintaining tropical hardwoods can be challenging.
Decking and Subflooring
For the decking and sub-flooring of any outdoor structure, pressure-treated wood is one of the most popular choices because it doesn't come into direct contact with the soil so eliminates erosion from the earth, water or other sources.
Other wood for decking and subflooring could be spruce, pine, and redwood. Although these options might be more expensive, they tend to last longer.
Best Wood for a Yurt Structure
The core structural components of a typical yurt are the round walls of the lattice, the central poles, and the top dome. The central part of the top dome would be left open to be covered by either some transparent polymer or translucent material.
Traditionally, all the structural materials of yurts used to be made of tamarack or Siberian pine. But nowadays, you will see yurt builders using different types of wood like Douglas fir, willow, poplar, birch, and even bamboo. Willow is known for making lattice walls due to its high flexibility.
Doors and Windows
You can use a variety of weather-resistant woods for doors and windows. You will not find hinge-fitted windows that commonly in a yurt. Some modern yurts feature this as well. For the door particularly, you can use air-dried chestnut wood. It may not match the quality of teak but can prove to be durable over time.
Chestnut is good rot-resistant wood and also resists insect attacks. Incidentally, because people prefer chestnut as a preferred choice for fence posts you can use it for the vertical members of the yurt.
For yurt doors, another suitable choice is Douglas fir but you need to watch for insect infestation. Finally, you could also use ash which is a fine choice except that it tends to blacken with age which necessitates the application of a suitable finish to the wood.
As you can see, there is a variety of different types of wood that you can use to make a yurt. The type of wood may vary from one component to the other. Then again, a lot depends on personal preference.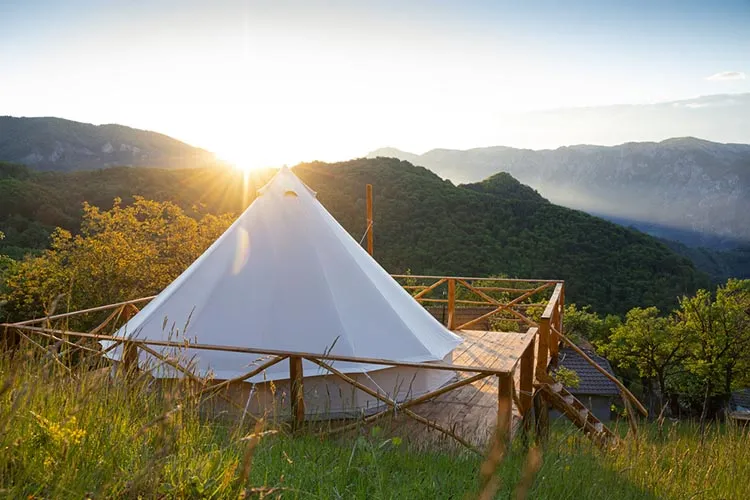 FAQs
What do we usually cover yurts with?
Although people have experimented with using synthetic fibers, natural cotton canvas has proven to be the best covering to use for the outer shell to protect a yurt from the elements.
Do yurts cost a lot to build?
The expenses involved in buying a yurt can vary between $7,500 and $35,000 if you build it yourself. It works out cheaper than if you get a professional to build it for you. But there is almost no upper limit to how much you can pay for some of the bigger, high-end yurts.
Are yurts waterproof?
The insulation in the walls of a yurt is made of felt and wool, which is not waterproof. However, we usually make the outer covering from a waterproof material like canvas.
Can a yurt be air-conditioned?
Yes, you can put a window air-conditioner in the additional door of a yurt. You can also use a free-standing air conditioning unit. You can use these units for both cooling and heating.
What is the best way for preventing mold in a yurt?
Using a wood-burning stove can keep the interior of a yurt warm and dry, preventing mold from developing. But do not use a propane heater as it can generate moisture which will increase the chances of developing mold.
What are the primary advantages of living in a yurt?
There are multiple advantages of living in a yurt:
Economical means of living: A yurt costs a fraction of a full-fledged house. The lifestyle is minimal, wherein you pay significantly less for monthly expenses.
Environmental-friendly housing: You leave a smaller carbon footprint, because of the minimal area occupied by your dwelling. It takes less energy to heat or cool a yurt. You optimize energy efficiency by using solar or wind energy, as is the case with many yurts.
Joy in simplicity: When you strip down your lifestyle to the bare necessities, you will find happiness with the simplest things. You will stop filling your home with clutter for the mere reason that there isn't enough space for it.
Easy to maintain: The small size of a yurt makes it the easiest thing to keep neat and clean. No more vacuuming across vast expanses of wooden flooring or dusting countless artifacts and furniture as in a traditional home.
Quick to build or disassemble: You can set up or disassemble it in a few hours. It makes for an extremely portable housing solution wherein you can relocate within a short time. You can decide on a change of scenery and go to live by the sea, the woods, or in the mountains.