The second-to-last state to enter the Union is one of the most interesting to visit.  With more than 600 glaciers, like Mendenhall Glacier, eight national parks, like Denali National Park, rugged mountains, and diverse animal life which includes bears and moose.
Whether it's for winter recreating like skiing or snowshoeing, or summer activities like hiking and biking, any time of year is a good time of year to visit "The Last Frontier."  Alaska boasts the Midnight sun providing nearly endless daylight in the summer and the opportunity to see the Northern Lights – with the best time to see them in winter months when skies are darker.
Now that we've convinced you to visit, the next question is where to stay in the 49th State. See below for some of the best rentals for your stay.
Cool Alaska Rental Cabins
Luxury Mountain Hideaway Near Anchorage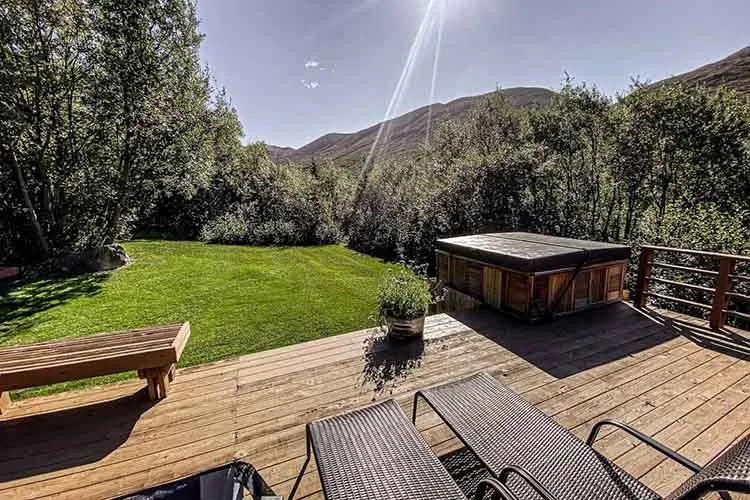 This three-bedroom and two-bathroom chalet is located about 25 minutes from Anchorage in the center of the Chugach Mountains, where you can enjoy backcountry skiing in the winter and hiking at Upper South Fork Eagle River Trailhead in the warmer months. You are only about 15 minutes away from recreation, dining, shopping, and more in Eagle River.
After a hard day of recreating, come home to an outdoor hot tub on the deck and rejuvenate underneath the aurora borealis. If you prefer to stay in, there's also a two-person bathtub where you can still get views from the expansive windows.
The open floorplan boasts a big family room, tall ceilings, and a wood-burning stove. There's a well-stocked kitchen with all the spices, staples, and cookware you'll need to make any meal. You'll have laundry on-site and even a remote workstation with a desk, monitors, and keyboard.
Blue Door A-Frame Cabin in Seward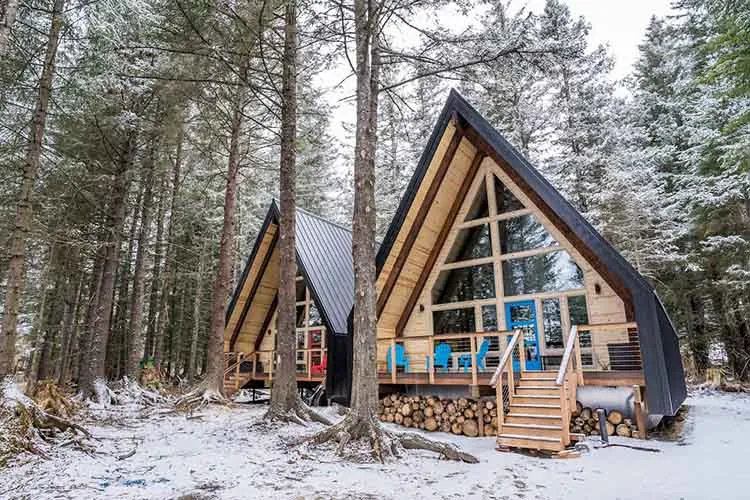 This two-bedroom and one-bathroom A-frame is located in Seward on Lowell Point's beachfront. You are also just stepping away from an old-growth spruce forest, and outstanding views of Resurrection Bay that you can take in from your deck. There is also close proximity to hiking at Tonsina Beach as well as Kenai Fjords National Park for more hiking opportunities and wildlife viewing.
Warm up by the wood-pellet stove after a cold day out or soak to your heart's content in the clawfoot tub. For ultimate relaxation, hop into the shared sauna. There's a firepit outside to gather around on clear evenings.
You'll have a kitchenette to prepare meals along with the use of anything you find in the garden.
Coffee House Cottage in Seward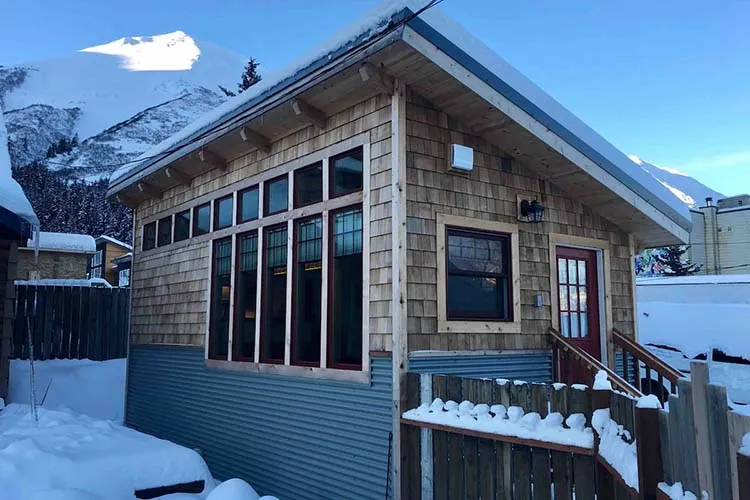 This two-bedroom and one-bathroom tiny home cottage located in downtown Seward was newly built in 2020.
Your prime location in the backyard of a historical coffee house puts you close to Main Street for shops and more views as well as Seward Harbor for charters and tours and the Alaska SeaLife Center aquarium.
Despite its small size, you'll have all you would ever need like a queen-size bed, kitchen, and heating from a Vermont Castings stove.
Luxury Barn House + Tiny House in Palmer, Alaska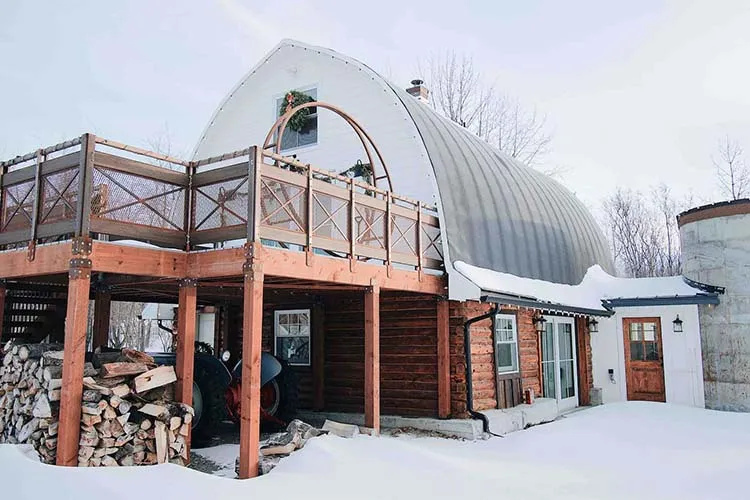 This two-bedroom and two-bathroom 1935 barn is located on a 20-acre flower farm in Palmer, where you can find breweries, shops, a reindeer farm, and a musk ox farm. Although built some time ago, it has been restored and updated to offer all the modern amenities one would need in a vacation rental like a full kitchen, walk-in shower, and washer and dryer.
Curl up in front of the TV after a long day out or jump into the soaking tub to relax. Warm your bones up by the woodstove.
If you are visiting in the winter, you can use the snowshoes provided. You can head to Government Peak Recreation Area or Hatcher Pass, which are both within half an hour.
Cabin in the Woods – Talkeetna, Alaska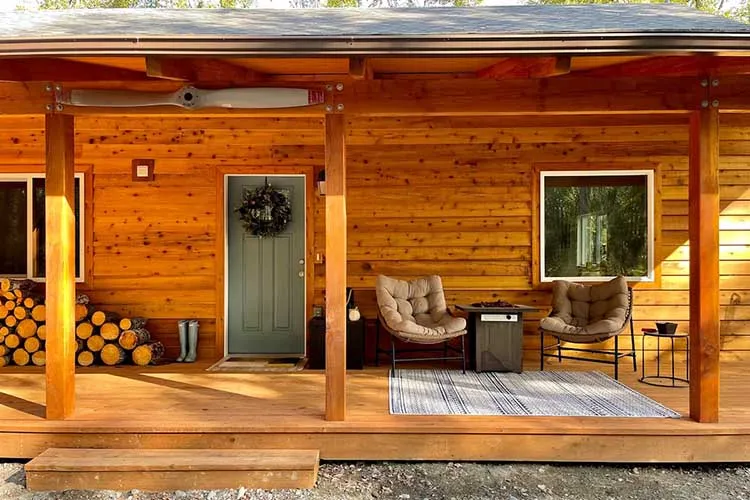 You'll have convenient access to biking and ski trails right outside your door with a bike and snowshoes available for your use. You can also check out the lakes.
You'll have a fully stocked kitchen with all the ingredients and equipment to make a meal at your fingertips as well as a washer and dryer available. There is also a fire pit where you can sit under the stars at night.
West Wind Cabins With Ocean View in Homer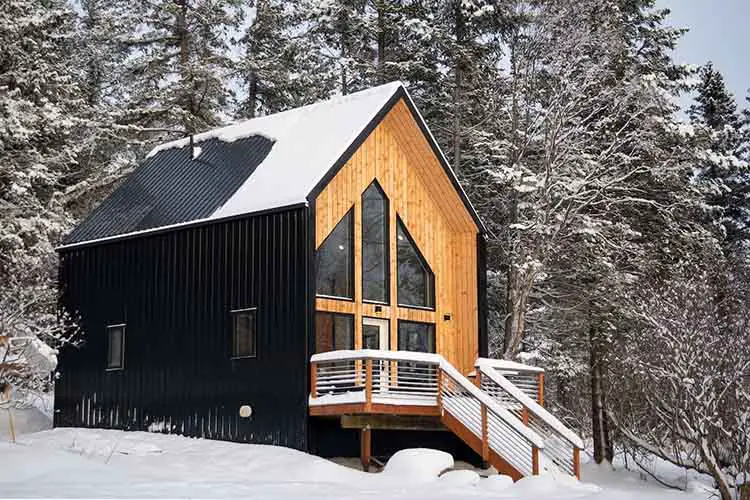 This two-bedroom and one-bathroom rental is located five minutes from downtown Homer and its eateries, shops, recreation, and museums.
Take in the views of the water and mountains from the loft inside or outside from the front deck. Put together a great meal in the fully equipped kitchen. Relax in front of the TV or Jøtul gas stove after a day out in the Alaskan outdoors.
Nearby is Kachemak Bay State Park, where you can fly or boat in to take in the wildlife, landscape, and kayaking and hiking opportunities. There is also Katmai National Park, where more than 2000 brown bears live. You can also check out the park's Valley of 10,000 Smokes with its lava flows and ash.
Contemporary Cabin With Mountain Views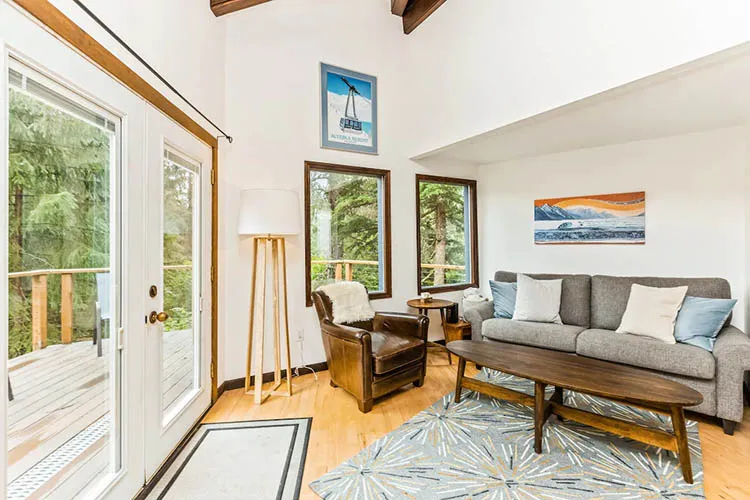 This pet-friendly cabin has two bedrooms and two bathrooms, high ceilings, and modern furnishings.
From your deck, you can take in the views, which include trees galore and nearby mountains. There's a fully stocked kitchen for you to chef it up in or if you aren't in the mood to cook, you can head to some of the best restaurants in the area like Girdwood Brewing Company or Chair 5 Restaurant.
As far as recreation, there's a lot. Under two miles away is Alyeska Ski Resort, where you can ski, see the Northern Lights, or take a boat tour in the winter, and in the summer, you can bike or do yoga. You are also only about 40 miles from Anchorage and can take a gorgeous scenic drive to get there.
Cortina Chalet in Girdwood, AK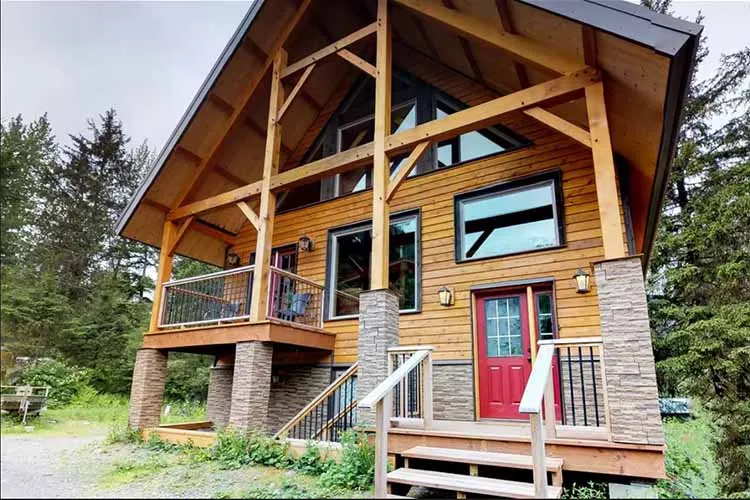 This dog-friendly chalet has two bedrooms and two bathrooms and is located in the resort town of Girdwood.
You'll have easy access to the ski lifts at Alyeska Resort as well as gorgeous views from your deck. You are also close to mountain biking, kayaking, and dog sledding. Hike the several trailheads within 10 miles of the rental, like Winner Creek Gorge or Virgin Creek Falls. There's also Girdwood Park for hiking, biking, snowshoeing, or cross-country skiing, or the Wildlife Conservation Center to see Alaska's unique animal population, which includes wolves, moose, bald eagles, and bears.
You can also head into town and take in some of the bars and restaurants like Sitzmark Bar and Grill and Jack Sprat.
Contemporary Kenai Beach Cabin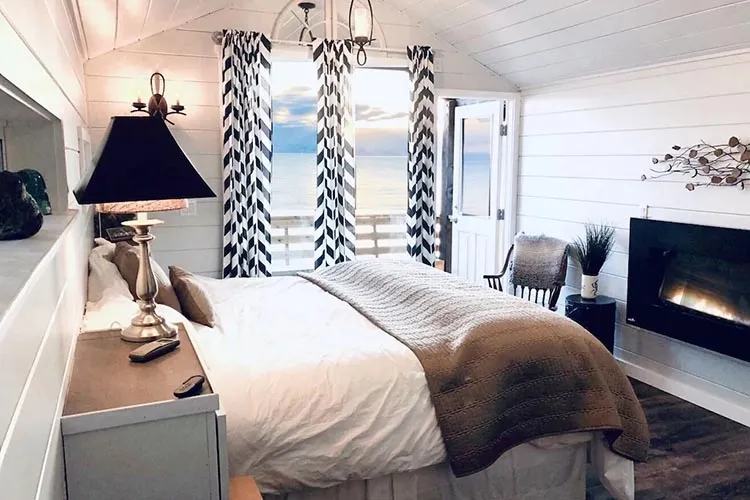 This studio cabin has one bathroom and is located on the most western point of Kenai beach in a secluded area where you will not be able to see any modern structures at all.
You'll have a natural gas fireplace for warmth, a king-size bed for comfort, and other little bonuses like heated floors and a towel rack in the shower room.
There are two covered decks to choose where you want to watch scenery or dark skies from at night time. If you want to head out of your rental, you are not far from hiking and biking at Meeks Trailhead and river access at Cunningham Park.