Idaho is nicknamed the Gem State with over 240 minerals that have been identified in the state.  The state is also associated with potatoes since Idaho has the perfect growing conditions for spuds.  But there is much more than gems and potatoes to be found.
Idaho is abundant in natural resources and outdoor recreation with rivers, lakes, and mountains.  Adventures include taking the longest gondola ride on the continent at Silver Mountain Resort in Kellogg. The St. Joe River, a tributary of Lake Coeur d'Alene, is the highest navigable river in the world. You can ski at the first-ever US ski resort at Sun Valley. Or roam the longest floating boardwalk in the world that follows along Lake Coeur d'Alene.
With 20.4 million acres of forest and 27 state parks to recreate in, not to mention 926 square miles of water, Idaho is a great place to vacation if you are looking to get outside. And if you like chasing waterfalls; the 212-foot high Shoshone Falls are commonly known as the "Niagara of the West". See below for a list of some of the best cabins to rent while you are exploring Idaho.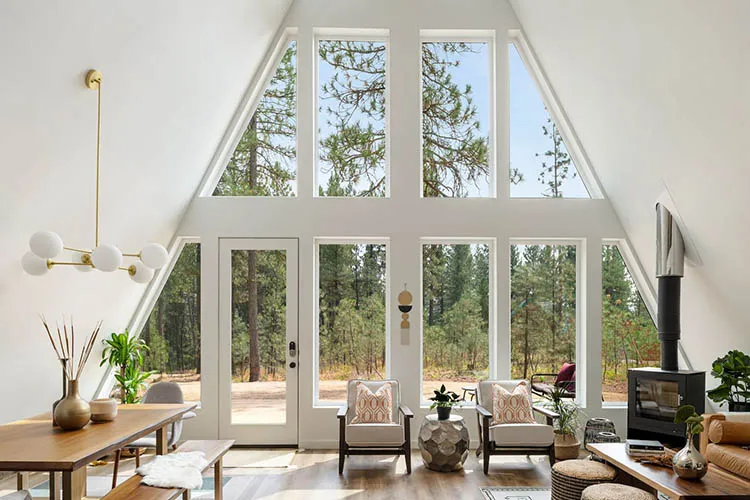 This A-frame has three bedrooms and two bathrooms and puts you in close proximity to Crouch's shopping, dining, Starlight Mountain outdoor theater, Terrace Lakes Golf Course, tons of water activities on the Payette River, and a variety of biking and hiking trails.
You'll have a fully-equipped kitchen, which includes a variety of cookware and even a French press. Relax on the living room couch and take in the scenery outside or get cozy at the wood-burning fireplace while you read a book or play board games.
Outside, you'll have two patios to watch the wildlife and admire the surroundings, as well as a fire pit to use under the night skies.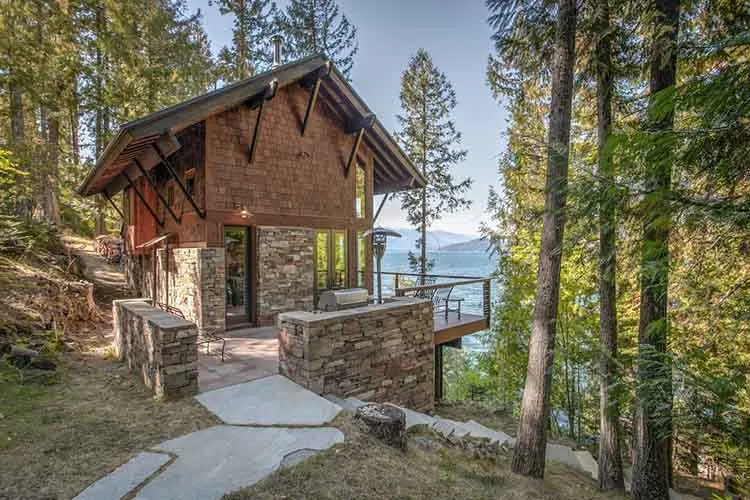 This three-bedroom, two-bathroom cabin sits on 4.5 acres of land and will provide you with stunning views of Oreiel, Schweitzer Mountain and Lake Pend, the state's largest lake, as well as lake access and a private dock. You can rent a boat on-site or relax in the swinging day bed on the porch at the lake. There is also an outdoor bathroom.
You'll have complete privacy in this rental and will have the chance to completely unplug. Sit around the fire ring with marshmallows and watch the stars, make a homecooked meal in your kitchen or use the outdoor BBQ.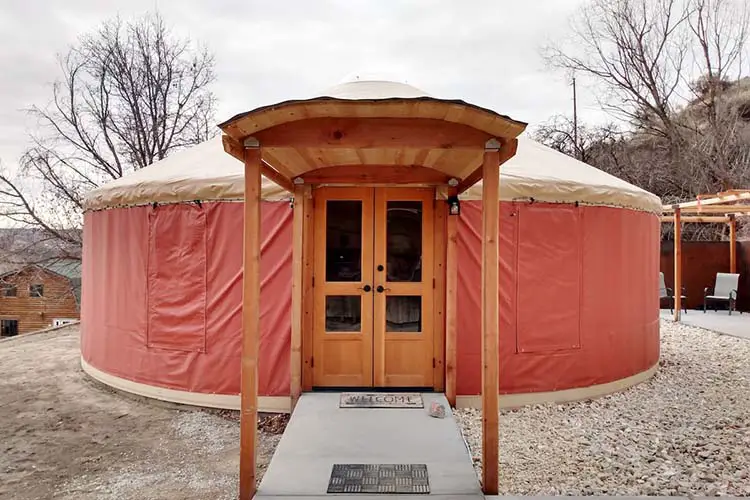 This 30′ diameter yurt has a queen bed as well as two full-sized futons. But its real draw is the 6′ x 8′ x 4′ deep in-ground private geothermal hot pool, with temperatures at about 107 degrees located right outside. If that's not enough, you can also head to Miracle and Banbury Hot Springs just a short distance away.
There is also a kitchenette for cooking meals, a toilet, and sink, as well as an outdoor shower.
From your yurt, you'll have endless views and also be within walking distance of Snake River, known for its trout fishing. You'll also have a patio and BBQ grill for use as well as outdoor seating and a lit-up pergola. You can hike, bike, bird, walk, kayak, or just get some rest, relaxation, and healing.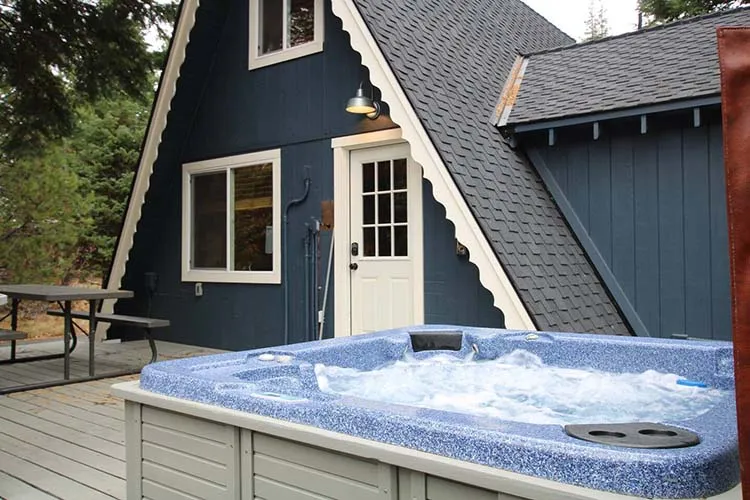 This pet-friendly A-frame cottage has three bedrooms and 1.5 bathrooms. This classic A-frame design boasts all the modern conveniences you'll enjoy on vacation including a full kitchen, washer and dryer, and television.
You are in close proximity to Donnelly, where you can find a boat launch and beach as well as shops and restaurants. Fish, kayak, or swim at Lake Cascade. Or if you're visiting in winter, head to nearby Tamarack Ski Resort for snow activities.
If you want to venture a little further, you can head to McCall for recreation at Ponderosa State Park, golfing, or take a cruise on Payette Lake or explore Payette National Forest.
Enjoy the cozy gas fireplace while relaxing with a board game or a movie, and there's also a fully-equipped kitchen. Or bring a good book into the soaker tub. Outside, you can use the BBQ for cooking and the fire pit for making smores.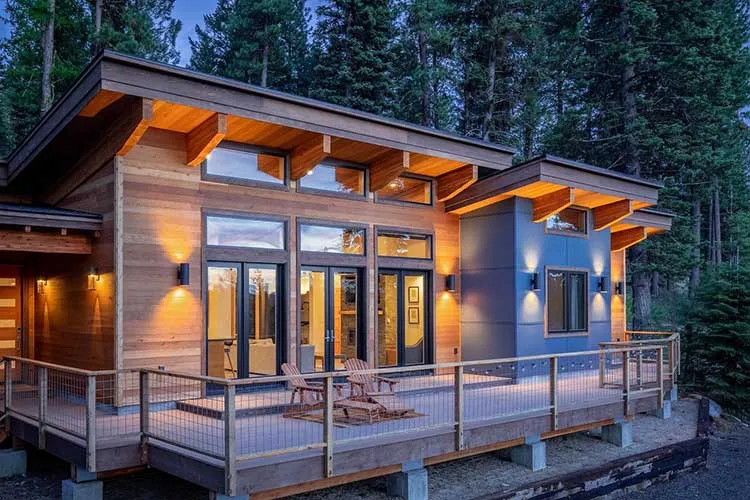 This four-bedroom, two-bathroom mountain cabin is located in the Aspen Ridge woods of McCall. Although you'll have that "deep in the woods" feel here, you are actually only about two miles from downtown McCall, where you'll find restaurants, shops, and plenty of outdoor recreation.
Or if you'd rather just relax at home, you can take in the scenery and sun from the front deck or enjoy the property. You'll also have a fully-equipped kitchen to prepare your own home-cooked meals as well as the convenience of a washer and dryer.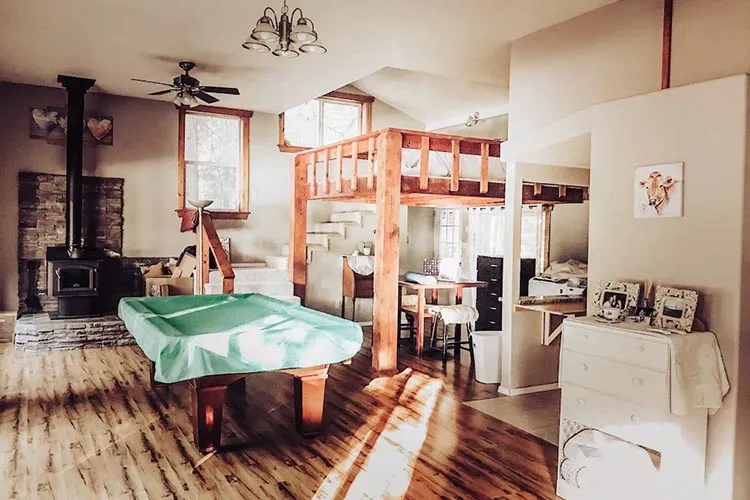 This one-bedroom, one-bathroom cabin is on the Clark Fork River waterfront. The cabin was recently renovated and features a loft bedroom as well as a washer and dryer.
Take advantage of the nearby fishing, hiking, swimming, or kayaking.  You can even hunt for crawdads. Warm up by the wood-burning fireplace and try your hand at the pool table or just relax in the cozy living room.
If you want to venture out a bit further, there is Scotchman Peak about seven miles away for hiking, and an assortment of activities within Kaniksu National Forest.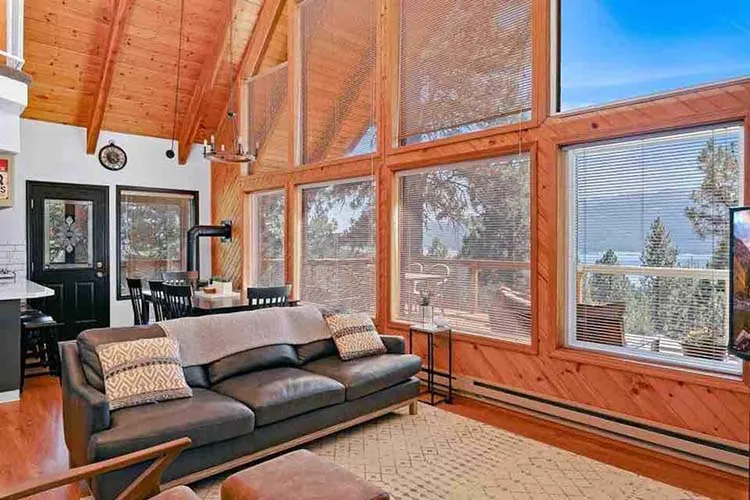 This three-bedroom, two-bathroom hilltop home has views of Cascade Lake and you are also only about two miles from Cascade itself, where you can find kayaking, fishing, and hiking, as well as some shopping, dining, and Lake Cascade State Park.
Staying close to your rental, you can enjoy the convenience of having hiking and ATV trails right outside. There is also nearby access to Cascade Lake's beach.
Relax in the outdoor hot tub after a long day out recreating or sit around the fire pit toasting some marshmallows.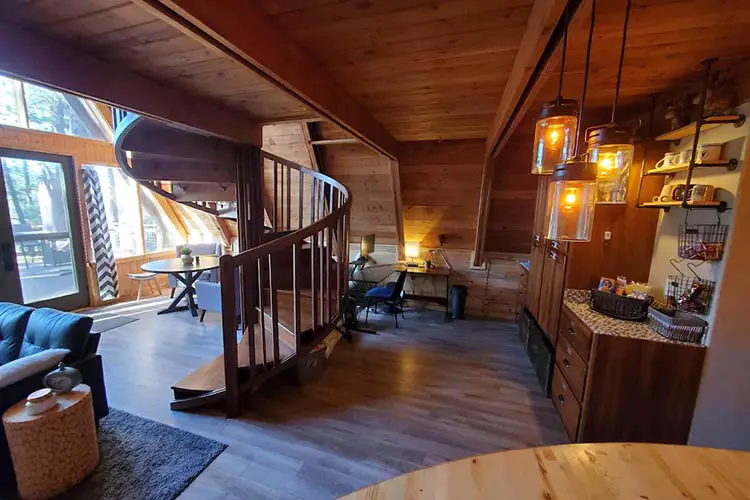 This A-frame cabin has two bedrooms and one bathroom. Although it was built in the 1960s, it was recently updated in 2018 and has all the modern amenities you'd look for in a rental, including air conditioning, internet, a pellet stove, and a full kitchen.
You'll have views of Garden Valley Golf Course as well as close proximity to Weilmunster Park, Payette River, and Boise National Forest.
You are within walking distance of community-owned hot springs where you can take a dip and also grab a bite to eat. You can also opt to cook at home, just relax in front of the TV, or get lost in board games and puzzles after a day outside. And you are close to the Terrace Lakes tubing hill if you are visiting during the winter.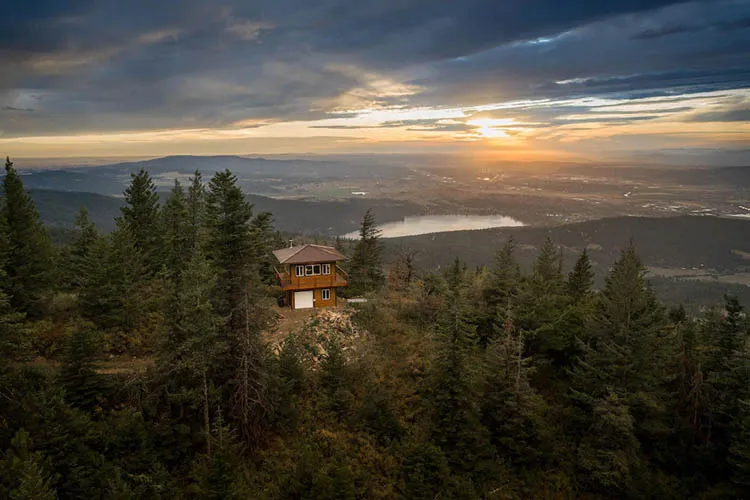 This unique rental in Post Falls is actually a lookout tower, which can sleep up to six and has one bathroom. What's even more unique about this is that you'll have to hike three miles to get there.
From this vantage point, you'll amazing views in both Idaho and Washington, including Liberty and Coeur D'Alene Lakes.
The tower is solar-powered with a propane grill for cooking outside as well an indoor wood-burning fireplace. Although you will need to bring your own linens, sleeping cots, and blow-up mattresses are provided.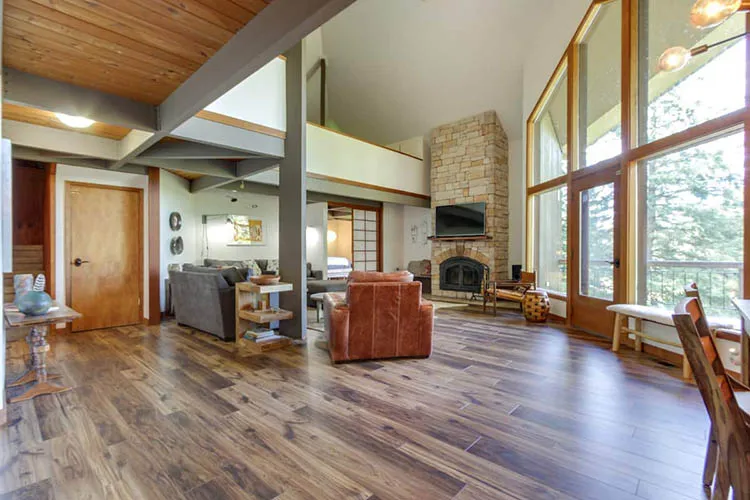 This five-bedroom, 2.5-bathroom rental is a water lover's paradise, as it is located near to Pend Oreille River, which feeds Lake Pend Oreille where you can enjoy boating, swimming, and kayaking. There are also volleyball courts and a fire pit.
If you are visiting in winter, you are close to snowshoeing, sledding, and skiing at Schweitzer Resort. Or just spend some time at your rental, where you are bound to see an assortment of wildlife, such as moose, deer, and wild turkeys among the river views.  Inside, there are plenty of board games and a ping pong table. Watch a movie by the fire or rejuvenate in the outdoor hot tub.