For any homeowner, controlling your home's temperature is an important factor in keeping it cozy.  Whether it's heating in winter or cooling in summer, you want your home to regulate a comfortable temperature.
If your home is a yurt or you are considering one, you probably know the energy-saving ability they have due to its shape and construction.   With its' round design, a yurt has good circulation and encourages heating and cooling.  The round surface area is less exposed than that of rectangular structures making them energy efficient.
There are plenty of ways to add additional heating or cooling to your yurt.  Here are the most effective ways of cooling your yurt: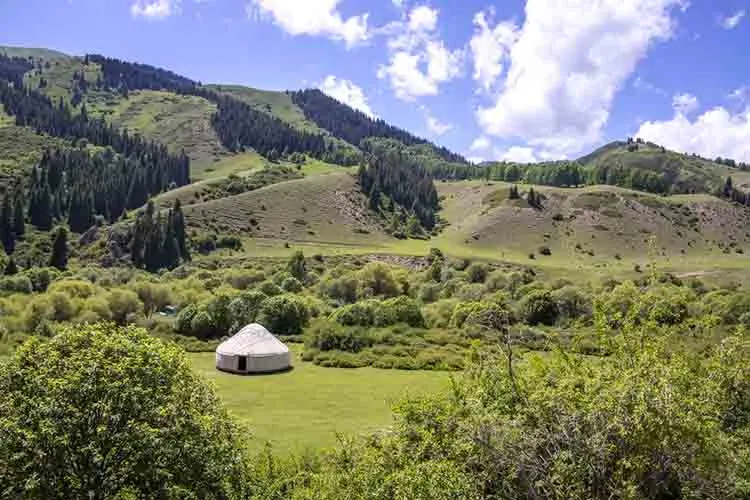 1. Position Your Yurt Well
Where you position your yurt will significantly affect the internal climate. To keep your yurt cool during the summer, aim for a shaded area.  Ideally, your yurt will be in the shade for at least part of the day.
However, yurts that are positioned in all-day shade may have problems with too much humidity.  Yurts in all-day sun will obviously be harder to cool and will use more energy and money to cool.  The sun can also cause UV damage to the yurt fabric, making them less durable over the long run.
So consider your location carefully to optimize the comfort and durability of the yurt.
2. Install an Air Conditioning System
If you live in a very hot climate where air conditioning is the norm, you may want to consider installing it in your yurt.
There are a few options for installing air conditioning in a yurt.
Swamp Coolers work well in areas that are hot and dry.  Swamp coolers blow air through wet matieral so add moisture to the air. Therefore they're not ideal if your climate is already very humid but work well if you live in a dry climate.
Air conditioning units can be free-standing or mounted into a window using electricity or solar power.  A window air conditioner may be fitted into a second entryway or a frame similar to those used to frame windows.  Air conditioners dry air before releasing it into the room so they don't provide humidity.
3. Use Reflective Insulation
Reflective insulation will keep your yurt cool in the summer and warm in the winter by reflecting heat to its source.
Insulating your yurt is a good idea whether you are using it part-time or year-round living, it is an efficient and environmentally friendly way to cool you yurt. Most of the reflective materials used for insultation can reflect up to 90 percent or more of radiant heat.  Reflective insulation can also prevent moisture from condensing into your yurt.

4. Install Ceiling Fans
Ceiling fans are an easy and cost-effective way to cool a house and the same is true for yurts.  These cooling devices can be installed in today's yurts to make the hot summer temperatures bearable.
The good thing is that ceiling fans not only keep you cool but also help circulate air within your space and create a comfortable draft throughout the yurt with cool air in the summer and warmer air in the winter.   You should operate the ceiling fan in an anticlockwise direction during summer and clockwise during winter (at low speeds)
According to experts, ceiling fans should only be used in yurts with a height of at least eight feet. This is because the blades of a fan operate best when they are 7 to 9 feet above the floor. In addition, they should be 10 to 12 inches below the ceiling.  The fans' blades should be positioned no closer than 8 inches from the ceiling and 18 inches from the walls.
5. Platform Vents
According to science, warm air rises. This means that the air below your platform is most likely cooler than the air near your yurt's ceiling.
With platform vents, you can let the cool air into the yurt from below—what a great way to control your yurt's climate without paying a dime.
Even better, smart venting devices are designed to direct airflow, thus improving circulation. The smart vents work even better with the A/C system as they complement its functionality.
6. Install Shades on the Windows
According to the US Department of Energy, utilizing the appropriate window coverings such as curtains and drapes may save you up to 25% on your cooling bills.
Choose window coverings or blinds marked "blackout" or with a reflective backing for optimal protection from teh sun.
If feasible, install the shades or blinds outside the window frame to prevent light from penetrating around the corners of the windows. This will keep your yurt cool all summer.
7. Install Window Awnings
Window awnings may reduce solar heat absorption by up to 65 percent on south-facing windows and 77 percent on west-facing windows, according to the Department of Energy.
Consider awnings that are light in color and reflect the most sunlight for the best outcomes. Retractable awnings may be pulled up in the winter to enable the sun to warm your property.

8. Operable Skylight
Skylights are available in both fixed and operable configurations. Most of the operable skylights in the market are hinged and can open at an angle at the top to allow for air circulation which comes in handy for a yurt.
A skylight that opens may offer fresh air and ventilate increasing heat, making the whole yurt cooler and more comfortable.
You can decide to install a manually operated skylight where you manually push it open or a motorized one that works with just the touch of a button or switch.
The highest-end automatic skylights open depending on the prevailing conditions. In this case, when it's hot in your yurt, the automated skylight will open to let in cool air.
9. Install a Tinted Dome
Keeping a domed yurt cool can be challenging, especially if it's made of transparent material that lets in radiant heat. A tinted dome will minimize the amount of passive solar heat that enters your yurt via the dome.
One disadvantage of a tinted dome is that you can't look up and stargaze at night.  One solution for this is to create a insulated shade panel for the dome that is only used in the hot months of summer.
10.  Shade cloth
Another way to minimize solar gain in the yurt is to actualy cover the yurt with a shade cloth in the hot months.  Sunshades are built for yurts to fit the contour of the dome and allow air to flow through the shade for optimal cooling.
Conclusion
Cooling your yurt during summer is just as important as heating it during winter for maximum comfort.  Depending on your budget and the climate you're dealing with, there are good solutions to make your yurt comfortable all summer long.  Plan ahead to ensure that you can enjoy your yurt in any season.