Yurts continue to evolve in design and style to accommodate modern lifestyles. Historically, a yurt was a portable home used by Mongolians and other nomadic tribes in Central Asia.  Today, modern yurt designs are used by those who would like to live in a simple open space with a minimalist lifestyle.  They are popular in rural settings that bring you closer to nature.  Yurts are trending for those that are interested in a budget-friendly and environmentally conscious lifestyle.
A yurt structure is unique with its circular shape featuring a wooden band that supports the wooden lattice walls and rafters. The rest of the space is free and unobstructed, which means you can add anything to the layout as you please.
One of the more common considerations for yurt living is whether it's possible to add modern conveniences to the structure, such as a kitchen or bathroom. The short answer is YES, you can definitely add a kitchen to your yurt. In fact, you may be surprised to find out it's actually not as complicated as you might think it to be.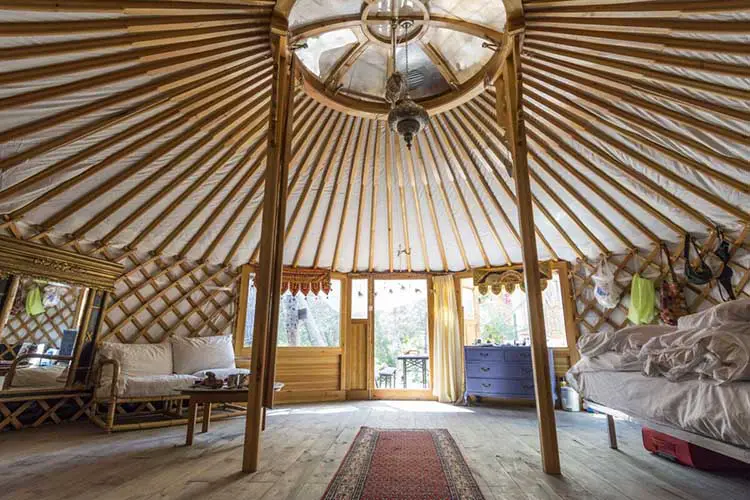 Yurt Layout
Before we talk about adding a kitchen, let's first talk about the yurt layout. As mentioned above, a yurt is characterized by its circular structure. Modern designs have incorporated features like windows and dome skylights that may be opened. The materials used today include high-tech architectural fabric, and glass for doors and windows–a far cry from the felted wool used for traditional yurts.
Modern yurts can also do away with the central pole that is typically present in a traditional yurt, because of the upgraded materials used. For snowy places, however, it can still be necessary to support the weight from snow load.
Another integral feature of a modern yurt is that it is usually built on a platform. If it's not designed to be portable and mobile like a traditional yurt is, it can have a permanent foundation.
 

View this post on Instagram

 
Adding a Kitchen to A Yurt
Before you design your dream yurt kitchen, there are certain requirements that you need to check first before you delve into your project. First, ensure that this is allowed by the local building codes and regulations. Adding a kitchen in a yurt still falls under construction activity.
Secure permits and complete inspections first. You can have your contractor help you out with these too, as they should be knowledgeable about the requirements before they can start their work.
If you haven't already tackled adding electricity and plumbing in your yurt, that will be the next step.  Of course, these are essential components of any kitchen. Electricity is needed for your appliances such as refrigerator, freezer, microwave, oven, and whatever small appliances you are planning.
Plumbing will be required for your kitchen sink and dishwasher if you're planning to add one. Basically, any amenities in a modern kitchen can also be incorporated into your yurt kitchen. You just need to plan it carefully.
The good news is that installing electricity and plumbing in a yurt takes practically the same process as with any modern home. Because yurts are usually built on a platform, there is space underneath the yurt itself, which can house the plumbing system.
Worried about unsightly drain pipes inside the yurt? They can be concealed with partition walls, or even under the platform as well.  In fact, these partition walls really do come in handy, because you can also use them for your electrical wirings and outlets.
If you're living off the grid and electricity isn't an option, you can add alternative sources of power including solar and wind.
Important Yurt Kitchen Features
Where there's cooking involved, there is heat and moisture so you'll need to ensure there's adequate ventilation to air the yurt out.
Ventilation is also very important for safety. Gasses and oils are released during cooking, and you don't want them staying in your yurt for longer than they should.  Plus you don't want the rest of your yurt smelling like last night's curry dinner. A simple solution is to set up your kitchen along the walls of the yurt so that it's easier to let the heat and odors out through the windows.
Designing the dome to open for natural ventilation is another solution. Modern yurt windows are also good for the job, but sometimes, it's not ideal to keep them open, such as during the winter or rainy season. You will probably want to invest in a good exhaust system like a range hood with an exhaust fan to provide proper ventilation.
Kitchen Layout and Storage
The circular shape of a yurt makes for a very interesting challenge for the interior layout. If you'd rather not have your kitchen flushed to the wall, you can put it in the open space in the middle. If you choose to do this, be mindful of how much ground space you'll need for your kitchen.  A kitchen island can be a good solution if you have the space.
The good thing about yurts is that they have high ceilings, so you can definitely maximize vertical space for storage in the kitchen.
Another consideration is choosing the right size appliances for the yurt. Unless you have a massive yurt structure, full-sized kitchen appliances might not be ideal for your yurt kitchen.
Space minimizing tools and equipment are also great additions to a yurt kitchen. Thing about hanging shelves, folding or expandable tables, seating that doubles as storage–all these can help solve spacing issues.
With these tips in mind, you can have your yurt and dream kitchen too.