Yurts have been used for centuries by nomads and in today's modern world, they are gaining in popularity for vacation homes, rental properties, and even primary dwellings.  They provide an eco-conscious and budget-friendly alternative to building a traditional home or guest house.
The concept and lifestyle of yurt living provide a simple life closer to nature.  But while the structure is a simple circular tent-like building lending itself to open plan living, the interiors have evolved to include interior walls, separate rooms, and even kitchens and bathrooms.
Yurts can be built on your own or by purchasing a yurt kit.  Some kits offer the option to add amenities like a bathroom.  In the past, bathrooms were constructed as separate structures outside the yurt. Now there are many requests for modern interior bathrooms.
Is this possible, and if so, is it safe? All the experts say yes!
 

View this post on Instagram

 
Can I Add a Bathroom to a Yurt?
Bathrooms can be added to yurts with modern plumbing and interior walls for a modern bathroom much as you would find in a traditional home.  If the size of your yurt allows the space for a separate bathroom in the interior, it's possible to do this.
Another option is to build the bathroom as a separate structure outside the yurt if your space is too small or it's not feasible to add a bathroom to the interior.
Plumbing in the Yurt
A licensed plumber can add plumbing through the yurt floor for piping. If you plan to install interior walls, you can also route the plumbing through the floor and into the walls.
It is possible to attach the yurt's plumbing pipes to an existing sewer or septic tank and then run them up through the ground of your premises.
After the plumbing pipes come up through the ground, they can fit into the partition walls. You could use conventional plumbing fixtures if you have access to a drainage or septic system.
If plumbing is not available, alternative methods such as composting toilets and using water tanks for collecting water make a bathroom a possibility.
Electricity for Yurt's Bathroom
Adding electricity to a yurt will depend on the location and access to utilities.  If an electrical hook-up is available, the task is pretty straightforward.  If you're off the grid and electric hook-ups are not available, other options include propane, solar, or wind power. A licensed electrician in your area should install electrical wiring or other ways to power the yurt, such as propane and solar.
Electrical wiring is usually done through the yurt platform or floor.  Electrical outlets can be installed in the yurt by attaching them to short support posts along the periphery of the wall or by connecting them to any interior walls added to the yurt.
You can include track lamps, ceiling lights, and wall sconces in a contemporary yurt bathroom. Several people prefer to use low voltage lighting in their yurts because it is more energy-efficient.
Always adhere to manufacturer's and construction required specifications for the setup of all infrastructure, lights, and heating alternatives.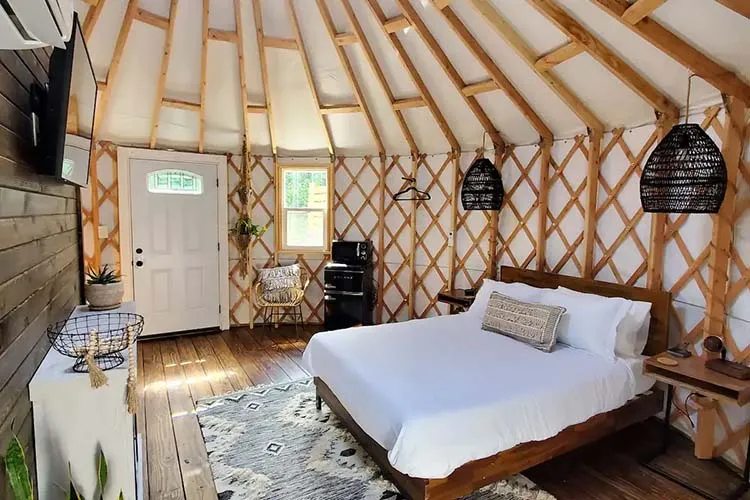 Installing the Yurt's New Bathroom
Many people prefer to have a bathroom within their yurt, even though exterior bathrooms are still a viable option for others.  Bathrooms can be added to the living quarters of a large yurt or built as an external bathhouse for smaller structures.
Know the yurt's building codes before you start a bathroom project. Yurts can fall into various building classifications in different locations.  They can be considered provisional, semi-permanent, or permanent, depending on where you are.
You can install the downdraft vents via ground or the yurt wall utilizing a flashing kit to ventilate the bathroom. You can avoid condensation by ensuring that the yurt has adequate ventilation.
Alternatives For The Yurt's Bathroom
If you don't have access to electricity or sewer lines, there are several other options for a yurt bathroom.
Solar Power may be an option if your location provides enough sunlight to power your families' energy needs.  Solar panels are best situated facing south in full sun conditions.  Solar panels charge batteries that store power when the sun is not as abundant.
Wind Power is only feasible if you have consistent wind power to be a viable electricity source. For times when the wind isn't blowing and the turbine isn't turning, you'll need batteries that are large enough to store energy.
A micro-hydro system is an option if you have water flowing through your property. The system needs a turbine or pump to transform the water into energy.  Assuming your water source is available throughout the year, you could continually generate energy.
Compostable Toilets are a popular option in rural areas or wherever sewage is not available. These toilets can be purchased commercially or you can build your own.  Many composting toilets feature a separate tank for processing waste and can be located in a basement or outdoors. With the right design and maintenance, your composting toilet should be odorless and function well.
Check local and state building codes on toilets before starting any bathroom project.
Ventilation is Essential
Anyone intending to incorporate a yurt bathroom should take ventilation into account. To prevent condensation, you should ensure that the yurt has adequate ventilation.  There are several ways to vent a bathroom, including using downflow vents in the ground or the yurt wall, using fans to circulate air, and opening windows or the dome skylight to ensure good airflow. Ventilation is crucial to prevent mold and mildew just as in any home.
Conclusion
Adding a bathroom to your yurt is feasible and can take it from a temporary structure to a more viable option for year-round living.  Adding modern conveniences is a popular option to make yurt living more comfortable and fun whether it's a primary dwelling or a vacation home.