Wyoming is a playground for those who love outdoor recreation. In fact, the first-ever National Park, designated in 1872, is Yellowstone. And the first-ever National Forest, designated in 1891, is Shoshone. And the first-ever national monument, designated in 1906, is Devils Tower.
And that's just the tip of the iceberg, there's also the 310,000-acre Grand Teton National Park in Jackson and 10.5 million acres of forest, as well as over 4,000 lakes and reservoirs.
With all this to take in and so much more, there's a lot of reasons to visit the Cowboy State. For where to stay during your visit, see below for a list of the best cabins to rent out:
Cool Cabins to Rent in Wyoming
Acers-National Forest Cabin Getaway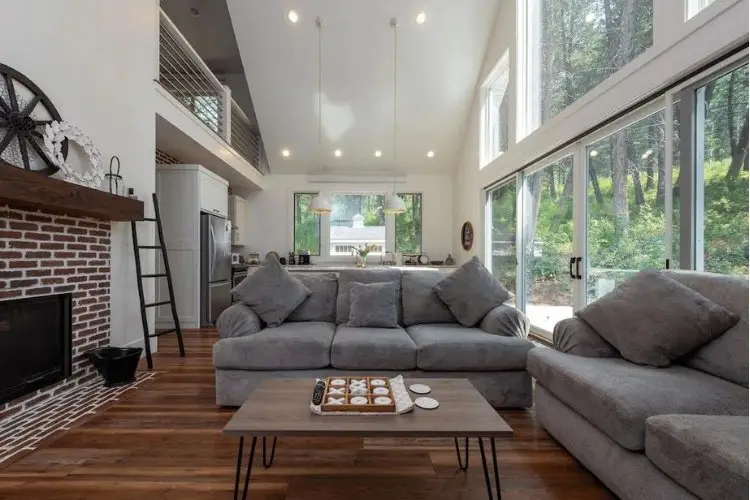 This two-bedroom, four-bathroom home sits on 1.6 acres within the 3.4 million-acre Bridger Teton National Forest.
After a day spent outside, get cozy with the wood-burning fireplace or stay outside with the wood-burning solo stove. Cook up a homemade meal in the fully-equipped kitchen and dine al fresco.
You'll be nearby to Thayne and its abundant recreation, Afton's Intermittent Spring, and Alpine's Snake River Mountain Range. And right at Star Valley Ranch, you'll find golf, a pool, and a hot tub, as well as plenty of recreational games like basketball and pickleball. There are even grills and a bar on site.
Watch the unique wildlife of Wyoming from your porch or head out for some hiking, hunting, or fishing at Palisade Reservoir, Grey River, Snake River, or Salt River. Cross-country ski at one of the trails or downhill ski at Kodiak Mountain Resort. There's also snowmobiling, off-roading, and tons more.
You are only ten minutes from the nearest grocer and also in close proximity to Aspen Hills Golf Course, McDougal Pass, the World's Largest Elkhorn Arch in Afton, the Periodic Spring Trail, and a little over an hour from Grand Teton National Park.
Ranch Cabin Near Jackson, Wyoming
This 1800-square foot, one-bedroom, one-bathroom log cabin lies within Teton National Forest and its unique wildlife as well a 250-acre ranch in Hoback Canyon.
You are primely located just 30 minutes away from Jackson for snow sports, museums, shopping, dining, and other recreational pursuits.
You've got a fully-equipped kitchen to cook in as well as heated floors. Take in views of 10,000 foot Beaver Mountain from your living room windows or the porch outside. Or head out to the trails located right outside the home for hiking, fishing, cross-country skiing, or horseback riding opportunities.
Modern-Rustic Jackson Hole Ski Cabin with Teton Views
This pet-friendly, one-bedroom, one-bathroom cabin is located in Jackson Hole in a tiny house community, with views of the 13,775 Teton Mountain Range.
No matter your interests, you're in the right spot for recreation.  Jackson Hole Mountain Ski Resort, one of the most highly-praised skiing destinations in the country, is only a short drive away. So is Grand Teton National Park and over 200 miles of trails to explore. You're also just a couple of miles from Jackson Town Square with its elk antler arches and historic charming downtown. Whether it's the snow, water, land, or animal life that brings you to Wyoming, you'll find it all with a stay here.
Head out to one of the nearby activities and come home to get cozy by the fireplace. There is a fully-equipped kitchen as well as a grill outside for use. You can also use the fire pit for warmth or to just melt some marshmallows while telling ghost stories.
Baitshop Cabin 2BR Bungalow Downtown Jackson
This two-bedroom, two-bathroom cabin puts you right in downtown Jackson Hole for access to everything the area has to offer like dining, shopping, and entertainment.
Cuddle up by the wood-burning stove after a day out to get warm your bones. Or take in the amazing views of the 7,808-foot Snow King Mountain from your deck, get outside for activities at Miller Park, or head to Jackson Hole Mountain Resort or Grand Targhee Resort to hit the slopes.
Shooting Star Cabin 13 – Private Hot Tub!
This five-bedroom, 5.5-bathroom cabin is situated right in Teton Village, putting you in a prime spot for recreating at Jackson Hole Mountain Resort.
Soak in your private tub after a long day out or warm up in front of one of the stoves or fireplaces. Make a meal in the fully-equipped kitchen or on the grill outside. No matter where you spend your time while at this cabin, you'll be able to enjoy mountain views.
Equipped with a garage, laundry, and even a complimentary shuttle to the ski lifts. You are also only five minutes away from Grand Teton National Park and a variety of things to do.
Modern, Rustic Cabin in the Woods
This two-bedroom, two-bathroom home has updated appliances in the kitchen, a wood-burning stove, and a washer and dryer for use.
Take in the Grand Tetons from one of your decks or see what sort of wildlife you can spot; moose and deer seem to most enjoy visiting this spot.
There are plenty of other things to do in Wilson, such as a visit to the Teton Raptor Center or taking a scenic drive on Fish Creek Road or Fall Creek Road.
Riverbend Cabin
This one-bedroom, one-bathroom cabin is located right on Pine Creek, which is very convenient for fishing. You've got a fully-stocked kitchen, TV, and gas fireplace inside. Outside, you'll have those creek views to take in from the back deck while you eat or just gaze at the beautiful scenery of Pinedale. Or even from inside, the cabin has high ceilings, skylights, and other expansive windows to view from.
Luxury Mountain Modern Near Yellowstone
This two-bedroom, one-bathroom rental is only about half an hour from the over two million-acre Yellowstone National Park's east gate entrance, as well as the city of Cody for a taste of Western life with rodeos, ranches, and the Buffalo Bill Center of the West.
Sitting on five acres of land, and with floor-to-ceiling windows, you'll be right in the thick of scenery. Watch the sun's movements from your deck or sit by the stone fireplace and watch the sky from the windows.
Heart Mountain Japanese Cabin

This one-bedroom and 1.5-bathroom cabin pays homage to Japanese architecture in its design, and to western ranches in its location.
Soak up the spa-like atmosphere, including a two-person shower, a soaking tub with ample views of Big Horn Basin, and a dry sauna to relax in.
You are also in close proximity to Heart Mountain where you can explore the area or visit the interpretive center. You are also close to Cody and Powell, both towns being great places to study the west's history and get a true Wyoming experience.
Use the communal fire pit outside where you can meet and greet other travelers, take a bike ride, or try your hand at horseshoes.
Private Dome Under the Stars, Guernsey State Park!

This rental is a boho-style dome with a queen bed, a small kitchenette, and an outhouse. The futon also converts into a double bed for additional sleeping arrangements.
You will be within 440 acres of tree-covered hills and meadows, where you can take in the sights or a meal from your deck or relax in your outdoor hot tub. Check out the bordering Guernsey State Park where you can hike, bike, boat, swim, and a whole lot more.
Use some of the board games for a fun night in or get cozy after a day out exploring the various hiking and biking trails within your reach. Or head into Fort Laramie to see the historic site and its museum.