What is Modern Boho?
You've probably heard the term Modern Boho but if you've wondered what it really means, we break it down for you and how you can incorporate this playful and casual style in your home.
Bohemian History
Boho comes from the word Bohemian which is loosely defined as people who live unconventional and often artistic lives. The words were originally coined in France in the nineteenth century for people who traveled from Bohemia –  a region in the Czech Republic.
They were travelers or refugees who lived a nomadic lifestyle. They were often impoverished artists and marginalized.
Later the word bohemian or bohemianism was used to describe a lifestyle or type of person.  People who were free-spirited and creative including musicians, actors, writers.  Bohemians lived with passion and conviction and didn't follow the norms of the establishment.
Bohemian or boho culture was at the center of life in New York's Greenwich Village in the 1950s where artists, poets, writers, and musicians hung out.  This culture evolved to the hippy scene of the 60s and 70s.
Modern Boho
Modern boho (or Boho Chic) style is influenced by the creative and free spirit of previous generations.  Modern boho style is fun and relaxed and can be found in home decor, fashion and art.
The style will appeal to those who want to create a unique home that goes against convention.   Bold colors, vintage pieces, and an eclectic mix of styles and patterns are what defines the modern boho style.
How to Get Modern Boho
Modern Boho style takes inspiration from the past – think your grandparent's house but mixing some vintage cool pieces with new modern ones. It combines different styles, colors and patterns to create a unique look that is original and bold.  The concept of mixing styles is key  – for example, you might pair a mid-century modern chair with a vintage sofa and some global accents.
The style favors recycling or upcycling products and finding unique products from around the globe rather than buying new or mass-produced items.  There is plenty of room for handmade objects or art so it works well for those with creative flair.
Modern Boho is all about the unexpected – putting things together that don't exactly match, mixing patterns, colors or styles.  This is not a style that uses a minimalist look or adheres to conventional decorating styles.
Key Elements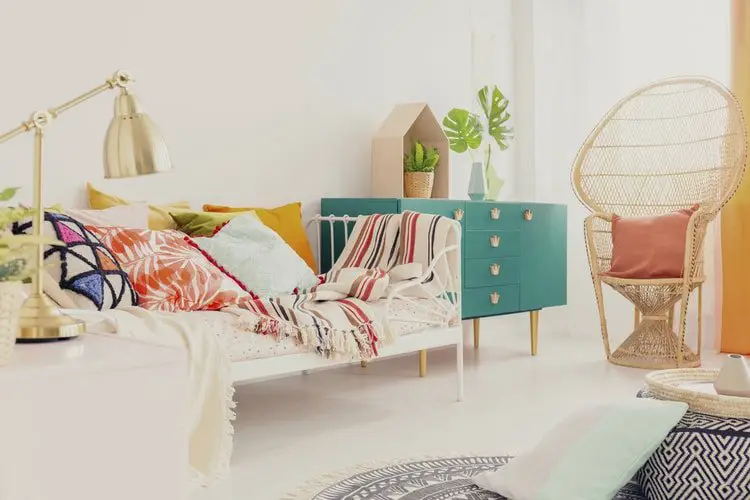 There aren't a lot of rules in modern boho – hence its appeal.  The style is as individual as you are. But here are some tips for putting the look together –
Bold Colors 
Modern Boho plays with color and pattern. Bold colors are the norm for this style although you can also achieve the look with neutrals if you prefer and layer neutrals with texture and patterns.  Use distinctive prints like Ikat, Suzani or tribal prints to infuse eclectic style.
Mix Colors and Patterns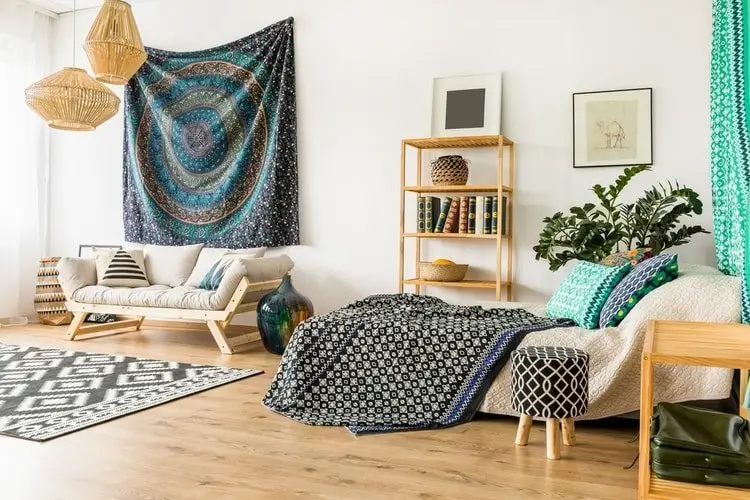 The style is defined by mixing colors and patterns that don't necessarily match but complement each other.  Mixing is used liberally with throw pillows, graphic wallpaper and accessories.  Adding patterns to the floors is another great way to add visual interest to your room. Layer a few smaller rugs to mix up your space and mix different looks.
Texture 
It's all about bringing different materials together into one space – so mix it up!  Combining textures creates depth and dimension in your space, which makes it interesting to look at and touch. You can mix textures using throw pillows, cushions, poufs, area rugs and wall hangings.  Think organic elements over synthetic to create texture.  Accessories with fringe, tassels or fluffy materials like sheepskin easily add soft texture.
Natural Elements
Modern Boho uses lots of natural materials like rustic wood, wicker, leather, wool or sheepskin.  Think of soft natural wall decor like macrame or fabric wall hangings inspired by past decades.  Rugs might be made of hemp or sisal.
Wicker baskets and furniture are the epitome of this style for an organic feel.  Green plants are a must – bring in a few plants for an easy way to bring nature inside.  And since this style is inspired by the hippie era – ferns, succulents and terrariums are a great addition to the look.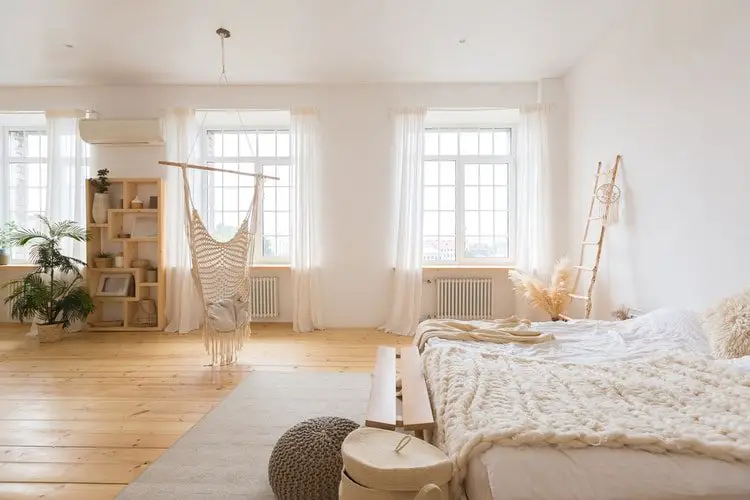 Globally Inspired
Modern Boho is inspired by travelers so global accents are a natural addition to complete the look.  If you are a traveler, you have probably already collected personal pieces that you can add to your decor.  You can also find unique pieces in flea markets, vintage stores and import stores.
This is not a minimalist look – it's about enjoying treasures from around the globe that reflect your style and personality.  Turkish rugs, Moroccan poufs, African artifacts all blend against vintage and modern pieces to create a unique look.  The decor tells a story and is highly personal.
Focal Point
A statement work of art on the wall completes the look.  Look for inspiration from previous decades – macrame wall hangings, a rug or fabric wall hanging over your headboard, vintage mirrors or retro artwork.  If one piece doesn't speak to you, try a gallery wall of all your favorites images to mix it up.
Keep It Casual
The whole vibe of Modern Boho is casual – so the furniture needs to be comfy and relaxed, not too stiff or formal.  Fluffy throw pillows, warm rugs and accessories make the home cozy and casual. The Modern Boho look is well lived in and should be a place you can kick back and chill.
Artistic
The modern boho style is inspired by creative and artistic spirits so your home should reflect this.  A curated bookshelf or vinyl record collection displayed artfully in your space or a gallery wall that shows off your personality and style.  There are few rules with this style of decorating and you can be as creative and whimsical as you would like so have fun and get playful.
Modern Boho is an adventurous look that can be incorporated into any home – you can start small by taking one room and mixing it up with pattern and texture.  Have fun and experiment with it.