The modern farmhouse style is a decorating trend that's been around for awhile and shows no signs of disappearing.  The style is modern meets rustic.  This hugely popular style is based on nostalgia for a simpler era when people were more connected to the land they lived on.
The highly watched tv series, Fixer Upper, highlighted the modern farmhouse appeal and made shiplap walls an obsession.
Today, even in urban areas the idea of farm living has grown in appeal with trends like community gardens, urban chickens and farm to table cooking.
Modern Farmhouse style appeals to those who may not be able to live on a farm (in fact, they may even live in Manhattan) but want the homey and simple feel of a farmhouse.  It's a relaxed vibe with a comfortable feel.
A modern farmhouse style is the artistic blend of modern decor or architecture with traditional farmhouse features. It is stylish but warm, cozy, and comfortable. It is inspired by the fresh look and practical nature of a farmhouse with a hint of nostalgia.
What Makes Modern Farmhouse Style?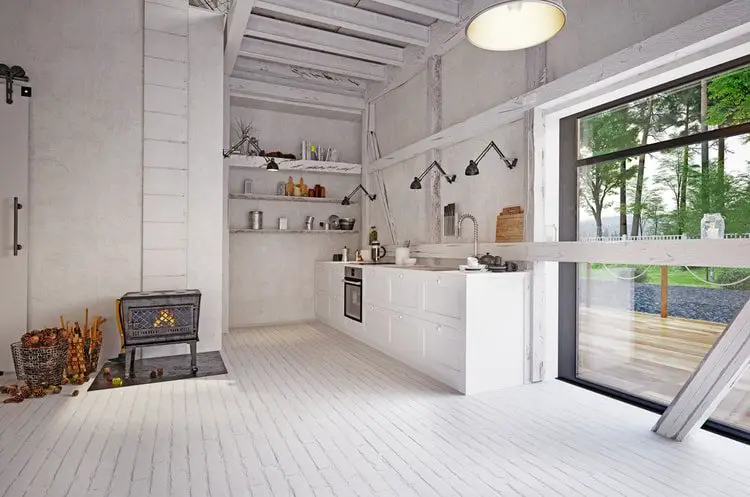 When you think of a farmhouse, you think of something homey and comfortable. The trick is to replicate the warmth and coziness of a farmhouse – with modern style.  While there are no specific rules for how to achieve this, some key elements that make for a modern farmhouse style include :-
Mix Modern and Traditional
A modern farmhouse is a combination of both modern and traditional interior designs. For example, your farmhouse table could use rustic wood for the top but use metal hairpin legs. Or pair modern metal lighting as focal point above a reclaimed wood table.  Vintage or rustic pieces blend effortlessly with modern elements like mixing rustic wood with industrial metals.
Wood
A modern farmhouse is not complete without the use of wood to create warmth.  Rustic wood or reclaimed wood is popular as are butcher block countertops and shiplap walls.  A farmhouse table as a focus piece centers the look paired with more modern accents.
Wood gives a rustic and traditional feel. It might also be used in accents like a big wooden clock in the kitchen, wooden beams against white walls or a using reclaimed wood over the bed.
Farmhouse Kitchen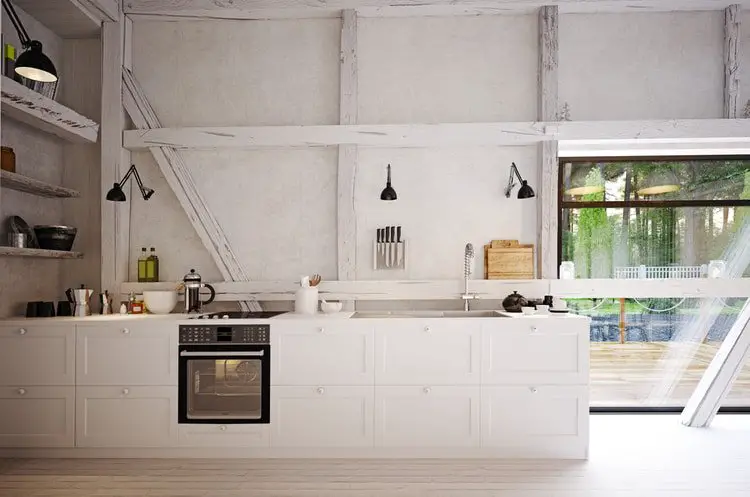 The kitchen is always the heart of the home and a modern farmhouse kitchen is no exception. The style reflects the nostalgia of a bygone era .  Think apple pie and home churned butter but with a modern twist.
Apron or "farmhouse" sinks add a clean but nostalgic feel to the home.  Shaker style cabinets with brushed metal handles are popular. Industrial finishes like metal lighting and modern stainless appliances pairs with more retro pieces.
The kitchen is approachable and cozy – mixing materials such as wood, metal and brick.  The kitchen should feel like a place to hang out and socialize with comfortable seating around a counter or kitchen island.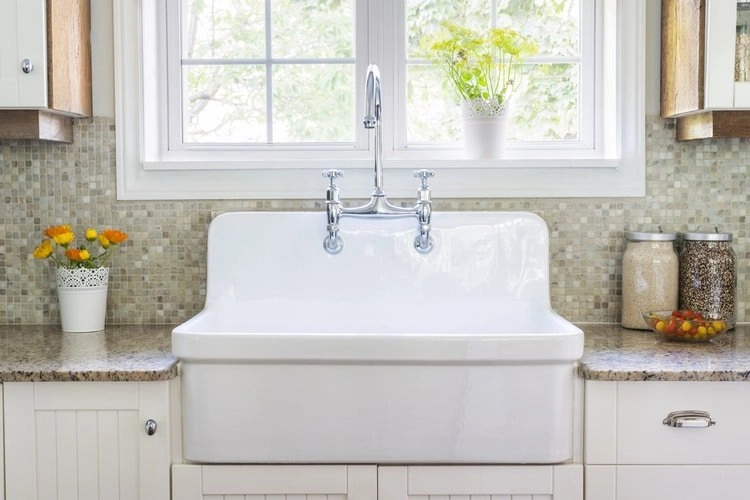 Neutral Colors
Modern Farmhouse style favors neutral colors including grey, white and beige as the backdrop for the home.  Saturated color like black and navy accent the neutral colors to create some depth.  Color can be used throughout the house with accent pieces but the general feel is calm and serene.  Classic patterns including gingham, buffalo plaid or stripe add interest and color.  Use colors on accent pieces like throw pillows, blankets or rugs.
Repurpose
Function is at the heart of modern farmhouse style. Repurposing and recycling pieces are a way of life on a farm where making use of what you have is favored over buying new.  For example, you might use an old door or wooden shutters for a headboard or recycle an old metal wash tub for a planter or decorative item.  Vintage pieces like an old dresser can be made new with a fresh coat of paint and new pulls.
Vintage Pieces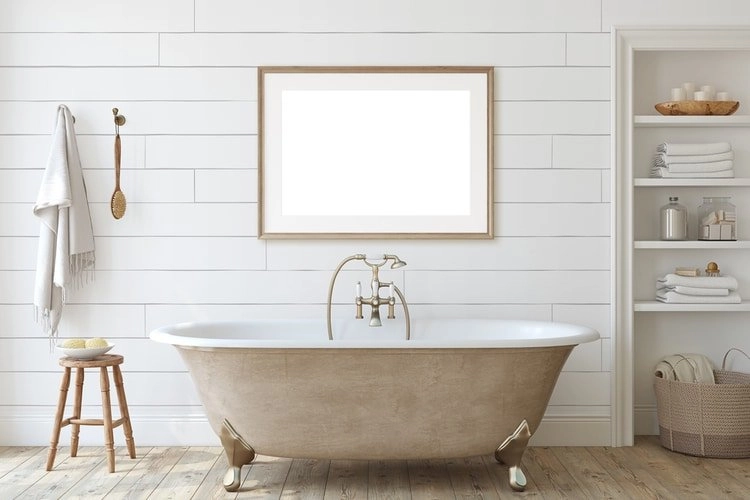 Antique pieces like four poster beds, rocking chairs or wooden trunks mix with more modern pieces are a popular element of this style.  Think about using pieces from grandma's house or vintage stores mixed with modern pieces.
Barn doors have gained in popularity as the epitome of farm house style – and in typical farm style – they not only look great but are functional. There is no need to swing a door open when you can slide it.
Vintage quilts paired or needlepoint pillows paired with a modern white bed add a touch of nostalgia to a modern bedroom.  Add old fashioned patterns like gingham, buffalo plaid or classic stripes to create a homey feel.
Rustic Accents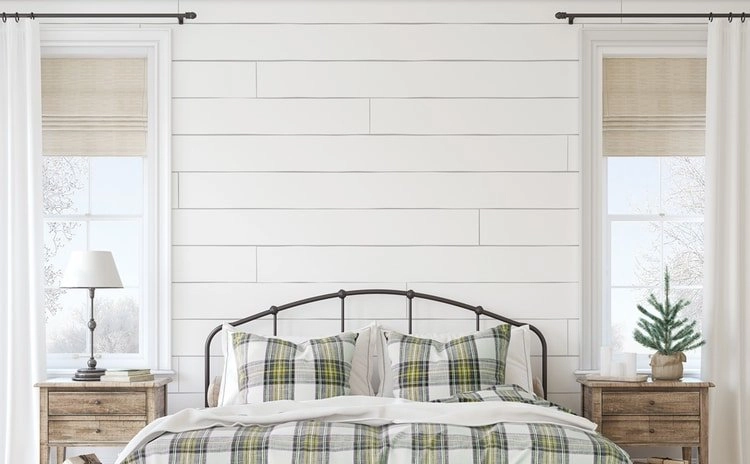 The modern farmhouse is completed by adding rustic accents – this might include pieces like a vintage clock, wooden benches, old metal signs in the kitchen, or reclaimed wood to make a coat rack or accent piece. Farm inspired artwork is another focal point.
The Modern Farmhouse look is above all, comfortable, homey and kid friendly. It should marry a relaxed feel with industrial modern elements. The space should be cozy and inviting with a hint of a bygone era.