Adding elements of Japanese decor to your home creates organization, more space, and a calm, peaceful environment. In these stressful busy times, it will make your living space a retreat from the world. And we could all use a little more calm in our lives.
The style uses simple designs and natural materials incorporating the five elements of Zen – water, metal, earth, wood, and fire.
 

View this post on Instagram

 
The Concept of Japanese Decor
Japanese decor focuses on the balance of space between furniture and objects in the room. It centers around minimalism –  a popular trend of less is better. A concept in Japanese decor called Ma balances the space used on one side of the room with the furniture and objects on the other side. Ma creates a calm and peaceful home in balance with the Zen philosophy. The rooms promote meditation and simple, easy-to-maintain designs. This style of decorating can bring order and peace to any home. It creates open space in the room adding a simple and rustic beauty.
The Japanese culture's love of nature is reflected in their decorating style. They bring elements of nature into their homes. Traditional Japanese plants including bamboo or bonsai or any other greenery to maintain a connection to nature while indoors.
Water elements are a very important aspect of Japanese decor. They may have water fountains located in more than one room to promote meditation from the sound of bubbling water. Large soaking tubs in the bathroom in an important feature in a Japanese home.  Ofuro or Japanese bath, is an important ritual in a Japanese home.
Japanese style incorporates wood, stone, fabric, and clay into the room design. Sliding doors and screens are typically used to separate spaces in the rooms.  An authentic Japanese screen, called Shoji, is made of of fine translucent paper inside a wooden frame.  More modern versions using wood and glass panels can also be found.
Wood is used for floors, walls, furniture, and decorative pieces. Popular woods are bamboo, cypress, hemlock, and red pine.  Color palettes are neutral and reflect what one finds in nature outdoors.  Beige, white, grey and greens are used. Lights that are low or mid-level are used in rooms to create lighting that is not too bright.
 

View this post on Instagram

 
Bring Elements of Nature Into Your Home
A love of nature is carried into the home with plants. Popular Japanese plants include bonsai trees that are dwarf or miniature trees forced to grow small in containers. Other popular container plants are Japanese fern, cacti, iris, honeysuckle, weeping fig, gardenias, and bamboo.
Rooms with large windows allow you to look out on nature or a well-designed Japanese garden. Bringing the element of water into the home is another key feature. A soaking tub can give you a relaxing serene bath and turns a bathroom into a spa-like atmosphere. Adding a water fountain to a family room or room used to meditate can add a very calming peaceful effect.  If you're short on space, look for a small water fountain that you can plug into the wall.
Natural lighting is another element of nature incorporated into Japanese design. Sliding glass doors or skylights bring sunlight into the room naturally. Painting the wall white or very pale tones allows the light to appear even brighter. Large glass windows with few panes and lamps that produce a soft low light will create this desired result.
Japanese Entryway
The entrance to the home should be simple and uncluttered with storage solutions. Keep a box or shoe rack where guests can leave their shoes and put on slippers or indoor shoes. Get a mat inside that they can wipe their feet on before entering the house.  The Japanese entranceway is where guests are greeted and asked to remove their shoes and given slippers to be more comfortable when they visit your home.
Earthy Colors
Using colors that reflect nature inside the house is another key element of Japanese design.  Paint colors are generally light – white or beige with earthy accents using wood or earth colors. These colors can be matched with the floors and the walls. All elements should have harmony and this is accomplished by choosing a dominant color with two matching colors. Neutral colors can be matched with brighter colors like red, yellow, orange, or pink. The main goal is to achieve balance. Softer tones of bright colors achieve a more calming effect in the room.
 

View this post on Instagram

 
Japanese Bath
In Japanese design and culture, the bath is an important ritual. The bathroom should reflect a space that is free of clutter and where you can truly relax.  A large soaking tub is the focal point of the bathroom with simple accessories such as a wooden bench near the bath, an organic mat and a simple plant like an orchid or bamboo.  A picture window with a view of nature or gardens is the epitome of a peaceful sanctuary.
Incorporate Wood and Bamboo
When you're replacing a floor in the kitchen or another room consider installing bamboo floors. The material is very eco-friendly and easy to care for. You can also incorporate bamboo furniture, window blinds or mats on the floors. Low-to-the-ground dining sets and chairs are traditional in Japanese decor. Simple wood tables and chairs without too much decorative detail are a good foundation to the room.
Simple and Low Furniture
Japanese design generally incorporates furniture that is simple and low to the ground.  A low sofa that is made of leather, cotton, linen, and other natural materials is traditional in the family or living room.  Floor cushions are often used around a coffee table as extra seating and could be used for casual dining.  Tables and beds made of natural wood are simple and low to the ground to anchor the room.
Use Open Space and Minimalism in Rooms
Use less furniture and objects in the rooms to create space and a feeling of space. Minimalism means having less furniture and objects in the room intentionally. It means only having furniture and objects that you value and do not distract you. It is one of the principles of Japanese decor and room design.
Create A Space to Meditate
Create a place in your home that has space for meditating, doing yoga, or having tea. Clean out a room and put a yoga mat or floor cushions to sit and meditate. Add a plug-in water fountain to create a relaxing, gurgling sound. Paint the wall a serene natural color to set the tone for the room. The room should have good lighting, and add some plants to add a natural element to the room. The room should have windows that you can open for fresh air. You can use dividers or partitions to create space for tea ceremonies.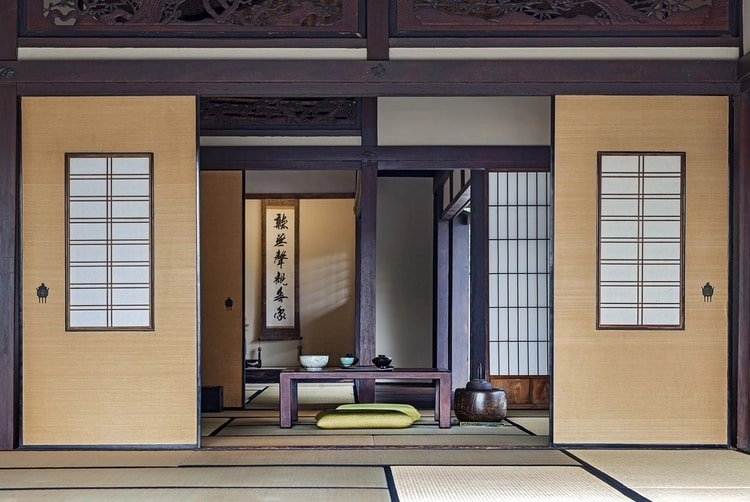 Traditional Tearoom
Tearooms have wood tables and chairs and are stocked with teapots and cups. A Zen tea ceremony uses floor cushions, a low wood table, trays, a  partition for privacy or shoji screen, a whipping bowl, an iron kettle, sipping cups, and bamboo whisks. This room or area should be spacious and free of clutter.
Incorporate small changes using Japanese decor principles. It will create a more organized harmonious living space.
Featured Image by chxfly9527