Scandinavian or Scandi design is not a new trend but its appeal has boomed in recent years.  The style is found in homes across the globe, coffee shops, cafes, and boutiques.  Its popularity has surged in no small part to the Ikea phenomenon, with its mission of bringing good design to the masses.  But the style is certainly not a fad, it has timeless appeal with its clean lines and functionality and yet beautiful and calming effect.
It can be the perfect retreat from our modern busy lives.  If you're considering refreshing your home, take a look at the key elements of this classic style.  If you think of stark and modern when you hear Scandinavian design think again.  With clean lines, light wood, plenty of natural light and a slightly rustic and cozy style it creates a nice balance for the modern home while not feeling sterile or boring.
A Brief History
Scandi design is an interior design style characterized by clean lines,  functionality, simplicity and minimalism that began in the early 20th century. The style flourished in the 1950s through the five Nordic countries of Iceland, Denmark, Finland, Sweden, and Norway.
The design style first emerged in the 1930s. It became popular in the 1950s when a design show traveling through the United States and Canada from 1954-1957 promoted styles by Nordic designers which emphasized simple designs inspired by nature and the cold climate.
Scandi design gained favor at the same time as the Mid-Century Modern style. These two design styles share many similarities, such as incorporating wood, using organic forms, and emphasizing functionality and minimalism. But while Mid-Century Mod featured darker woods and bright colors, Scandi design opted for lighter and brighter spaces. The long, dark winters of the Nordic countries meant cozy textures, lighter wood, and airy interiors with natural light were important.  In fact, getting through a long winter in Scandinavian countries is a practice we've all come to know as hygge.
So make a cup of tea and curl up with a blanket for the key elements that have made Scandi design so popular.
How To Get Scandi Style in Your Home
Use Clean Lines
Furniture is simple and functional with clean lines. Accessories are kept to a minimum (this is no place for clutter or collectibles). The minimalist approach promotes a feeling of serenity, which is a crucial factor when the long, cold winters hit and you're spending evenings indoors.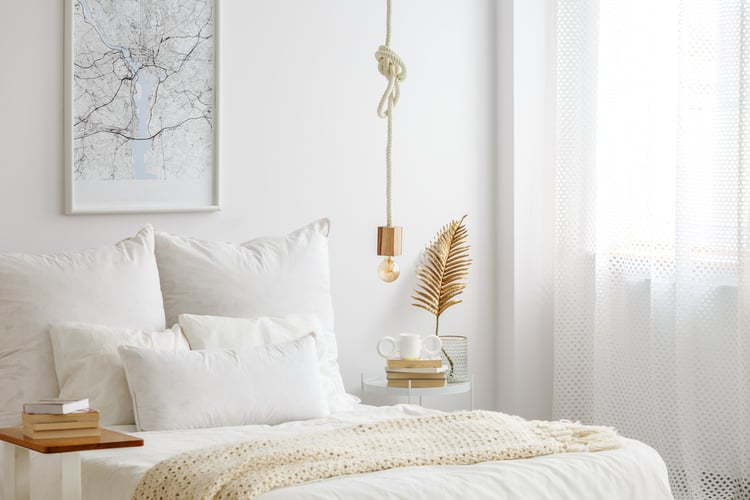 Natural Light is Key
Heavy window treatments are out to make way for natural light which is a key factor for this style.  If possible, dispense with window treatments entirely. If they are used, make sure they are light, translucent fabrics that allow the light to come through and have an organic, flowing shape.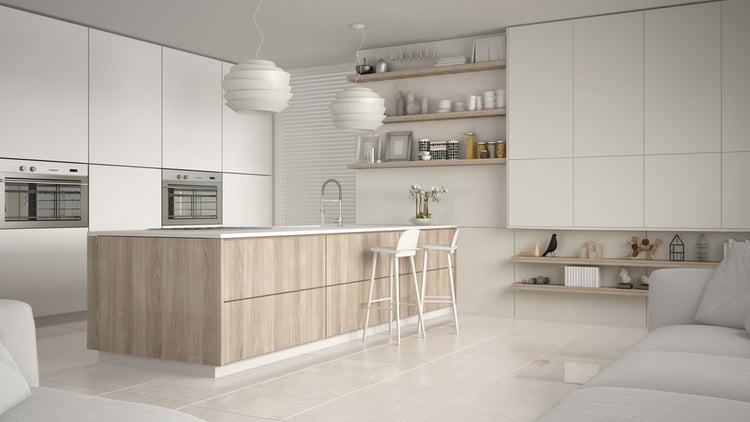 Light Wood
Lighter wood is the foundation of Scandinavian design and popular wood choices include pine, birch, poplar, maple or white washed oak.  You will rarely see wall-to-wall carpeting but instead, cozy area rugs are used over hardwood floors.  And wood is not limited to just flooring – interiors incorporate plenty of wood accent pieces, from open shelves to a rustic mantle over the fireplace.
Neutral Palette
To keep things light and bright, the dominant color choice for Scandinavian interiors is typically white.  White walls are complemented by muted, pale tones in furniture, pillows, rugs, and other textiles. Pale pink, grey, tan, and pale blues are often used to keep the tone soft. Pops of colors are used sparingly.
Contrast is also used heavily for dramatic effect with black and white as a common theme.  This could be incorporated into overall decor or in the accessories – think of a gallery wall in black and white or a geometric black and white rug or throw pillows.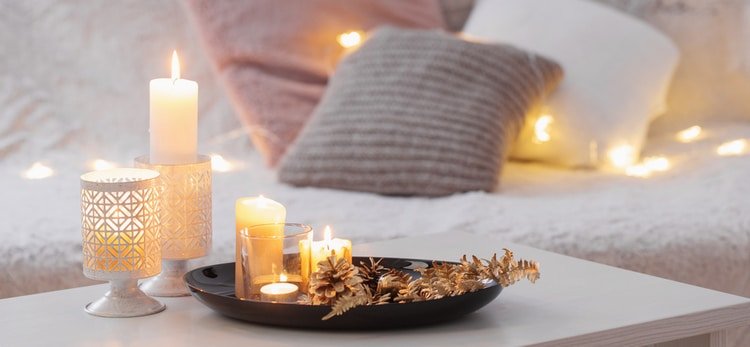 Add Some Hygge to Your Home
In Norway and Denmark, the practice of hygge describes a state where comfort and coziness equate to contentment and wellness.  To achieve hygge in your home, add candles, throw pillows, cozy blankets, and plush rugs to give your interior a Scandi look.   Sheepskin rugs and chunky knit blankets complete the look.   While rooms tend to be open and airy, you might create a small nook with a cozy armchair and throw to curl up with a good book and a cup of tea.
 

View this post on Instagram

 
Simple Accessories
Art and decor will add the finishing touches to achieving Scandi Style but keep it simple and curated.  Bring the outdoors in with green plants or nature-inspired prints. Try a gallery wall of nature prints featuring animals, the forest, or botanicals.  Bold art also contrasts well with the white walls that are typical for this style.  Try a black and white print for a stunning effect against a neutral room.
Soft touches like macrame wall hangings, chunky blankets, and textured rugs add warmth and coziness to the minimalist feel of the home.  Geometric patterns in black and white or pops of color to accent a neutral room work well.
Not Too Much, Not Too Little
Along with hygge, Sweden uses the word lagom, which means not too much, not too little. In other words, find the balance.  This is not a look that needs to be perfect – feel free to mix and match old and new.  Avoid items that are perfectly matching to promote a casual, relaxed look.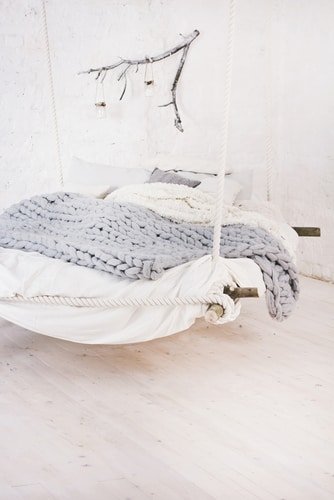 Minimalism
The less is more approach emphasizes quality over quantity for a more sustainable home.  Choose pieces that are timeless and will last a long time rather than mass-produced products that often end up getting thrown out.  Scandi style takes the functionality and simplicity of the minimalist look and makes it softer and cozier.  The style is livable and comfortable.  Add warm textiles to balance the minimalist look.
So if you want to have the Scandinavian design style in your home, here is a recap of some things you can do to achieve the look.
Focus on functional and simple furniture
Use warm textiles to accessorize
Choose simple decorative accents
Use light wood finishes
Use natural elements like plants to decorate
Choose a neutral color palette
Keep the interior of your home clutter-free
Less is more
Keep window treatments to a minimum
With these tips, you can create a space that is relaxing with the chic and effortless style of Scandinavian design.