Our obsession with Mid-century modern style is still going strong with its cool retro vibe. And our love affair is not fading anytime soon due to its classic and timeless style. The popularity of the tv series, Mad Men, brought renewed design inspiration into millions of living rooms.
The Mid-Century style first launched in the interior design world between the mid-1930s and 1960s. It slowly began its resurgence in the late 20th century and has been gracing the interiors of homes across the country and around the world ever since.
In the U.S., Mid-century modern was translated from the German Bauhaus Movement and the International style (popular in the 1920s and '30s in Germany, France and Holland).
The design style is defined by simplicity and function, clean lines and curves, use of new materials and some iconic designers like Charles and Ray Eames.
How to Achieve Mid-century Modern Style
Leading with function
With mid-century modern décor, form follows function.  Pieces are simple and humble and they serve a purpose.  There is an intentional lack of ornamentation in this style. To achieve a true mid-century modern space, you're going for a clean look with minimal fuss.
Color Palette
When selecting colors for your mid-century modern room or home, get inspired from the cheerful colors from the '50s and '60s like turquoise, lime green or flamingo pink.   For paint colors, earthy neutrals or monochromatic bases are mixed with pops of bold color.  For example, a living room with neutral or earthy walls might have a pop of color with a lime green or turquoise armchair.
Juxtaposing materials and textures
Any homeowner looking to create a mid-century modern look should not be afraid to mix and match different materials. This includes wood — a cornerstone of the mid-century modern style — plastic, Formica, Lucite, cloth and acrylic.
Welcoming nature indoors
Mid-century modern homes aren't afraid to bring a little bit of the outside, in. In some spaces, this may mean adding some perfectly placed houseplants or incorporating flat-paneled windows that allow for unobstructed views of the great outdoors. That natural feel is continued through the choice of materials, including raw materials and natural wood colors.

Go Geometric
When picking patterns to incorporate into your mid-century modern home, lead with something geometric, which is often prevalent in this style. That geometric feel is continued in mid-century modern furniture, which is often defined by curved, clean lines, such as angular chairs, tulip tables, and long and low couches. This furniture also often stands on tapered, splayed, or hairpin legs.
Mid-Century Rooms
If mid-century modern sounds like the perfect option for your taste and your home, here are a few tips for how to make it work on a room-by-room basis.
The Kitchen
The great thing about mid-century modern kitchens is that the style can work for any size. In fact, when the décor style first came about, most mid-century modern kitchens weren't the sprawling, open-concept spaces they are today. Instead, they were smaller, galley-style kitchens that may or may not have opened on one side. Some of the elements to consider incorporating in your mid-century modern kitchen include:
Laminate countertops, (perhaps in a bold color)
Slate, travertine, or terrazzo floors — or more affordable tiles that give you the same look — or wood floors in a medium tone with a subtle grain
Flat-front cabinets or metal cabinets
Open shelving as either an accent or major feature of the area
Breakfast nooks
A bold color paint color on the walls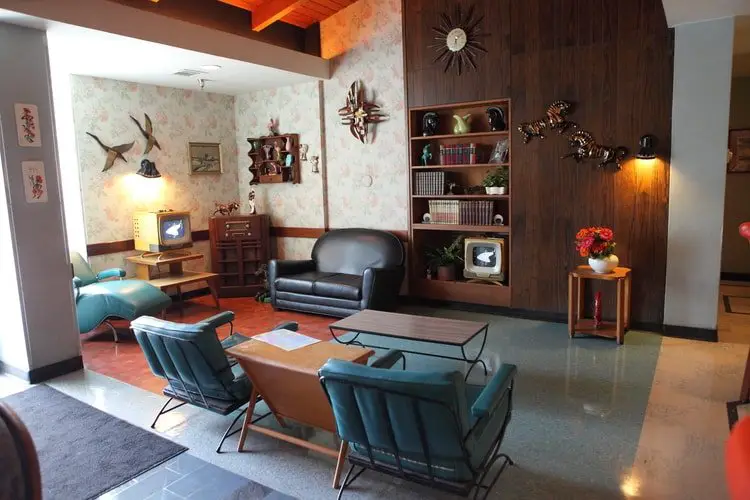 The Living Room
The living room often makes for a great blank slate for the mid-century modern design style. Some key elements to incorporate include:
A great accent chair, think something in brown leather that you've seen on popular mid-century modern-inspired television shows such as Mad Men.
A coffee table that will serve as the focal point of your room. Tables true to the style often have hairpin legs, gentle curves, and are clean and minimalist.
A sofa that isn't overly cushy or decorative, but that is instead low to the ground and rectangular in shape.
A mid-century modern bar cart is the epitome of the style which focused on entertaining – look for metal finishes, a pushcart handle and rounded angles.
Once you've got all these elements in place, accent them all with some greenery that pops from the neutral colors you've selected for the furniture.
The Bedroom
The mid-century modern style can make for a cozy oasis where you're happy to rest your head every night. The great thing about creating a bedroom with this ethos is you can either go full force or just integrate simple touches that give you a taste of the style. For example, if you are interested in simply adding touches of the period and want to keep it inexpensive, you can think about adding a mid-century modern nightstand or dresser and offsetting it with one boldly painted wall to act as a centerpiece for the room. If you want to decorate the entire room in the style, consider bringing in a chaise lounge and a platform bed made out of natural wood. Then, accent everything with mid-century modern-inspired fabrics in neutral colors or geometric patterns.
The Bathroom
Yes, you can bring the mid-century modern style into your bathroom. Elements of the style that are easy to add to these small spaces include vanity lighting, wood cabinets, brass fixtures for your cabinet knobs and faucets, neutral walls, and bold floor or shower tiles that bring in a geometric pattern that pays homage to the time period.
The Dining Room
In all dining rooms, the table always acts as the centerpiece. To achieve a mid-century modern feel where you eat, consider selecting a chestnut wood table paired with simple chairs designed in the minimalist style that defines the era. From there, accent the space with a rug that comes in a bold color or geometric pattern, incorporate artwork that emulates the period, and paint the walls in a neutral color palette.
The Patio
It can be easy to forget your outdoor space when designing your home in a particular area, but there are easy ways to bring the mid-century modern style outdoors. The same rules apply: keep it clean, keep it simple, and work in those neutral and bold colors. At the same time, just because you're already outside, that doesn't mean you shouldn't include some additional greenery around the patio area as an accent.

Don't Forget to Make It Your Own
The important thing to remember when creating your mid-century modern masterpiece is that it is and always should be yours. Don't feel as if you have to hold so true to the style that you don't bring elements of your own personality into the space or fail to add in items that offer a sense of history and family that really personalize any home.
At the end of the day, achieving a mid-century modern look and feel in your home can take some time and effort, but the effect should always be a comfortable space where you, your family, and guests will love to spend their time.