Whether you're lucky enough to live at the beach or you're miles inland, coastal interior design (also called coastal chic or beach chic) is a popular style that can be used anywhere to create a relaxed summer vibe.  Who doesn't love being reminded of a relaxing day at the beach –  walking barefoot in the sand or catching waves?
Coastal style is about creating easy and breezy spaces with plenty of natural light, beach tones of white, sand, marine blue, or dune-grass green, with pops of bright colors – turquoise, coral, yellow to keep it light and cheerful.
Use of light wood, organic fabrics, and natural decorative items that take you back to a day at the beach complete the look. Add potted plants including palm trees, succulents, cacti, and grasses.
Furniture is casual and eco-friendly made of bamboo, teak, wicker, rattan, or light woods like whitewashed oak, pine, or maple.  Pair with soft furnishings in cotton, linen, or other natural fabrics.
So even if you live inland, you can bring a touch of the coast into your home.  If you love natural light tones and open airy rooms,  bring the coastal style into your home for a year-round breezy summer mood.  The vibe is relaxed and casual but stylish and feels warm even in cool weather.
In our fast-paced world, using coastal design can create a calm and peaceful place to call home.
Key Elements for Coastal Design
Here are some easy tips to bring the beach vibe into your home –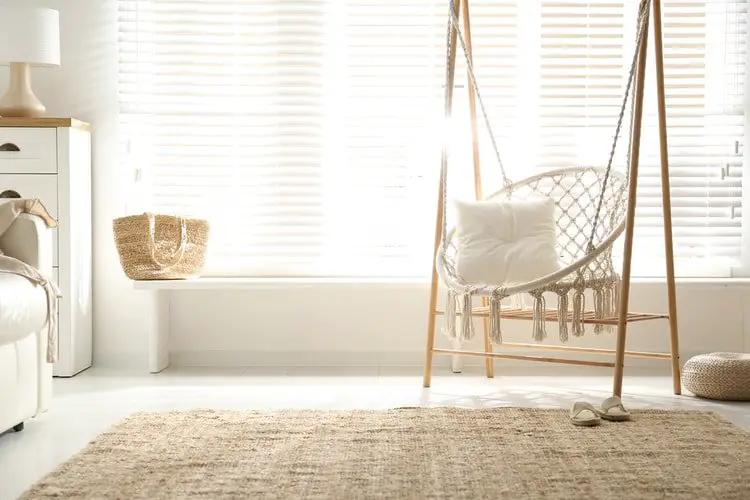 Easy Breezy
Coastal design is airy and open – furniture should be arranged to allow space to move around with minimal clutter. Light wood floors and furniture made of white or lighter wood, wicker, or rattan are popular choices. Use sheer flowy curtains to allow the sun in for plenty of natural light.  Add coastal-themed objects in rooms – earthy or colorful vases, jute or sisal rugs, wicker baskets, and decorative items like driftwood, shells, or other natural items for an organic vibe. Add a hanging chair or a hammock outdoors in the warmer weather for a beachy feel.
Coastal Kitchen Design
White cabinets are the epitome of coastal style – often paired with sea blues or greens for a backsplash or other accents. Or try painting the cabinets two colors – mixing white cabinets with ocean-inspired blues and greens. Appliances and decor can also provide a pop of color against a mostly white kitchen.
Open shelving (or cabinets with glass doors) showcase dishware and nature-inspired accents to the room. Wood chopping boards and kitchen utensils on display add to the coastal look.  Add potted plants or grasses to bring the beachy feeling inside.
Floor mats of jute, sisal, or organic cotton and a table of light wood or wicker complete the coastal feel.
A kitchen island with wooden or rattan stools or a simple white or light wood table anchors the kitchen.
Lighting
Natural light is key as well as adding sufficient lighting for a bright airy space.  If possible, forgo window treatments altogether or opt for natural sheer fabrics in cotton or linen to allow sunlight into the rooms.  Ensure that you have plenty of lighting with pendant lights over a kitchen island or dining table and larger lamps in living areas.  For a beachy look, look for lighting using wicker, oyster shells, or colored glass to keep things bright. Adding mirrors or mirrored furniture and lighter furniture keep rooms feeling spacious and airy.
Furniture
Coastal Design is all about relaxation so think comfy, overstuffed sofas that where you can chill. Slipcovered furniture in light cotton or linen is an easy way to get the coastal feel and it's practical to keep clean. Rattan, wicker, cane, glass, and light wood furniture keep things feeling light and bright.  This is a relaxed style so feel free to mix things up – not everything has to be matching.  Try an oversized wicker ottoman instead of a traditional coffee table.
 

View this post on Instagram

 
Beach Tones
White and sand are predominant colors in a modern beach house – mix with sea blues, sage greens, or pops of bright colors like coral, or yellow.  Blue and white is a classic color combination for coastal chic.  Add throw pillows or other accessories in classic stripes or nautical themes like seashells, fish, or botanical prints to bring nature inside.  Just keep the nautical theme simple for a fresh modern look – it doesn't need to scream beach house, so less is more.
Accents
Natural decor items like seashells, driftwood, colored sea glass, and rock add an organic vibe to complement the coastal theme. Art or wallpaper that is inspired by the ocean.  You can keep it serene with mostly white or add playful pops of color and prints. Add greenery for a touch of nature – palms, cactus, or succulents work well.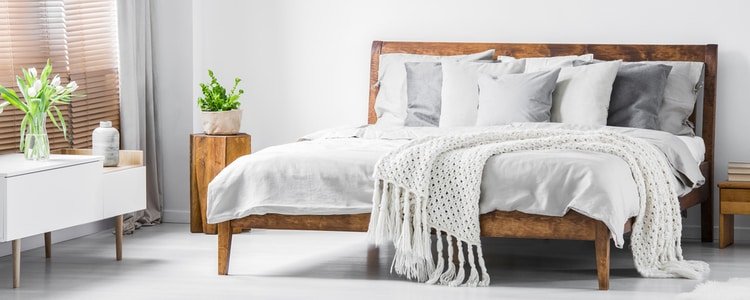 Add Texture
Layering organic fabrics like linen, chunky knits, or cotton blankets give warmth to a  neutral background.  Add area rugs over wood floors – sisal, jute or cotton are all good choices.  Add throw pillows in different fabrics and patterns.  Wall hangings of fabric or macrame,  plants or grasses, ceramic vases, or wicker baskets all add visual interest.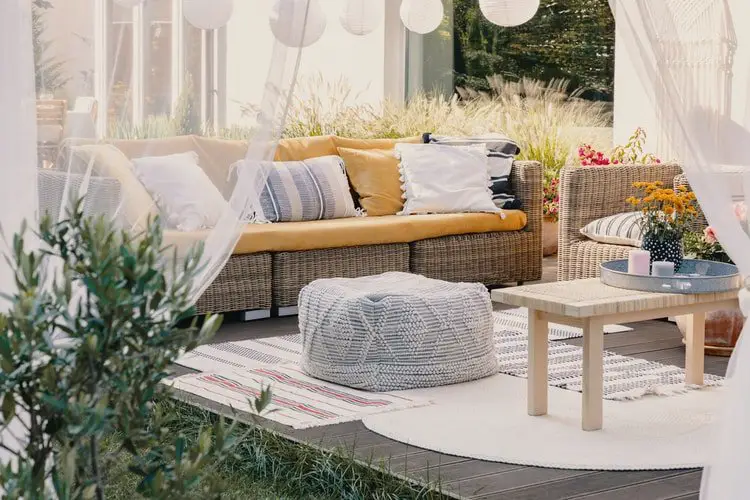 Outdoor Space
Every beach-inspired house needs a place to chill outside – even if it's just a small deck or yard. Create a space with comfy furniture – hammocks, sofa, or armchairs.  Rattan or wicker are good choices for coastal chic.  An umbrella or shade cloth provides much-needed shade to sunny decks. Add an outdoor rug and some poufs or side tables.  Green plants or flowering pots and throw pillows add color and interest to the outdoor space.