Who doesn't love the idea of cooking over an open fire or just having a roaring bonfire in the backyard? Whether you are grilling hot dogs, roasting marshmallows, or just enjoying a glass of wine around an open fire, there is nothing quite like the ambiance and experience of a backyard fire.
Before lighting a fire in your fire pit or any outdoor fire, you need to ensure that you do not violate any fire laws. You might also be wondering if it is generally safe to have a fire in your backyard.
The answer is that backyard fires can be safe and legal, provided you follow the rules and regulations established by your local county or town as well as follow general safety guidelines before starting a fire.
Safety First
When starting a fire, you need to consider the following factors to take care of the welfare of your family, your property and that of your neighbors:
Use a screen or metal grill on top of the fire pit to minimize flame and embers sparking and igniting any surrounding materials.
Check wind conditions before starting a fire – high winds can pose a fire hazard or send smoke into your neighbor's property.
Reduce the amount of smoke a fire creates by using dry wood.
Build your backyard fire in a portable fire-pit or fire-proof container using a stone or brick base – do not use directly on a wooden deck
Check your surroundings – do not start a fire under or near plants, branches, trees, or other combustible materials.
Always have a way to put out the fire nearby – keep an extinguisher or water supply close to the fire.
Keep your fire manageable and small, with a diameter of fewer than 3ft.
Backyard fires should be located more than 25 ft away from your fence, garage house, property line, and other combustible materials.
You should continuously supervise all fires in the fire pit and never leave a fire unattended.
Ensure your fire is completely out before retiring – douse it with plenty of water.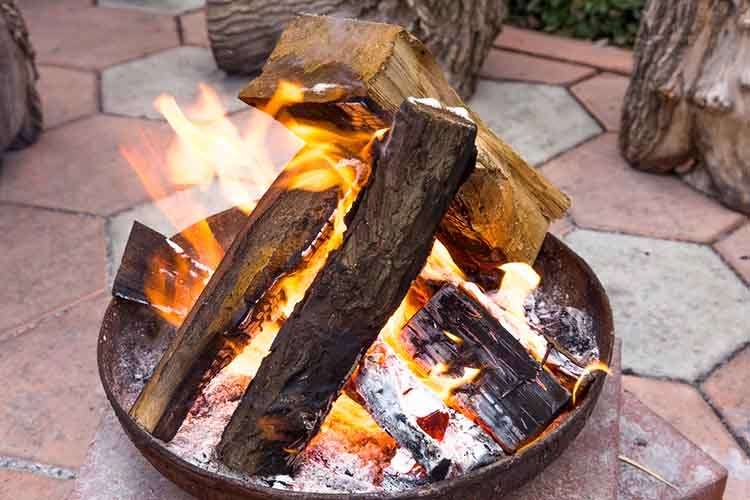 What To Burn
Limit the fuel for your fire to clean, dry firewood.
Do not burn the following materials:
Furniture
Plastic or rubber
Garbage
Yard waste, including leaves and cut grass
Green or wet wood
Wood that is painted or treated
Wood that contains resin or glue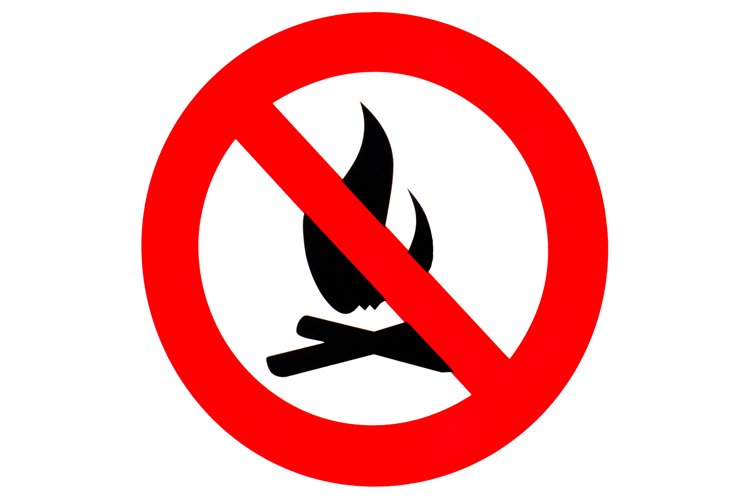 Different levels of fire bans
The National Forests uses different levels of fire bans to prevent human-caused fires. The implementation of fire bans is based on a combination of carefully measured factors. Criteria used to determine fire bans include the availability of firefighting resources, predicted and current weather, fire activity levels, and fuel moisture. The following are the general descriptions of the different levels of fire bans.
Level 1
Level one (or stage 1) ban is enforced when there is a considerable risk of fire danger. The bans are to prevent an accidental wildfire from human activities, including camping or smoking. Level 1 ban could include any of the following limitations:
Operating acetylene or welding with an open flame is banned
Discharging or using other types of incendiary devices and fireworks is banned
Smoking is banned unless it is done within a developed recreation site, an enclosed building or a vehicle
Using, attending, maintaining, or building a wood stove, coal, charcoal, or fire other than in a picnic or developed campsite place is banned.  There may be exemptions for people using LPG fuels which you can easily turn off.
Level 2
Level 2 restrictions limit certain outdoor recreation activities, especially camping. The prohibitions include:
Using, igniting, maintaining, or building a wood stove, coal, charcoal, briquettes, or fire other than in a picnic or developed campsite place is banned. In this case, there are exemptions for people using LPG fuels or devices fueled by liquid petroleum, which you can easily turn on and off. However, you can only use such devices in a barren place or a place free from combustible material at least 3 feet from the device.
Smoking is prohibited except in an enclosed building or vehicle.
Using explosives
Operating acetylene, blasting, or welding with an open flame
Operating a chainsaw, generator, or other equipment powered by an internal combustion engine
There may be exemptions places to level 2 fire bans including  the following
Industrial operations where appropriate mitigation measures are effectively implemented.
People with a written permit that authorizes starting of a fire in areas prohibited for necessary operations.
Operating generators with an approved spark arresting component within an enclosed building
Fires within city boundaries are exempted unless the city issues a ban.
Local, state, or federal officers of a firefighting force or rescue team in the performance of an official duty
Level 3
A level 3 fire ban means closure to manage public safety due to extreme fire danger.  Level 3 is used when levels 1 and 2 are no longer a viable way to minimize fire risk. The National Forest can completely close specific areas from being accessed by the public.
These closures may include National Forest trails, roads, and land. That means people are banned from entering the restricted areas except for individuals performing official firefighting duties or those who have a written permit for fire entry.
Breaking fire bans can lead to fines and even criminal charges including imprisonment.  So make sure you check the fire restrictions before lighting a fire and follow all the safety guidelines to enjoy a safe and fun backyard fire.