When it comes to Wisconsin, there are a few things that immediately come to mind.
There's plenty of beer with over 200 breweries. There's also cheese; the Badger State produces more than any other state.
Then there are coastlines on Lake Superior and Lake Michigan, and another 15,000 other lakes, as well as over 60,000 acres of state parkland, and more than 450,000 acres of forest.
So now that we've convinced you to visit, the next question is, where to stay in Wisconsin?  Lakes and forests lend themselves to cozy cabin vacations.
See below for a list of some of the best modern cabins you can rent:
Coolest Rental Cabins in Wisconsin to Book Online
Modern Design Meets Classic Northwoods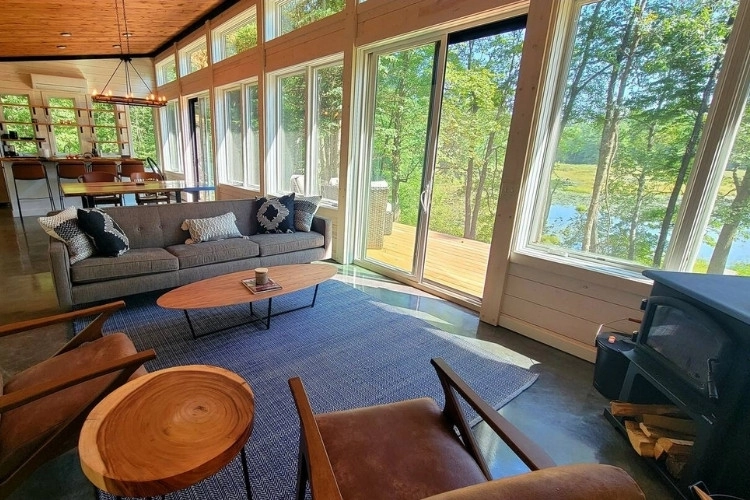 Located in Hayward, this very private cabin sleeps four guests in two bedrooms with one bathroom. Here, you can put your feet up and relax within the splendor of the Northwoods in a Scandinavian-style space. Just constructed in 2021, you'll find all the most modern furnishings, appliances, and amenities at your disposal.
View Upper Twin Lake or birdwatch from the all-encompassing windows or take in the outdoors from the patio, which boasts a fire pit, dock, and grill.
This location is convenient to town for supplies as well trails for biking, hiking, or snow sports. Additionally, there is swimming, fishing, and non-motorized boating allowed on the lake.
The Water Villa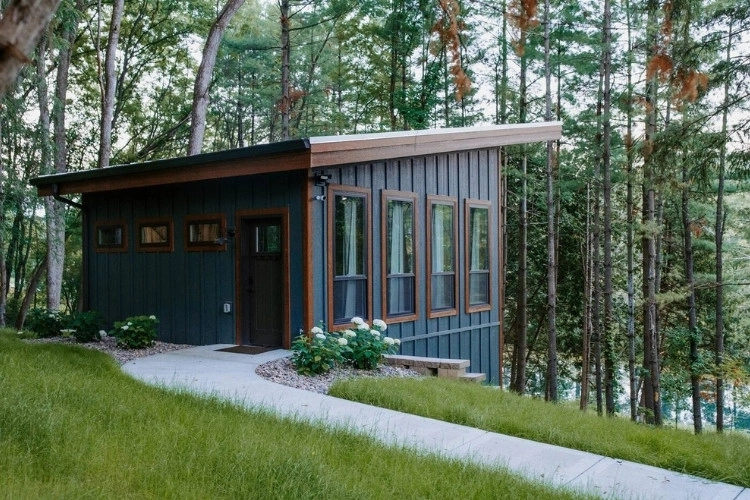 Located in Richland Center, this one-bedroom, one-bathroom, two-story cabin has both countryside and water views with a small pond and Mill Creek that can be observed from the patio or the spacious windows.
You'll have a cozy fireplace to sit by inside as well as a fire pit to gather around outside. You have the choice of cooking inside in the fully-equipped kitchen or outside at the grill.
While you are not allowed to swim in the pond, it's a great spot for "catch and release"  fishing and there is public access to Mill Creek located nearby, known for its abundant trout.

Modern Door County Waterfront Lake Cabin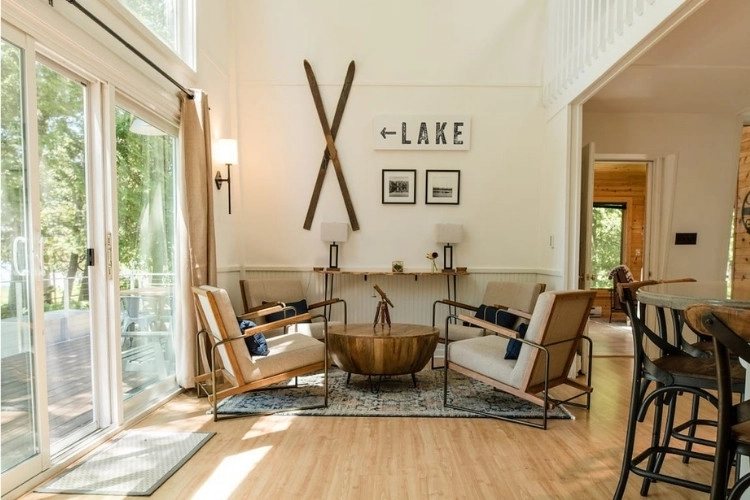 Located on Clark Lake, this H-frame cabin features three bedrooms and two bathrooms. Pets are also welcome for an additional fee.
On the second story, you can actually see the lake in its entirety from the expansive windows. There is a sunroom to relax in, as well as a patio for enjoying the outdoors while eating or taking in the sun's rise and fall.
You can fish, swim, boat (kayaks, canoes, and a paddleboat available) or just sit around the cozy fire pit. Or you can even rent a 2020 Harris pontoon boat.
Some of the nearby spots to check out include Lake Michigan, Whitefish Dunes, and Cave Point. There are also ample eateries and wineries within the vicinity of the cabin.
Secluded Luxury Cabin on 115 Acres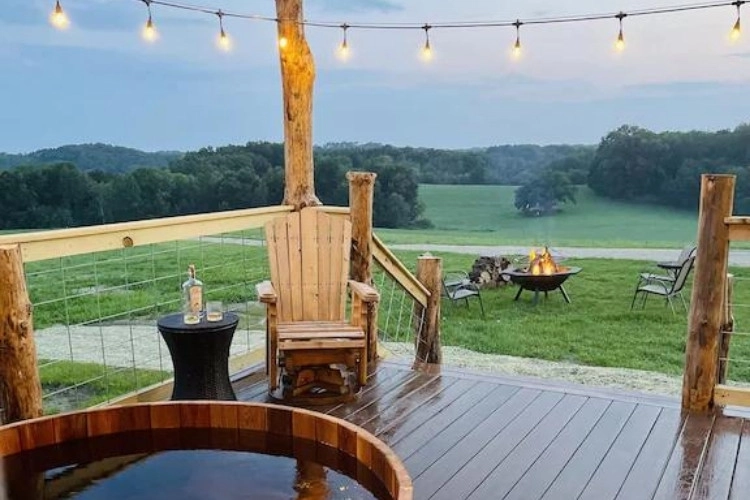 Located on a 115-acre plot, this dog-friendly two-bedroom, one-bathroom rental is so private that once you get down the driveway, you won't even see a neighbor.
Relax in the red cedar hot tub or outdoor shower, enjoy both the back and front deck for sunup and sundown.
Light the fire pit or watch the clear waters flow at one of the three springs on the property, or roam around the fruit orchard.
Trout fishing is conveniently located nearby.  In addition, you can rent the pond and beach area located on the property, or even hunt for an additional fee.
Cool Country Cabin Built On Boulders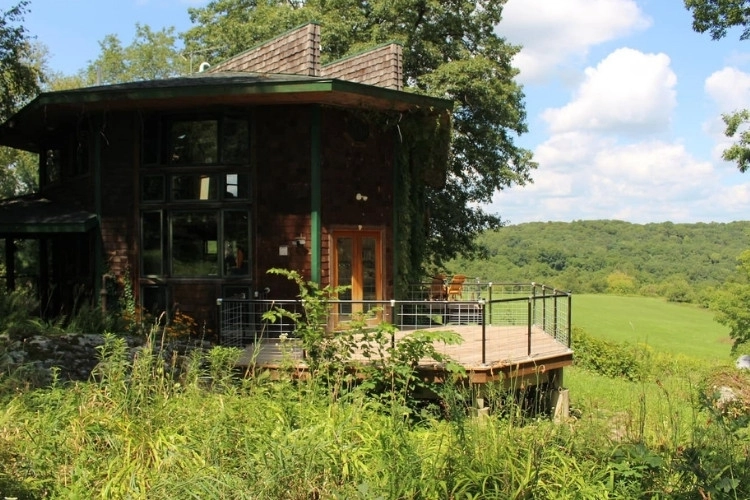 This two-bedroom, one-bathroom stone and wood cabin is located on 120 acres of wooded and farm area in Avoca.
You'll have the warmth of a fireplace on both stories as well as a fire pit to enjoy outside. The sleeping quarters are open loft and the spacious shower has doors that open to the deck for even more refreshment.
From the wide windows, you'll have plenty of meadows and greenery to examine. For recreation, there is direct access to many miles of trails on the property.
Although you are out in the country of southwest Wisconsin, both Highland and Dodgeville are within 20 minutes of the home.
Gorgeous Long Lake Log Cabin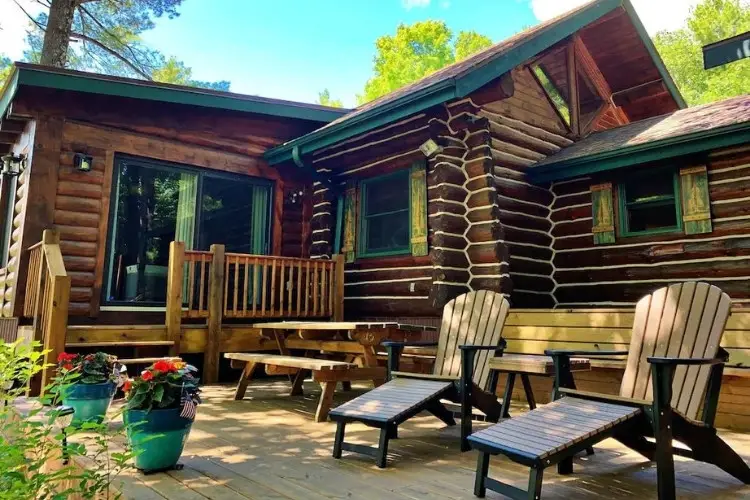 This three-bedroom, one-bathroom home is located on the north end of the 3300-acre Long Lake, with 100 feet of accessible shoreline to enjoy. The lake is known for its excellent walleye fishing and there is also a water trampoline and slide to use.
Have a home-cooked meal made from the fully-equipped kitchen or the gas grill outside, or just lounge on the screened porch that faces the lake.
You can also utilize the smaller deck off the master bedroom for fishing or just admiring the setting on a smaller scale. There is also an outdoor shower.
Take your own boat (or rent one from one of the nearby marinas) for a thrilling ride, or dock at one of the many waterside restaurants.
You are also within 30 minutes of some of the most picturesque towns in the area like Stone Lake, Spooner, Hayward, Shell Lake, and Rice Lake. Golfing is just five minutes away as well.
Luxury Lakefront Cabin Rental in Northwest Wisconsin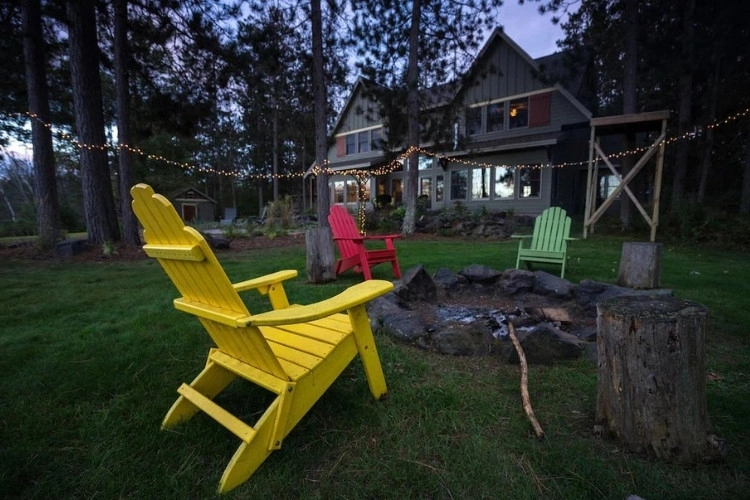 This three-bedroom, three-bathroom cabin has upwards of 500 feet of shoreline on Big Bass Lake. Each bedroom has its own suite for privacy – making it a perfect getaway for couples or families.
Outside, you'll find two backyard patios to enjoy nature or a meal. You can also take advantage of the biking and hiking trails or even frisbee golf.
From your proximity in Minong, you are also close to Minong Flowage, Whitefish Lake, Trego Lake, and Spooner Golf Club.
Modern Repurposed Farmhouse Silo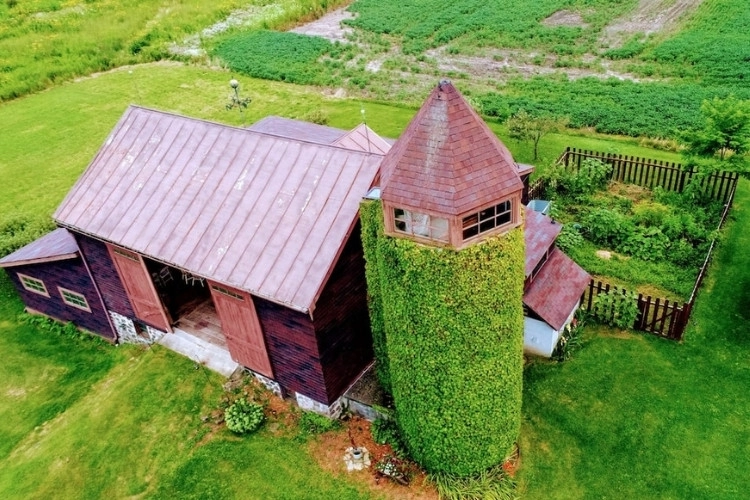 This unique rental is actually a silo-turned-lodging, with five stories and one bedroom and bathroom. Each of its levels offers a different experience, like the fourth, which features hammock chairs and a card table among expansive views of the farm's surrounding landscape. There will be ample opportunities to view an assortment of animals, such as deer and geese.
There is a seasonal bathroom just outside as well as an outhouse for the rest of the year. Please be advised that guests should dress for the weather and also be prepared for stairs, as the spiral staircase inside features 39 steps.
The kitchen is equipped with all the essentials and even some extras like a French press and an electric griddle. There is also a fire pit to cozy up around outside.
Kusel Lake with Hot Tub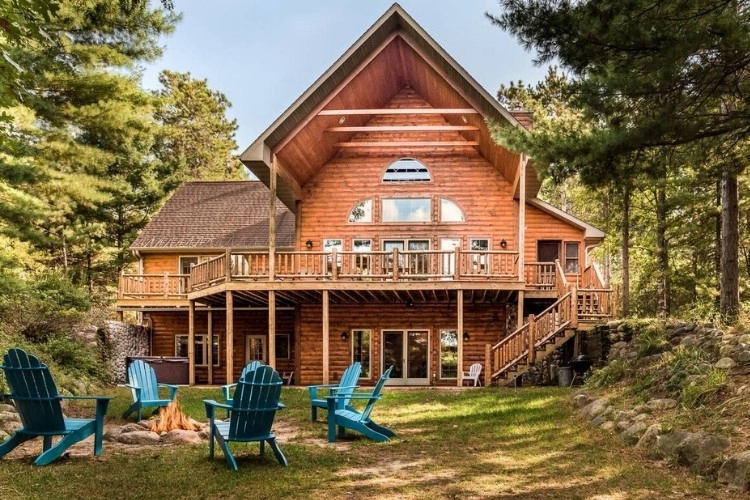 This lakefront cabin has direct walkout access to Kusel Lake and features six bedrooms and three bathrooms. In addition to the hot tub on-site, you can also get into the lake by using a kayak, canoe, rowboat, paddleboard, or paddleboat from your private dock. And in the winter, enjoy the close proximity to Nordic Mountain to partake in snow activities.
There's a foosball table, gas, and wood-burning fireplaces, and a gas grill outside. There is also plenty of room for fun outdoor games and activities, a fire pit, and a screened porch.
Wisconsin Dells, Christmas Mountain Village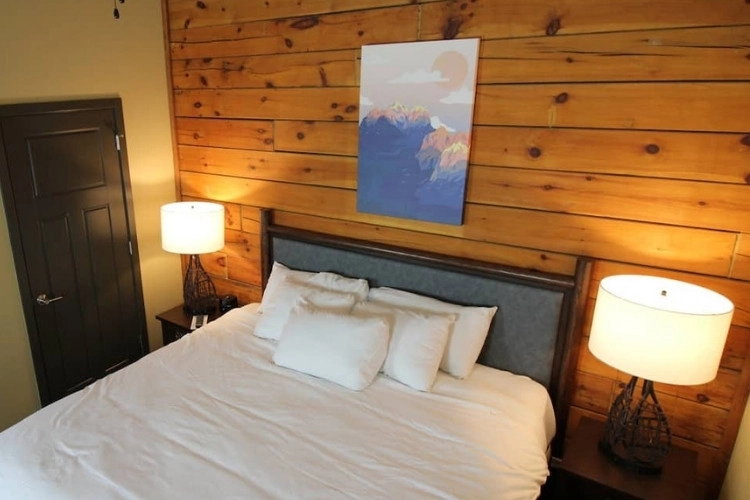 Located in Christmas Mountain Village, this two-bedroom, two-bathroom cabin is in Wisconsin Dells, known as the "Water Park Capital of the World." And it doesn't even matter the season; of the area's 20 parks, there are both indoor and outdoor options.
You'll have a kitchen with all the works to prepare your meals. There is also a community pool with an additional kiddie pool and hot tub, as well as sports apparatus, such as basketball courts and corn hole, and free use of non-motorized boats for the lagoon.
Aside from the waterparks and natural scenery of the mountains, be sure to also look up what events are going on when you visit; there's something for every season from arts and crafts to trail walks. There are also plenty of restaurants, wineries, and breweries nearby and you've got proximity to Rocky Arbor State Park, Devil's Lake State Park, and Mirror Lake State Park.