What the state of New Hampshire lacks in size and population, it makes up for in its outdoor recreation, which includes winter skiing at 19 resorts and hiking within its 4.8 million acres of forest.
Among its impressive 90 state parks, you'll find Mount Washington State Park, with the state's (and the entire Northeast's) highest peak, Mt Washington at 6,288 feet.  It also has the highest ever recorded wind speed – a whopping 231 miles per hour in April of 1934.
In addition tthere are plenty of lakes and ponds, over 1000 of them, along with 40 rivers that you can splash around in, kayak or boat on.
In fact, the Granite State is so positive about its offerings that its slogan actually is: "You're Going to Love It Here." Once you're ready to explore, you'll need a place to stay. See below for a list of some of the best modern cabins to rent in the state.
Cool Cabins in New Hampshire
North Conway Cabin Near Cathedral Ledge
This three bedroom and one bathroom cabin is located in North Conway, known for an abundance of outdoor recreation within the White Mountain National Forest, Cathedral Ledge, and Echo Lake State Park as well as its outlet shopping opportunities.
Relax the afternoon away with a book or a nap in the hammock chair. Check out the scenery from the porch or stay warm inside and take in the views from the floor to ceiling windows in the living room.
You are only a few minutes away from Story Land theme park, hiking and swimming at Echo Lake State Park, Diana's Baths waterfalls, and skiing at Cranmore and Attitash.
Cabin with White Mountains Views
This three bedroom and two bathroom rental is located in Jefferson, with close proximity to hiking at Owl's Head Trail or Mount Cabot, fishing at Forest Lake State Park, plenty of dining options along Presidential Highway, and snow sports at Bretton Woods or Wildcat Mountain.
Take in the view from your large deck outside or stay cozy inside with expansive windows. Warm-up after a day out recreating by the gas fireplace and put a movie on the TV.
You are just three miles from Santa's Village theme park (closed January–April). Head 20 miles to Mount Washington for more exploring.
Mountain Lodge in Waterville Estates
This three bedroom and 2.5 bathroom cabin is located in Thornton, where you can easily access outdoor fun like hiking and golfing.  You can also take in the scenery of the Kancamagus Highway and plenty of overlooks and vistas.
Relax at home with a pellet stove, a fully equipped kitchen, tv and board games.
As part of the stay at Waterville Estates, you'll also get two adult passes to use the gym, hot tub, pools, game room, and pond. You are only half a mile from Campton Mountain Ski Hill where you can ski both day and night and also grab something to eat.
A-Frame Near the White Mountains
This one bedroom and one bathroom rental is located in Bethlehem, close to dining, shopping, and outdoor recreation in and around the White Mountains.
Cook something up in your full kitchen or grill on the patio and have your meal al fresco. Or relax indoors near the fireplace.
You are only 20 minutes from skiing at Bretton Woods and a few minutes from hiking in the White Mountain National Forest. If you want to stick close to home, you can hike at Rocks Estates right from the backyard.
Head into nearby Franconia or Littleton for dining and shopping.
Large Cabin in Eidelweiss
This four bedroom and two bathroom rental is located in Eidelweiss in Madison, with plenty of hiking and water activities within easy reach.
Take in the views from the expansive wraparound deck, relax by one of the beaches, or use one of the kayaks down by Big Pea and Middle Pea Ponds. Sit around the fire pit at night and gaze at the stars. Or get competitive with one of the board games or yard games.
If you feel like getting out of town for a bit, you can head to North Conway, Fryeburg, Bartlett, or Jackson to explore entertainment, dining, and shopping opportunities.
1920s Former Artist's Retreat Cottage
This two bedroom and one bathroom home is located in Cornish, where you'll be surrounded by the beauty of nature's fields and woods and have easy access to biking, hiking, and water activities along the Connecticut River. Not to mention that the town has four covered bridges to explore, more than any other town in the state.
Cozy up near the fireplace after a day out. Cook a meal in the full kitchen or take your cooking outside to the grill, where you can sit on the deck and enjoy it.
You are located right on the Vermont border. Cross over for additional recreation opportunities at Mount Ascutney State Park or explore Windsor, known as the "Birthplace of Vermont."
Rustic Pemigewasset Waterfront Cabin
This four bedroom and one bathroom cabin is located in Woodstock on Waterest Campground, where you can use all the amenities, including access to the brook, river, and two ponds. You are also near skiing at Whaleback and Mount Sunapee.
Take in mountain and water views from your deck, explore the surrounding 70 acres of land, a stream and river.
Head into nearby Lincoln for entertainment and fun at Alpine Adventures or Clark's Bears Amusement Park. You can also explore Loon Mountain Resort and the Flume Gorge.
Lakefront Home with Private Beach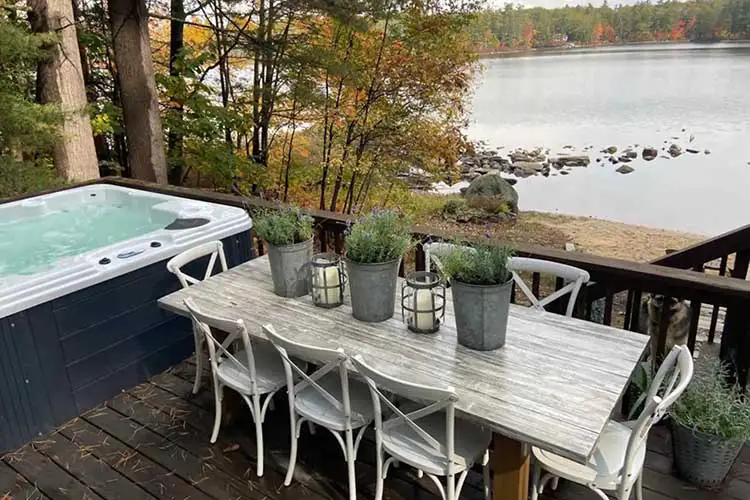 This two bedroom and one bathroom home is located in Ossipee, where you can take in several lakes, like White Lake, Lake Winnipesaukee, and Ossipee Lake. You are also close to all the recreation and views that the White Mountains offers.
Relax at the private beach or launch your boat onto the 83-acre Lake Duncan. Cook up a great meal in the fully equipped kitchen or use the grill outside and dine on the deck.  Relax in the hot tub and watch the sun go down (or come up) over the lake. Sit around the firepit and watch the stars or play table tennis, cornhole, or one of the board games.
You are close to Pine River State Forest where you can hike in warm weather or cross-county ski, snowshoe, or snowmobile in the winter. For winter sports on a larger level, head to King Pine Ski Area for 17 trails as well as ice skating across the street from the resort. You can also walk into town for light shopping or head out to Wolfeboro or North Conway for even more dining and shopping options. Or if you are just looking for an amazing drive, you can check out Kancamagus Highway.