Known as the land of 10,000 lakes, Minnesota is an outdoor recreation paradise.  Lakes range from small to great including one of the Great Lakes, Lake Superior with 32,000 square miles. Northern Minnesota offers a wilderness paradise at the Boundary Waters Canoe Area Wilderness or BWCA as locals call it, a wilderness area accessible only by canoe.
Outdoor enthusiasts can also enjoy 66 state parks and 341 square miles of Voyageurs National Park – there's a lot to see in the state of Minnesota.Anglers will delight in the variety the state offers for fishing including trout, northern pike, bass, and walleye.
Whether it's for shopping – the Mall of America is 9.5 million square feet – or water recreation – the state has 10,000 lakes, which includes the almost 32,000 square-mile Lake Superior – or land recreation – there are
At a population of over five million, it's clear that Minnesotans are happy with the North Star State's many offerings. It's become quite the place to vacation, bringing in more than 34 million tourists per year to take in its shopping and outdoor recreation opportunities as well as its art and culture.
Now that you know that there's plenty to do and see in Minnesota, you'll need to find a place to stay. Check out the below list for some of the best rentals for your stay.
Cool Rental Cabins in Minnesota
Cabin on the North Shore of Lake Superior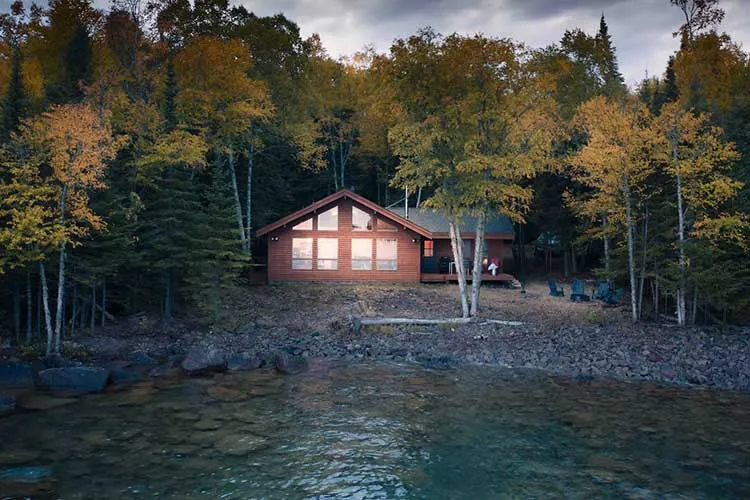 This two-bedroom and two-bathroom rental is located on Lake Superior where you can watch the waves and wildlife. You can also use the two canoes provided to explore the waters up close.
Watch the sun or moon rise from your deck. Warm yourself up after a day out in front of the wood-burning stove. Light the fire pit and roast marshmallows under the endless skies. Put together a meal in the full kitchen or use the electric grill out on the deck. Head into the gazebo to take in the views even closer. You can curl up in front of the TV at night or pull out a board game or puzzle to do.
You are only a little more than 20 miles from Grand Marais where you can stop in to the shops and restaurants or explore the hundreds of miles of trails that surround it. Grand Portage is 12 miles away, where you can take in the state park and forest, or try your luck at the casino. For closer recreation, you are only about five miles out to Judge CR Magney State Park, which has access to the Superior Hiking Trail, Devil's Kettle, and scenic waterfalls.
40 Acres with Lake Superior Views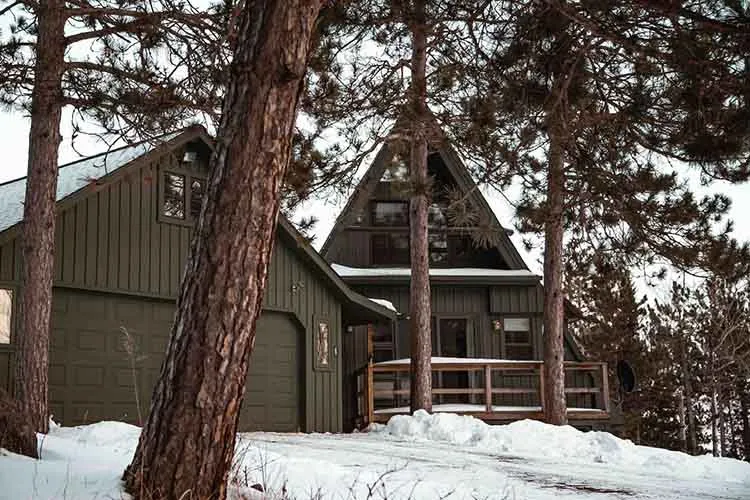 This three-bedroom and two-bathroom cabin is located in Two Harbors, which is home to both Burlington and Agate Bay with panoramic views of Lake Superior.
Hike through the expansive property and look out for native wildlife. Light the fire pit at night for a relaxing evening or watch the sun come up over the lake from one of the three decks.
You are only about ten minutes from a variety of things to do, such as Gooseberry Falls State Park with 20 miles of hiking trails and three waterfalls, Iona's Beach and its pink stones, the 133-foot-high Split Rock Lighthouse, the 300-plus-mile Superior Hiking Trail, and much more.
Secluded Cabin Close to the Twin Cities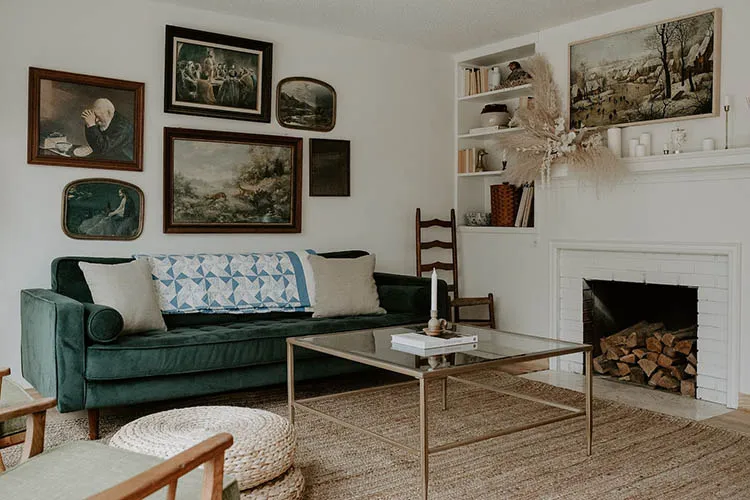 This four-bedroom and one-bathroom A-frame is located just outside of the Twin Cities, giving you the convenience of a metro area's arts and culture, dining, and shopping opportunities combined with views of the Mississippi River.
Take a kayak out on the river via the nearby public boat launch or stay at home and watch for wildlife (such as turkey, foxes, and coyotes) within the woods of the property. Prepare a meal in the fully equipped kitchen and enjoy it within the glass greenhouse. Relax the afternoon away out in the gazebo or curl up in the cozy cabin.
For hiking, you are not permitted to wander the woods of the property, but you can head to nearby Schaar's Bluff Trailhead. There's also Hazen P. Mooers Park for kayaking or canoeing.
Modern Cabin with Bass Lake Views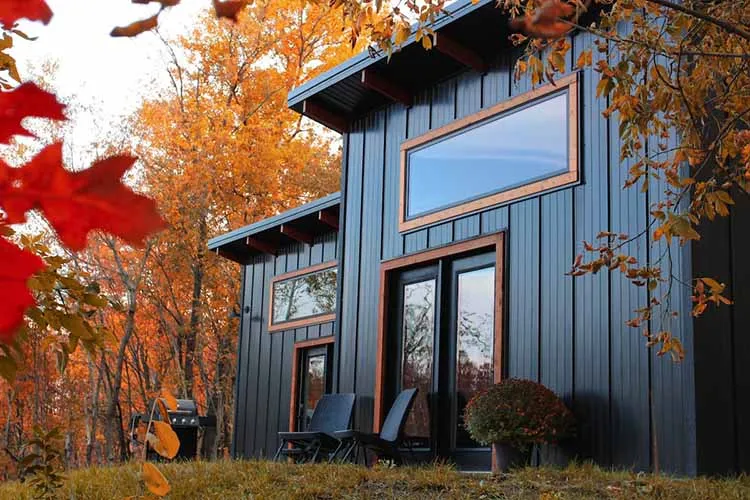 This one-bedroom and one-bathroom cabin is located in Merrifield with views of the almost 2500-acre Bass Lake.
Sit around the fire pit at night and gaze at the night skies or watch the sun come up from the patio. Make a meal in the fully equipped kitchen or use the grill outside.
While you cannot swim at the beach of Bass Lake, you can head to nearby Horseshoe Lake for water recreation. There's also Crosslake Nature Trail or Scrub Oak Trail for hiking.
Scandinavian A-frame on Lake Adney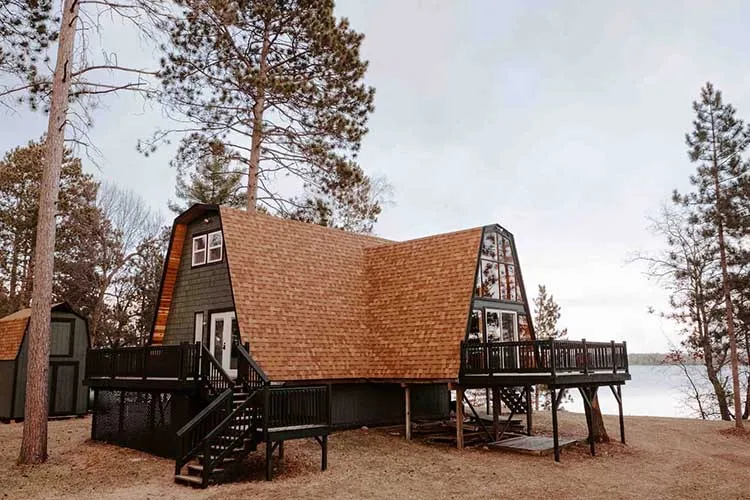 This two-bedroom and one-bathroom rental is located on Lake Adney, where you can take in the lakeshore and use the private dock. You can rent a boat at Wind, Water & Wheels, or Cycle Path & Paddle.
Cozy up in front of the fireplace inside after a day out adventuring, or gather around the fire pit outside and take in the open skies.
You are only about ten minutes from Crosslake, where you can take in the shopping and dining options as well as dozens of lakes. You are also about 25 minutes from Crosby and its extraordinary antiquing options and recreation, like snowmobiling in the winter and mountain biking in the summer. You can also head to the nearby Cuyuna State Recreation Area for fishing or biking.
Off-the-Grid Log Cabin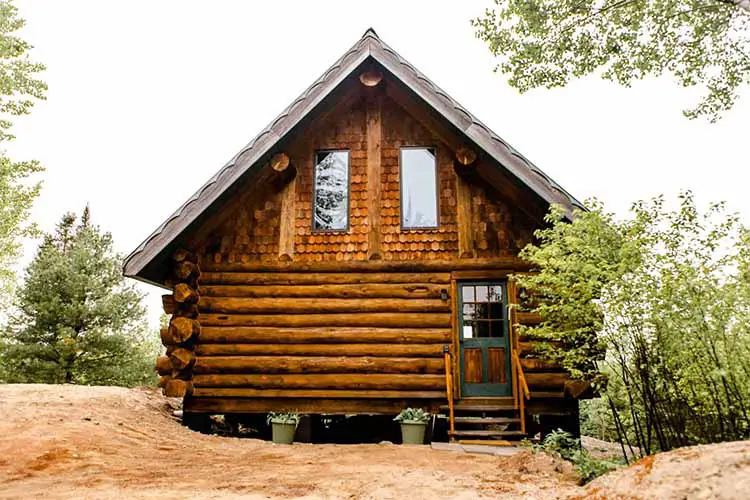 This one-bedroom and one-bathroom off-the-grid log cabin is located in Ely. If you're brave enough to visit in winter, you can use the two pairs of snowshoes to take out on some of Ely's nordic ski trails. You can also head to Chilly Dog Sleds for dog sledding. In summer months, you can use the onsite canoe, paddleboard, or mountain bikes for an additional fee.
You're only about 15 minutes from downtown Ely, where you'll find shopping and restaurants.  There's also the International Wolf Center and the North American Bear Center just outside town where you can learn about native wildlife.
Hike at the nearby Bear Head State Park or Lake Vermillion State Park.  There are also plenty of opportuties for fishing, birding and swimming.
Warm-up in front of the fireplace after a day out recreating in this cozy cabin.