Being as though it was the sixth state to enter the union and Plymouth is the site of the first settlement of Pilgrims, Massachusetts is heavily sprinkled with historical importance. And many visit here every year to discover some of the most important sites in American history.
Visitors also flock to the Bay State for its popular landmarks, like The Old State House and the Freedom Trail, its diverse landscape, such as Cape Cod and Martha's Vineyard, and its stunning architecture like the Massachusetts State House and Trinity Church.
And then, of course, there's its outdoor recreation. Within three million acres of forest–accounting for more than half of the state's land area–there are over 150 state parks. And since it lies on the Atlantic Ocean, it's also a great place to take in the water and waves.
Now that you've got plenty of reasons to visit Massachusetts, you'll have to find a place to stay. See below for a list of some of the best rentals:
Cool Rental Cabins In Massachusetts
Hilltop Cabin with Mountain Views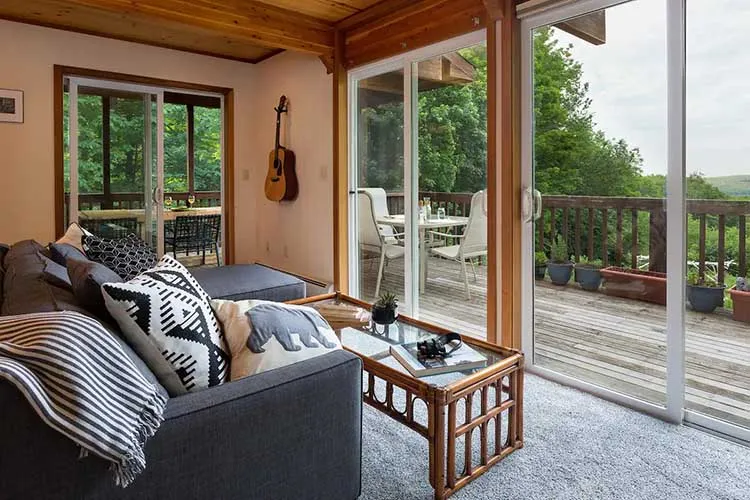 This three-bedroom and 1.5-bathroom rental is located in Sandisfield in the Berkshires, where you'll have access to all the outdoor fun the region has to offer and be able to immerse yourself within nature and its animals, such as birds, bunnies, wild turkeys, and sometimes even a black bear.
Take in the views from either balcony or your screened-in porch. Roast marshmallows under the stars around the fire pit. You can cook inside or take it outside to the grill and enjoy your meal on the porch.
If you don't feel like cooking, Great Barrington is only about 15 miles away and offers a variety of dining options as well as shopping and sightseeing opportunities. You are nearby to hiking at Clam River Trail and winter activities like skiing and snow tubing at Otis Ridge or Butternut Ski Area. If you want to take in a show, you are 15 minutes from Jacob's Pillow and 30 minutes from Tanglewood.
Beach Cabin in Stockbridge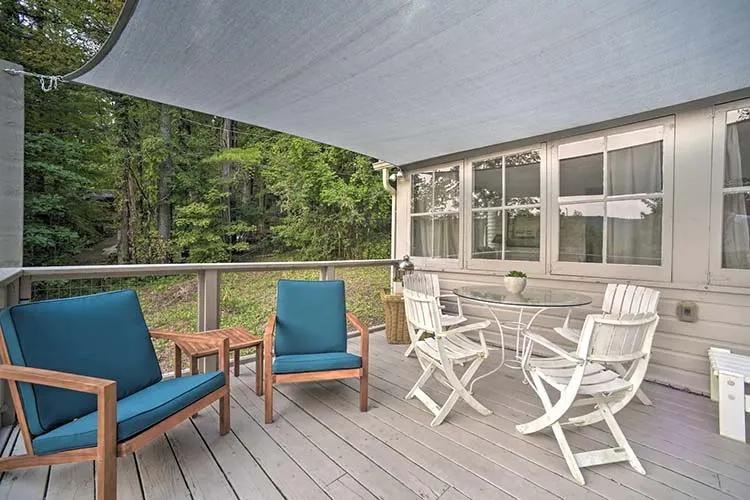 This 1940s two-bedroom and two-bathroom cabin is located in Stockbridge, known for its abundance of cultural attractions such as theaters, gardens, and museums. From your rental, you are only just a few footsteps from Stockbridge Town Beach where you can swim.
Soak up the views from your porch and have your meals at the outdoor table. Make a meal in the fully equipped kitchen or use the gas grill. For the beach, you'll have all you'll need, including kayaks, paddleboards, and chairs. There's also an outdoor shower. Relax in front of the TV or put on some records.
You are just a few miles from Tanglewood, a live music venue and the Norman Rockwell Museum. There's also the museum at Orleton Farm, Ventfort Hall Mansion and Gilded Age Museum, and The Mount, author Edith Wharton's home. Hiking is also convenient, with options like Brothers Trail, Burbank Trail, Olivia's Overlook, and part of the Appalachian Trail. In the winter, you are under twenty miles from both Ski Butternut and Jiminy Peak.
Secluded Cabin with Finnish Sauna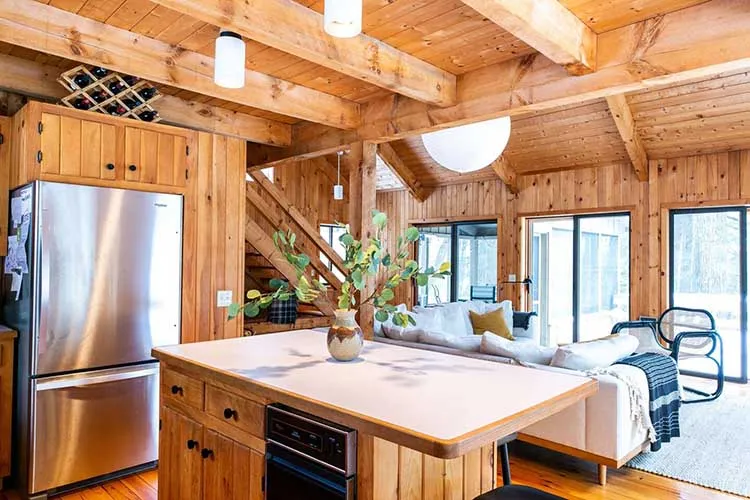 This five-bedroom and 2.5-bathroom cabin is located in Sandisfield, part of the Berkshire region of Massachusetts. While the area is known for its tourism, you'll have the convenience of being close enough to attractions yet far enough away for seclusion.
You'll have access to a private lake where you can take kayaks out. There is also access to a pool and tennis court. Warm up by the fireplace in the living room after a day out exploring. Take in the views from your porch or from the expansive windows. Use the fully equipped kitchen to make meals or the gas grill outside. Make it a night in with the TV or grab a board game or puzzle.
If you are looking to explore, you are only 20 minutes from some of the best New England towns in the Berkshires like Great Barrington, Stockbridge, and Lenox. Skiing at Otis Ridge is only five minutes away. You can also snow shoe or hike in Otis State Park right from the end of the road.
Waterfront Cabin in Eastham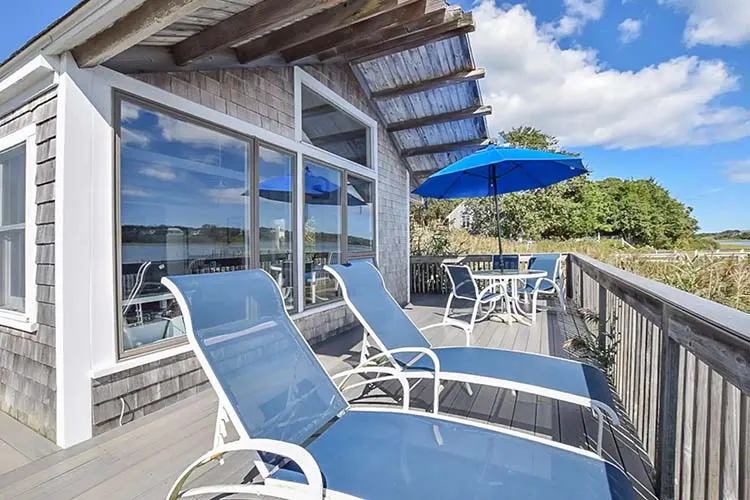 This two-bedroom and one-bathroom home is located in Eastham, right on the Nauset cove and estuary.
Watch the sunsets or sunrises from your dock or from the expansive windows in the living room. You can fish right off the dock or use the kayaks or canoes provided. Warm up around the wood fireplace after a day out. Put together a meal in the full kitchen or use the propane grill outside.
You are only a short distance away from both ocean and bay beaches, shopping, dining, theater, and the Cape Cod Institute and Cape Cod Symposium. And there are plenty hiking trails at the Cape Cod National Seashore, just 20 minutes away.
Cape Cod Cabin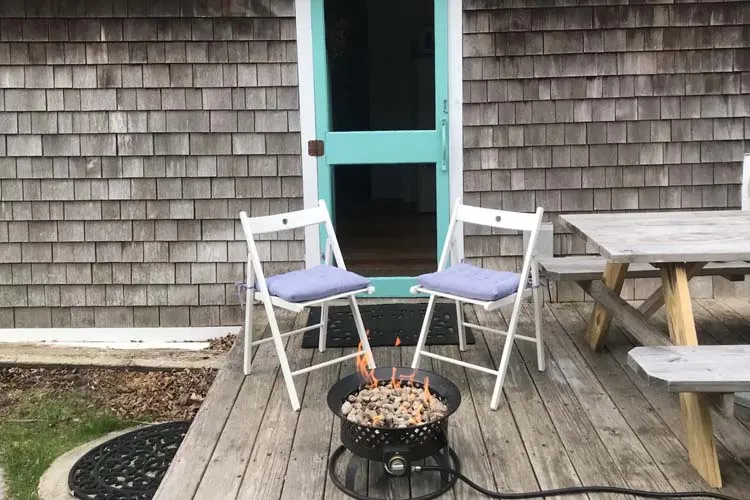 This two-bedroom and one -bathroom cabin is located in Brewster, putting you very close to Nickerson State Park where you can hike as well as use the bike trails.
Whip up a meal in the kitchen or use the outside grill. You can also eat inside or outside. Plop yourself in front of the TV to relax after a day out recreating. Sit out on the deck and stargaze or just take in the natural surroundings.
Linnell Landing Beach is only a mile away where you can relax, swim, or kayak. You can also walk to Cobies Clam Shack as well as local kettle ponds. The Cape Cod Rail Trail is just a few miles away where you can stroll along with access to dining, beaches, and shops.
Quiet Beachfront Cabin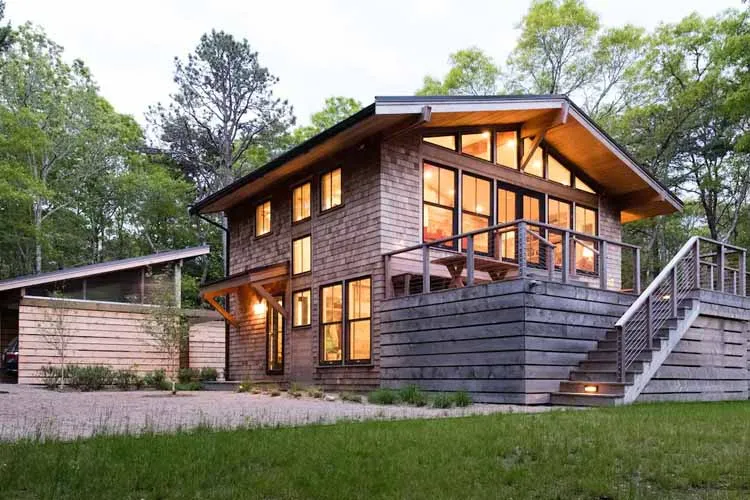 This three-bedroom and 2.5-bathroom cabin is located in Bourne, with a private beach within minutes of your reach. There are actually two: one sandy and the other containing a dock and float.
Head to the tennis courts for a match. Take in the woodsy views from the plentiful windows or from your porch. Cook a meal in the fully equipped kitchen or use the BBQ grill outside.
If relaxing at the beach and water activities aren't enough, there are plenty of other things to do. Head to Cape Cod Canal for sightseeing and fishing. Or spend the day exploring the Aptucxet Trading Post Museum. You can also hike one or more of the many trails available from the Bourne Conservation Trust.
Long Pond Cabin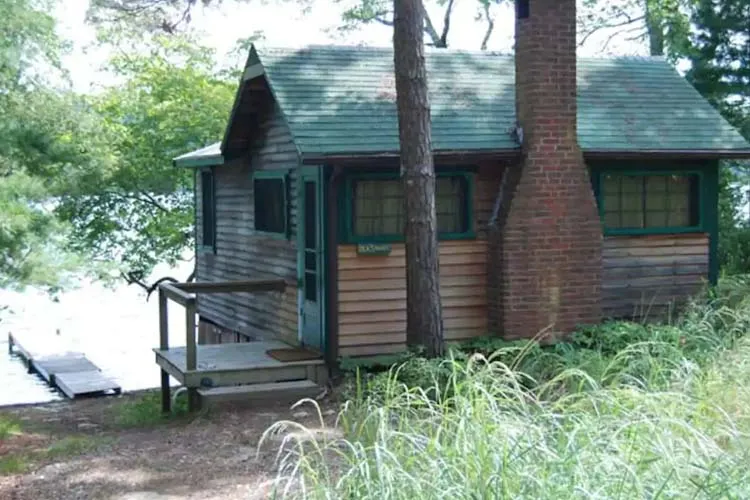 This 1930s one-bedroom and one-bathroom cabin is located right on Long Pond, where you can swim, fish, and use the canoe provided to explore.
Watch the views of the water from your porch. Get cozy by the living room fireplace. Cook in the kitchenette or use the grill outside. Go for a walk or take your bike out for a ride. Swim or fish right at the lake. Look for area birds, like eagles, and other wildlife.
There is plenty to do nearby, such as the Plimoth Patuxet Museum, a re-creation of the 1627 Pilgrim village or check out the site of the Mayflower's landing at Plymouth Rock. If you'd rather not cook, there are several restaurants in the vicinity, like Cork & Table or The Tasty. If you want to take in nature, there's Myles Standish State Forest or Ellisville Harbor State Park.
Cabin on Cape Cod Bay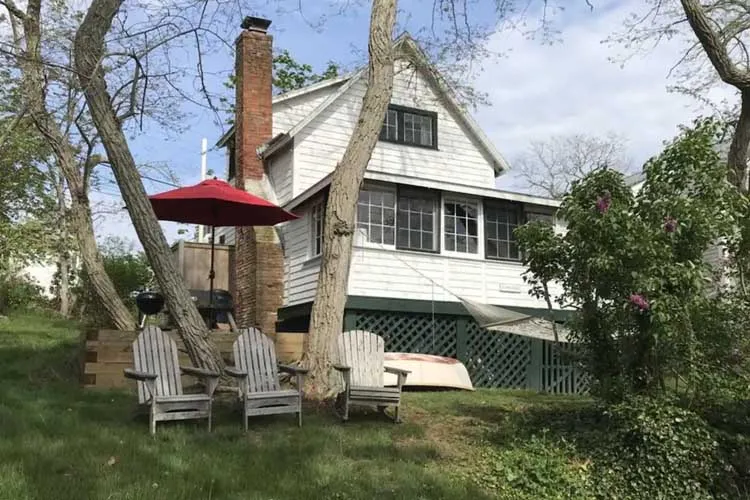 This five-bedroom and 1.5-bathroom cottage is located on the Pamet River/Cape Cod Bay in the town of Truro, where you can enjoy kayaking, canoeing, and floating on the river.
Put together a meal in the kitchen or use one of the grills outside. Get cozy by the fireplace in the living room or relax the afternoon away in the hammock. You also have an outdoor shower to use. Get on the water and take one of the kayaks or canoes out to the bay beaches.
You are just a short distance from the Truro Center for The Arts at Castle Hill as well as swimming and relaxing at Corn Hill Beach. There is also plenty of nearby hiking at the Great Dunes. You can also head farther to Ballston Beach or Coast Guard Beach.