The stereotype of a mountain cabin is rustic and kitsch – it might conjure up images of wall-to-wall wood, tree-trunk furniture, moose-adorned fabrics and bearskin rugs all accented with an overwhelming number of antlers.
In recent years, however, mountain décor has bucked its own stereotype. Today's designers have dragged this style into a new age dubbed Mountain Modern.  A refreshed version of mountain living that is sophisticated while still paying homage to its rustic roots.
Mountain Modern is an interior design style inspired by mountain landscapes. It is characterized by clean lines, neutral colors, and natural materials such as stone and wood which are meant to evoke the rugged beauty of the great outdoors. Interior designers often incorporate rustic elements, like reclaimed wood, and natural textures to create a warm and inviting atmosphere.
If you are looking to create a mountain oasis in your home, there are several key elements defining today's modern mountain décor including:
10 Easy Steps to Incorporate Mountain Modern Decor
Saying Goodbye to Wall-to-Wall Wood
While wood is still an important material for mountain modern, it's no longer used with the same overwhelming enthusiasm of years past. Wall-to-wall dark wood has been replaced with lighter woods, natural stone including Travertine, Slate or Sandstone and mixing materials for a more organic mountain aesthetic. Sourcing local wood or stone adds to the overall look and creates a connection to the place you call home.
Lightening It Up
Old-school mountain homes were often dark, cavernous spaces. The color palette was dominated by heavy browns, forest greens, and bold reds and an abundance of wood cast a heavier look overall. The result was a space that wasn't always relaxing. Today's mountain homes, however, have embraced a lighter touch. Neutral tones including white or cream and grey and blue have become popular colors, pairing perfectly with the natural stone and abundance of light.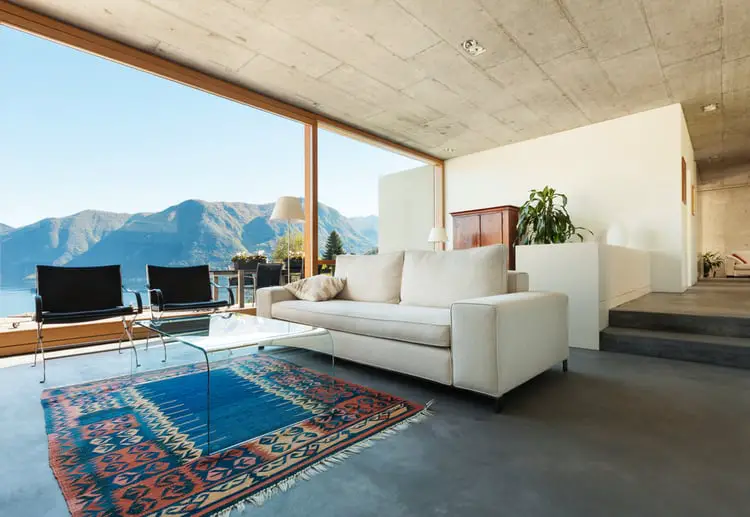 Embracing the View — and Natural Light
While light fixtures made of (faux) deer antlers still have a place (with restraint) in modern mountain design, they are no longer the major source of light for these homes. Instead, picture windows that run floor-to-ceiling on several walls have become an in-demand feature of most mountain homes. Not only do these windows offer up an abundance of natural light, but they also allow those inside to enjoy the beautiful nature that surrounds these spaces.
Layering in Textures
With the addition of natural materials comes another trend for today's mountain homes: texture. The floors, furniture, countertops, and even walls of these homes now offer up layers upon layers of smooth stone, chunky woods, and plush fabrics to create a space that appeals to many senses. To add depth to these natural textures, many designers are utilizing natural patterns with backsplashes, wallpaper and in their fabric choices.
Getting Cozy
Whether you're in the mountains or simply want to feel like you are, one of the best things about being in a mountain home-inspired space is that it's forever cozy. When we think of these spaces, we imagine plush blankets, a wood burning fire, sheepskin throws and candlelight.  The mountain modern style evokes an overall sense of warmth that envelops you— especially in the cold and snowy winter months. The design needs to help bring that feeling to life. Cold materials and soul-less design have no place here. Instead, designers and homeowners looking to bring about a mountain style ensure that a house feels like a home by adding in area rugs, soft furnishings and lighting that adds a soft, warm glow.
Open Layout
Mountain Modern maximizes the natural light streaming in through all its windows by making open floor plans and clean lines the norm — thus leaving no spectacular mountain view interrupted. But note that an open floor plan can have the wrong effect if not handled correctly. It can easily become a vast, seemingly empty space instead of the warm retreat you desire. To make sure you achieve the desired coziness in your mountain home, arrange furniture into conversation areas, put the lights on dimmers so that you can easily achieve that warm glow, incorporate art that adds color and personality to the space (instead of leaving the walls blank), and incorporate furniture that is upholstered in soft and plush fabrics and warm colors.
Mountain Bathroom
The bathrooms of modern mountain homes receive the same treatment as the rest of the house by embracing a rustic sort of modernism. For some bathrooms, this means exposing pipes in copper or gold or using antique-inspired knobs and finishings. Mixing material like rustic wood and stone with a more modern design and fixtures is a great way to bring the rustic and modern styles together.
Going Hyper-local
Like with so many of today's trends, homeowners and designers are conscious about where home materials are sourced from. Big box stores and mass-produced items aren't cutting it. Instead, designers are bringing in elements crafted by local makers. This has become even more important during the COVID-19 pandemic as people are looking to support local businesses and retailers that were struggling.
 

View this post on Instagram

 
Modern Cabin Architecture
No longer are today's mountain homes designed in a traditional log cabin look that would make Abraham Lincoln proud.  Today mountain structures have a modern twist and bring in a variety of materials, including steel and glass, to create unique shapes and updated architectural appeal. At the same time, mountain homes often have a lot of elements to battle — wind, snow, rain, and sun, just to name a few which is a factor in building a mountain home.
Environmentally Conscious
Mountain homes are inspired by the environment that surrounds them. Today's homeowner is paying respect to this environment by embracing an energy and resource-conscious approach to their space. Tips include harnessing the power of the sun during the day to help heat the home at night and incorporating energy-efficient appliances and fixtures. Because the mountain climate tends to be cooler — even in the summer — many homeowners are also incorporating efficiency by opting for natural ventilation and cooling via windows and ceiling fans.
The mountain style of yesterday has undergone a major shift from its rustic roots. Today, it embraces a more modern aesthetic mixed with a rustic mountain culture that embraces the natural surroundings for a peaceful retreat from everyday life.  So whether your home is in the mountains or not, you can incorporate some mountain vibe into your space with these key elements.