What is Modern Cabin Decor? It's about a lifestyle as much as a design style.  It can incorporate many forms of interior design, including Scandinavian or Nordic, Japanese or Modern Farmhouse.  The common theme for achieving Modern Cabin decor is the beautiful pairing of warm, simple rustic living with modern style.  The straight lines and sleek silhouettes of a modern style beautifully contrast with rustic cabin elements.
No matter where you live, Modern Cabin living can be achieved in any home.  Don't despair if you are living in an urban apartment or suburban home.  Perhaps you dream of owning a cabin in the woods (or the mountains or on a lake).  Or maybe you've already purchased your dream cabin.  Whatever your situation, Modern Cabin decor can be achieved with some simple design tips outlined here.
Easy Ways to Bring Modern Cabin Decor in Any Home
Simple and Natural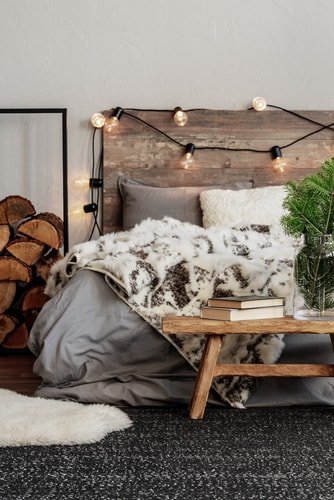 Modern Cabin Decor is all about simplicity and clean lines combined with rustic natural design elements.  This starts with using natural materials like wood or reclaimed wood to bring warmth to your home.  Using wood as an accent can make a big impact in small spaces.  For example, try using reclaimed wood in a modern setting for a mantle, single accent wall or headboard.  Wood flooring, ceiling beams or furniture achieves warmth and coziness.
Use local materials wherever possible such as native cut timber and locally quarried stone left in their natural state.  Untreated wood can bring out its natural beauty and imperfections.  Using a mix of metal, stone, wood enhances the natural feel.
Add textures to accentuate the decor in your home.  Think leather chairs, chunky knit throws, organic sheets, rattan or wicker furniture.  Add natural rugs in jute, wool or cotton.  Incorporate live plants and flowers inside and out the window.
Modern Cabin decor is not about buying a lot of expensive decor.  However, it's enjoying simple design and quality items.
Warm and Cozy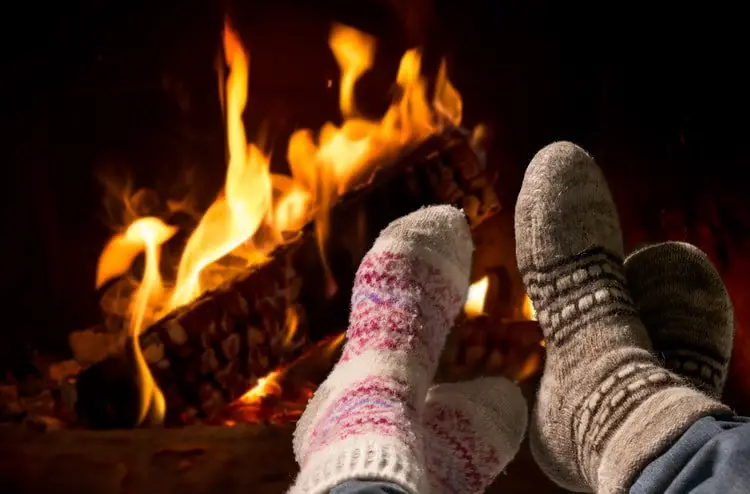 By now we've all heard the word Hygge (hoo-ga) and read that we should embrace this age-old Danish lifestyle.  There is no single word in the English language to translate Hygge.  However, it's defined by having a feeling of cozy contentment and well-being by enjoying the simple things in life.  Now that we are all spending more time at home, adding some Hygge into your life is more important than ever.   If you want to read about how to practice Hygge in your life.
Nothing says cozy more than a wood-burning fireplace for a warm welcome to your home.  If wood is not permitted in your home, a gas fireplace adds warmth to any living space.  However, if you can't create a fireplace, try an electric option to make a space cozy. A personal fireplace for a tabletop experience works even in small spaces.  Outdoor fire pits – whether wood-burning or gas -add coziness to your outdoor evenings.
Candles are the epitome of Hygge and are an easy,  affordable way to add warmth.  In addition, they add a lovely scent to your home.  Feel free to change scents to match the seasons.  The winter season is defined by pine, sage and currant.  In the summer switch to light fragrances like citrus, sea salt and summer blooms.  And nothing says Fall like pumpkin or cranberry scents.
Adding natural accessories help elevate the coziness that defines Modern Cabin decor.   Include wool or cotton throws,  chunky knit blankets, throw pillows and (faux) fur to your home decor.
Bring the Outside In

Modern Cabin decor is inspired by the stunning natural beauty of the outdoors.  The calming effect that nature brings can be brought inside your home.  Look for ways to create a seamless flow between indoors and outdoors.  Incorporate sun, fire, water and other natural elements in your home.
Natural light is a very effective way to bring the outdoors inside.  Use large windows or add skylights where possible.  Keep windows light and bright by avoiding heavy drapery.  Replace with sheer fabrics or leave bare where feasible. Allow the sun to flood your home.  If natural light is a challenge there are other ways to add brightness to your home.
Try placing a large mirror near a natural light source to amplify the available light.  Decorating with fairy lights, candles or other ambient lights will offer light and a calming effect.  If lights have a warm, yellow light they will create the right vibe.  In addition, light-colored furniture, rugs and paint will help brighten a home.
Experiment with items found in nature including a water feature, plants, flowers, stone, pinecones, rocks or branches.  They will add to the natural soothing environment of your home.
Create an easy flow between the indoors and outside.  For example, use a sliding door or French doors to transition from indoor to outdoor dining space.  Create a shower or bath that incorporates views of plants or trees. Or if budget allows, extend bathroom to an outdoor shower. Bring furniture typically used outdoors, like wicker or rattan, inside to create a natural feel.
Use nature-inspired artwork or wallpaper.  Wall hangings from wool, fabric or macrame also create natural texture.  Decorate with plants, succulents, herbs and flowers.  For big impact, create a living wall or vertical garden inside.
Calm and Serene
Modern Cabin decor is neutral and calming, but never dull.  Ideal interior paint colors include whites, off-white, grey and other neutrals.  But bolder black and navy can create a modern feel too, particularly in smaller spaces like powder rooms.
Add layered texture to create a cozier feel – think warm throw rugs, chunky knits, natural artwork and fuzzy pillows and throws.
Create a calming space  – even a small corner nook with a comfy chair and good lighting.  Because we all need a spot to settle in with a good book.  Or create a zen-like bathroom with a soaking tub or steam shower to soothe the soul.
Outdoor Living
Modern Cabin Living is inspired by its outdoor surroundings.  And using any outdoor space available to spend as much time as possible outside.  Whether you have a tiny deck or a sprawling lawn, creating a cozy space to enjoy the outdoors is essential to the lifestyle.
To start with, define the space you have and what you want to use it for.  For example, entertaining, napping, gardening, outdoor games, etc.  (Link to best outdoor games)
Make it cozy by adding walls which can be anything from a wood structure, a hedge or potted plants to give the space borders.
Add cozy elements like comfortable outdoor furniture and a rug, hammock or comfy chairs, fairy lights, and greenery.
Modern Cabin living can offer a retreat from our busy lives.  Design your space to be relaxing, cozy and comfortable.  Draw inspiration from the outdoors and the beauty of nature.  Combine modern style with rustic, natural elements. Take time to enjoy life's simple pleasures – a roaring fire, a pot of stew, a good book under a cozy blanket.