Escaping city life, the high cost of housing, traffic, and noise pollution has many people searching for a more rural retreat closer to nature.
As a result, yurts have become popular escape routes as both primary homes and vacation spots. What are they made of? Can you make them safe, secure, and cozy? Read on…
What Are Yurts Made Of?
A yurt or ger originated in Mongolia and is a circular portable structure. The traditional yurt is made of wool felt spread over a wood frame. It also includes walls, a wheel, ribs, a door frame, and internal posts to support the wheel. The ancient people of Central Asia sometimes built their yurts on top of carts to travel with them for their nomadic lifestyle.
Modern yurts maintain the same basic structure with a wooden or metal frame, poles and rafters, a door frame, and a compression ring with an acrylic dome skylight. You can erect the yurt on a permanent wooden platform. Materials like canvas, wire rope, windows, or insulated glass windows can be additions to your yurt.
You could also include upgrades including insulated glass windows, French doors, durable fabric or wood walls, electricity and plumbing to modernize the yurt. As a result, a modern yurt can range from a simple temporary structure for camping to or a more luxurious dwelling built on a permanent wooden structure.
 

View this post on Instagram

 
How Safe is Living in a Yurt?
One concern when considering living in a yurt, is are they secure? Yurts can be very safe, especially when you take some precautions and measures to ensure your security.
1.  Yurt Door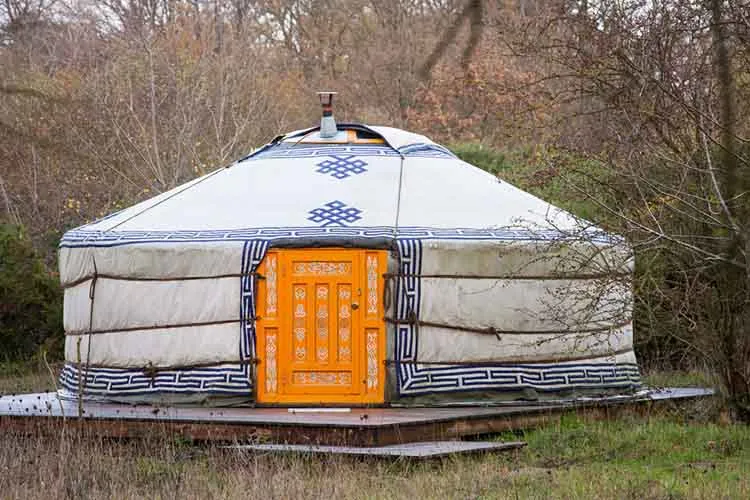 If security is a concern, you'll want to consider what type of door you install in your yurt.  The door of the yurt is the only access point since the remaining walls are one circular structure.
Some yurts doors are made of canvas that attaches to a door frame. If security is an issue, whether it's theft, the elements, or wildlife concerns, consider an upgrade to a solid wooden door that you can better secure.
2. Use Smart Locks
A top-quality standard door should come with a lifetime warranty lockset. You could install keyless deadbolts to make the door more secure. The advantage of smart locks is that you can control them from a smart gadget. They're more expensive than traditional keyless deadbolts by not by much and are probably worth a few extra bucks.  If you are handy, you can install the locks yourself, or hire a professional locksmith.
3. Install an External Camera System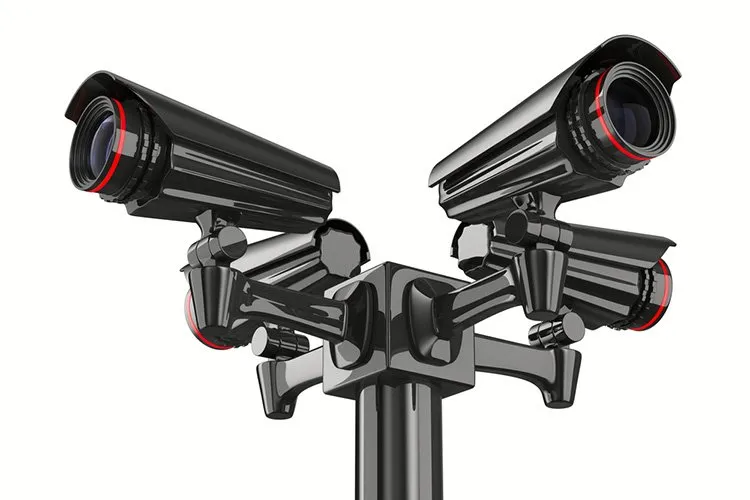 An outdoor camera system can add another layer of security. These intelligent security camera devices can record everything around your yurt's surroundings. Any movement triggers a notification that the camera sends to your phone or another device.  Security cameras will warn any intruder trying to gain access to your property.  Cameras come in a variety of price points depending on the quality, size, and the number of cameras you'll want to install.
A doorbell camera system can also improve your security. Consider a front door camera, like a video camera, to get real-time updates of any deliveries.
4. Timed or Motion-Sensor Lights
Installing motion and time-activated lighting around the yurt can be a cost-effective way to feel more secure. The lights are effective at scaring intruders off, including animals.
You can go on vacation knowing that your yurt is secure. Also, the lighting is ideal for those who use yurts seasonally. Cost-wise, timed lights are cheaper as you can buy them for less than $15. You can install them yourself.
5. Install a Full Security System
Yurts are great places to enjoy nature and minimalist living. However, your peaceful home can be at risk of security breaches. The best way to keep the bad guys away is to install a comprehensive security system.
You can connect the security apps to your smart device. As a result, the security system can keep you updated on everything happening around your place.
Because the security app records and documents anything around your yurt, you can alert the police if you suspect any strange movements. Getting an entire security system can make your modern yurt safer.
 

View this post on Instagram

 
6. Fire Safety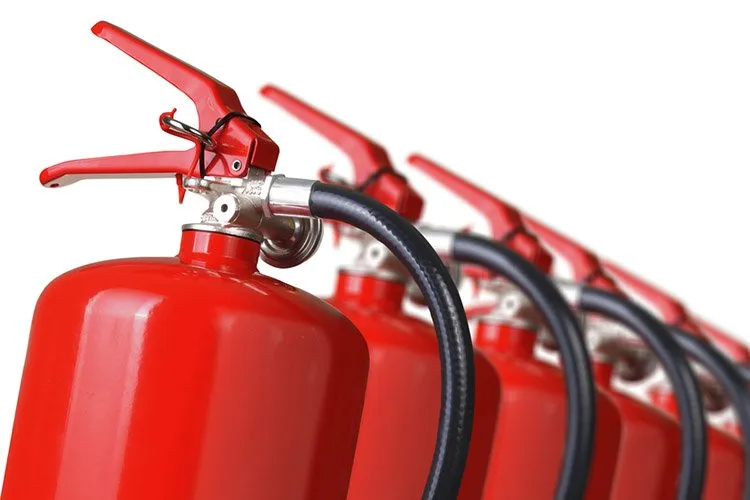 There are many different options to heat your yurt.  A popular choice is a wood stove for supreme warmth and coziness. To ensure your ongoing safety, ensure that the chimney and stovepipe get cleaned regularly to avoid any danger.  It is recommended to run the vent of the chimney through a side wall vs a ceiling for easier cleaning.  No matter how you heat your yurt, always have a fire extinguisher on hand in the event of an emergency.
7.  Wildlife Encounters
It's likely that your yurt is located close to nature, and that means there is a possibility of some wildlife encounters.  The biggest threat is if you are located in bear country.  Avoid potential problems by securing food in a bear-proof container away from the yurt.  If you want extra security, you can use some wiring from an electric fence around a deck or the base of the yurt platform to provide a light shock  – this will keep them coming back looking for dinner.
8. Safe from the Elements
A concern with yurt living is protection from weather including wind, snow, and storms.  Many yurt kits come with the added protection of wind and snow upgrades for areas with heavy snow load or high winds.  These upgrades might include supports and a cable system to add stability to the roof. Additional protection in high winds can be achieved by securing the center ring to the floor with cables, upgrading the rafters, and installing a central steel column.  You'll want to consider added protection from the elements if your yurt is located in a place with high winds or heavy snow.
With these ideas for securing your yurt, you can rest assured that yurt living can be safe, fun and comfortable for years to come.