Boasting one of the 7 wonders of the world, the legendary Grand Canyon, Arizona is a stunning state to explore.  It also has Saguaro National Park, Monument Valley,  the Petrified Forest National Park, and the stunning red rocks of Sedona.
Arizona definitely has its share of natural wonders to explore within its nearly 114,000 square miles. Not to mention the twenty-one national monuments, historic sites, and memorials that are scattered across the state as well. It's also steeped in Wild West history.
The Grand Canyon State has varying climates throughout its 18.6 million acres ranging from arid to humid.   Interesting plants abound in Arizona including the unique saguaro cactus which is an iconic feature of the Sonoran Desert and only grows naturally in Arizona.
Undoubtedly there is plenty to see and do in the sixth-largest state in the US, and of course, you'll want a cool modern cabin to rent as your base camp for exploring the state.
Cool Cabins to Rent in Arizona
Sedona Desert Cabin Getaway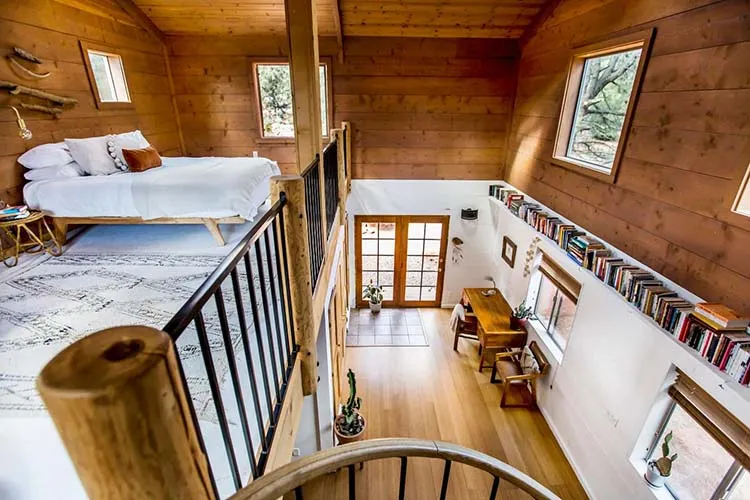 This one-bedroom and one-and-half-bathroom cabin is located within Sedona, known for its red rock formations and vortexes.
You not only have Coconino National Forest right outside your door, you also have access to primitive trails that lead out to the 1.8-mile Bell Rock loop where you can hike the red rocks and maybe spot some native wildlife like javelinas or mule deer.
You can also enjoy the red rock and desert views from your porch or outdoor hot tub.  Soak up the night sky while relaxing around the fire pit or nap the day away in the hammock.
Cozy Flagstaff Forest Cabin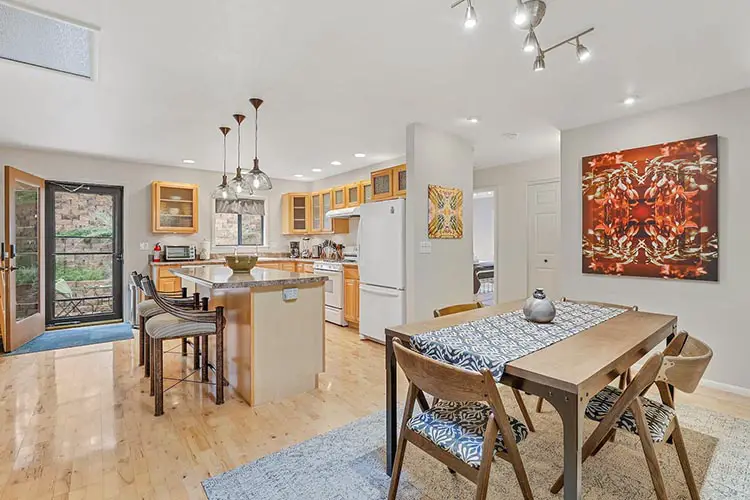 This one-bedroom and one-bathroom cabin is located in Flagstaff with access the Coconino National Forest located right off the back of the property, accessible by a gate.
Aside from the forest, you'll also find recreation at such nearby places like Kachina Wetland Preserve for hiking or Raymond County Park for ballfields and wildlife viewing area.
You'll have a large kitchen to cook at home and a gas fireplace to cozy up to after a day out adventuring. You can take in the views from your porch or even right from the living room.
Tucson Glass Cottage: Open-Concept Desert Living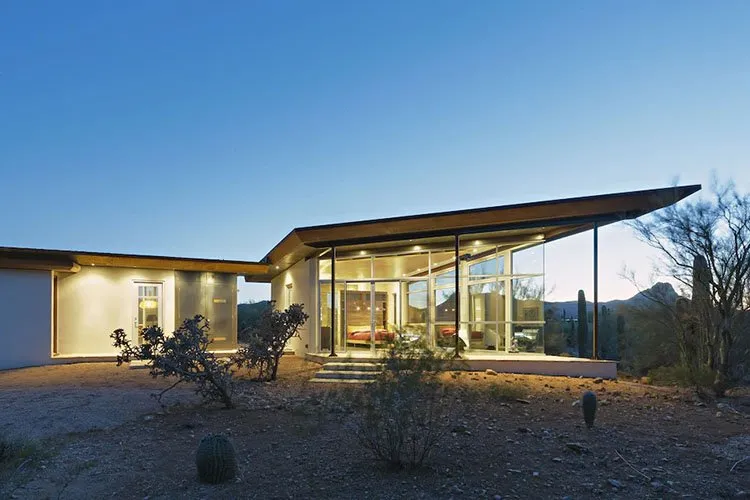 This one-bedroom and one-bathroom open-concept rental is located in Tucson in the Sonoran Desert.
You are not too far from downtown Tucson where you can stroll the shops and museums, grab a bite to eat, or explore Saguaro National Park.
If you are looking for desert landscape views of cacti and possibly some native animals like javelinas and coyotes, the floor-to-ceiling glass walls will provide views from anywhere in the cottage, or you can head out to the stone deck and relax into one of the Acacia chairs. You can also enjoy meals al fresco at the bistro table. When you're looking to relax inside, you'll have a two-person glass shower and an acorn fireplace.
Luxury Rugged Rim Cabin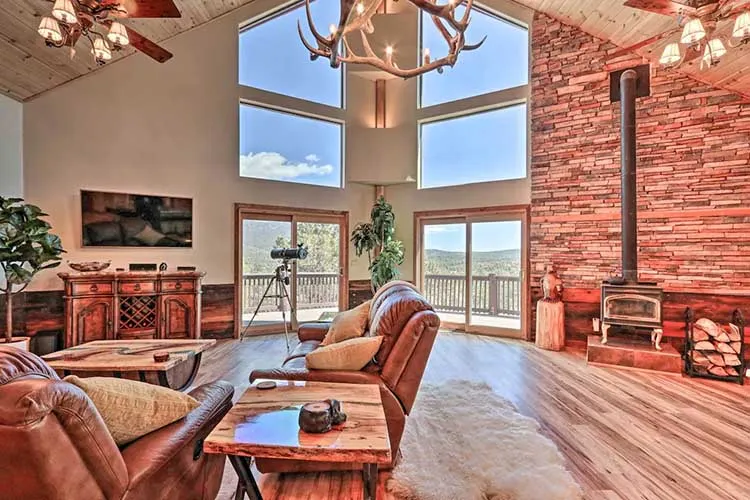 This two-bedroom and one-bathroom secluded cabin is located in Pine, where you can travel less than two miles to the downtown to take in museums like the Pine Strawberry Museum and bars and eateries like THAT Brewery and Pub.
Take in Rim Country from your balcony or gaze at the night skies while sitting around the fire pit. Inside,  a wood-burning stove and fireplaces keep it cozy and there's a fully equipped kitchen to make a homecooked meal. Enjoy central air conditioning to cool off from the sometimes-brutal Arizona heat.
Although you can head to several places within 20 miles for hiking, like Rock Creek Trailhead or Barnhardt Trailhead, you'll also have trails within five miles like Pine Trailhead, Bearfoot Trailhead, and Tonto Natural Bridge State Park.
Boho Chic Cabin Pinetop-Lakeside, Arizona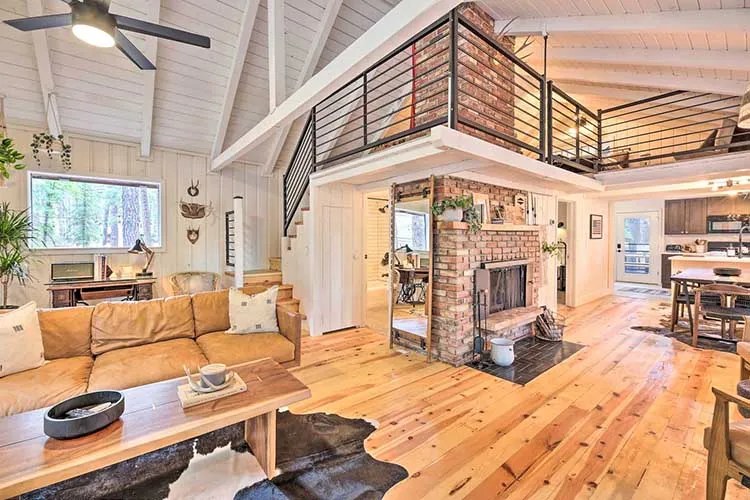 This one-bedroom and one-and-half-bathroom cabin is located in Pinetop where you'll find ample hiking opportunities and Jacques Marsh Wildlife Area.
You can grill and dine outside or cook in the fully equipped kitchen. Or head out to one of the nearby restaurants like Matty's Beef & Beer or Charlie Clark's Steakhouse. You can lounge the day away in the hammock or relax in front of one of the Smart TVs. Watch the night skies while sitting around the fire pit or warm up at the indoor fireplace with some board games.
Located near recreation areas including Billy Creek Trailhead, Woodland Lake for water activities and fishing, and the Sunrise Park ski resort for snow sports or hiking in the warmer months.
Sedona A-Frame Cabin With Bell Rock View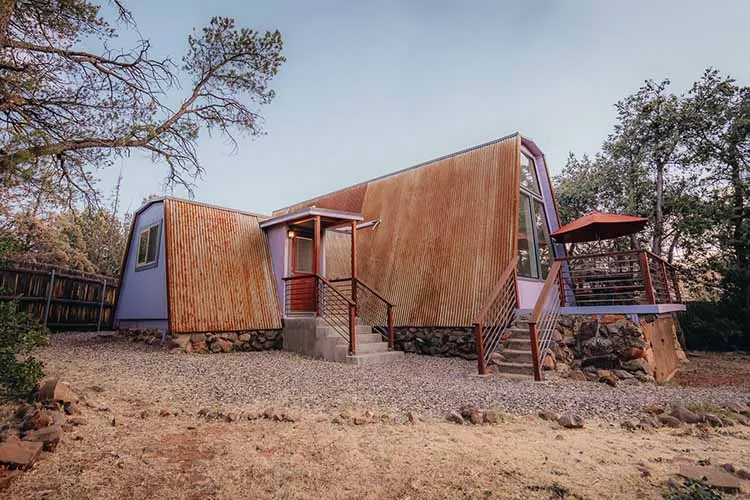 This two-bedroom and one-bathroom cabin is located in Sedona with convenient access to Bell Rock, Cathedral Rock, Chapel of the Holy Cross, uptown Sedona, and much more. This is a perfect home for those who are visiting the area for adventuring and outdoor recreation.
From your deck, you'll have views of both Courthouse Butte and Bell Rock. Enjoy a relaxing meal in the fully equipped kitchen or head out to a nearby restaurant like Cucina Rustica or Corner Table Restaurant and Bar for a night out.
Parker Canyon Lake Cabin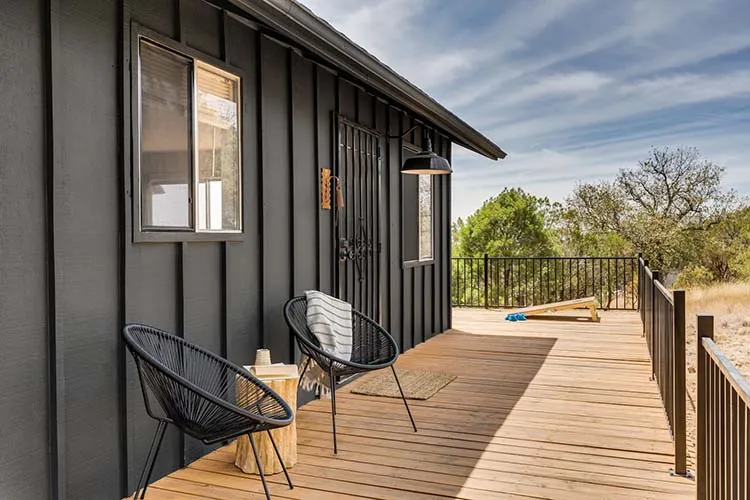 This two-bedroom and one-bathroom is located in Hereford and 100% off the grid, running on propane, solar, and well water. You will be close to the Arizona Trail for hiking and biking and Coronado National Forest and its 1.78 million acres.
There's plenty to do outdoors including lake fishing,  kayaking, and hiking trails within walking distance. Or just relax on the deck and watch the sunset.
At night, you can get cozy around the fire pit. You can choose to grill up something outside or utilize the full kitchen and gas range inside.
Buffalo Trail Treetop Retreat with Indoor Sauna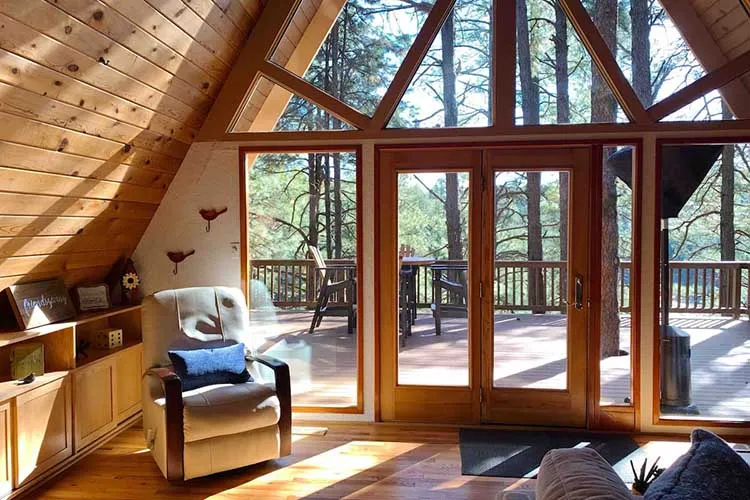 This three-bedroom and two-bathroom rental is located in Flagstaff and has prime proximity to outdoor recreation, history, and forest land. You are also only ten minutes from town for shopping, dining, and exploring.
You can take in the wooded views from your deck or head out to nearby spots like Kachina Wetlands or the Oak Creek Canyon.
Relax in the indoor sauna after a long day recreating.
Flagstaff A-Frame With Views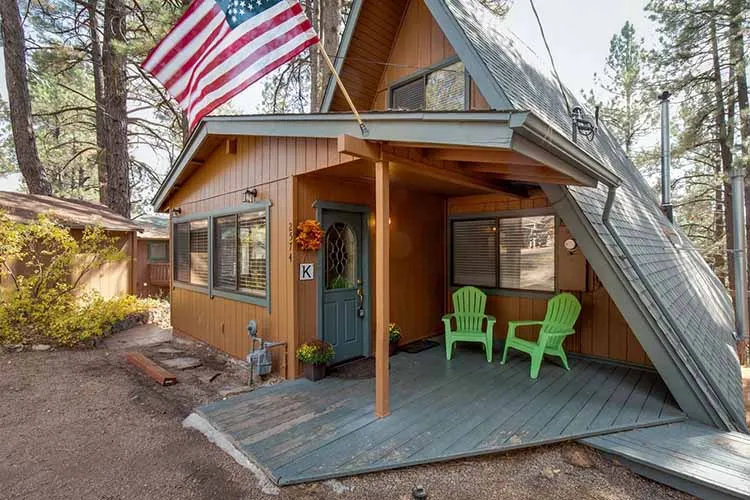 This pet-friendly three-bedroom and two-bathroom rental is located in Flagstaff, near top-rated restaurants like Tinderbox Kitchen and Nomads Global Lounge, interesting educational stops like the Lowell Observatory, and art galleries. In the winter, head to Arizona Skibowl for snow sports or a gondola ride in the warmer months.
There's a wood-burning stove to warm you up after a day out.
Grill out on the deck or whip up something in the fully stocked kitchen and dine out on the back patio where you can take in the views from the deck or gaze at the night sky while around the fire pit.
Modern-Rustic Ranch Getaway by Zion, Bryce & Grand Canyon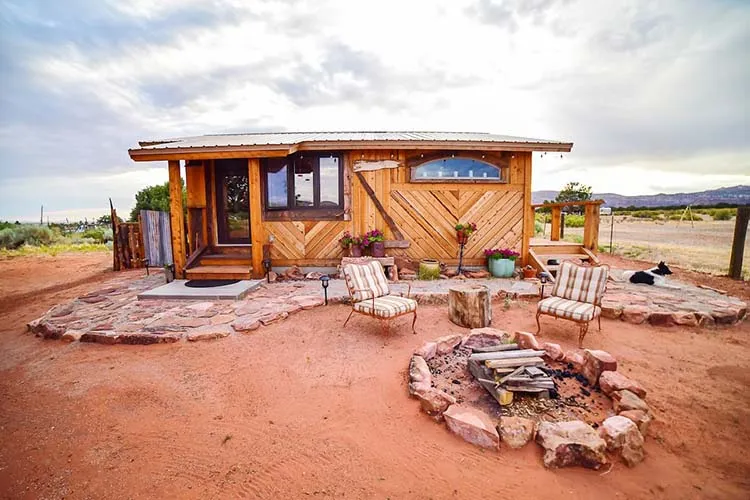 This one-bedroom and one-bathroom rental is located in Fredonia, just one hour from the iconic Zion National Park in Utah and 90 minutes from the North Rim of the Grand Canyon.
Here, you'll have your own private canyon to explore by car, foot, or bike. You are under 20 miles from Coral Pink Sand Dunes to explore the dunes and cliffs, the 11.4-mile Gooseberry Mesa trail, or Pipe Spring National Monument.
For dinner, you can head to the grocery store nearby to pick up ingredients to put together a meal in your fully equipped kitchen or grill outside, or head to Edge of the World brewery and have them cook for you. Grab some of the fresh eggs provided and make breakfast before you head out for whatever adventure the day will bring you. Don't forget to feed the goats while you're there too.