History of A-Frame Houses
A-frames are certainly not new.  While they have been popular in other countries including Japan and Scandanavia throughout history, they found a home in the U.S.  in the 1950's when post-war America saw the rise of the middle class and vacation homes become a new luxury.
A-frames become the quintessential vacation home as they were relatively easy and inexpensive to build, particularly with kits that provided all the plans and building materials.
If you owned an A-frame for your vacation home, you were middle class and you had the second home with cool modern style to show for your success.
Iconic Style
Unless you've been hiding under a rock, you've probably noticed that A-frame houses are trending again.  Just a quick search on social media brings up thousands of photos dedicated to this modern-style home or cabin.
A-frames conjure up nostalgia for a bygone era but today their rustic appeal is paired with modern interior design.  Whether you're just dreaming about owning one or ready to build or buy, there are plenty of things to consider before committing.
We love A-Frames and the cool style they bring to cabins, but they do come with some pros and cons for you to consider.
One challenge with this style is finding storage space.  While the A-frame structure results in a unique interior, it can fall short on functionality with regards to storage.  But fear not, there are plenty of creative ways to make your A-Frame dreams come true, and still find plenty of places to store your household goods.
15 Tips for Storage in Your A-frame
One of the trickiest spots in your A-frame cabin for creating space and storage is the attic area due to the sloped roof. However, you can find ways to turn your attic into a livable and organized space with clever furniture ideas.  When it comes to maximizing space, make sure your furniture has both style and function to best utilize the space.  Look for clever furniture to add storage and space to your home along with these other ideas for maximizing function.
Use Empty Spaces
Use empty spaces like under your stairwell to create a cozy coffee bar, reading nook or lounge area.  Sloped ceilings also lend themselves to adding bookcases that are low to the ground.  They can nicely fill up an empty  side wall with a low ceiling and add storage as well as style.
Folding Tabletops
Folding tables are a clever way to add function to smaller spaces –  you can use them to create a temporary eating or workspace that you can later hide when not needed. They usually hinge up and down and can latch when in an upward position.
Wall Beds
Having a bed that folds up and down from a wall can open extra space anywhere, not just in your attic. These "Murphy" style beds allow you to use the attic as both a storage and sleeping area.  With this clever style, you can have extra beds installed in any room of your A-frame cabin.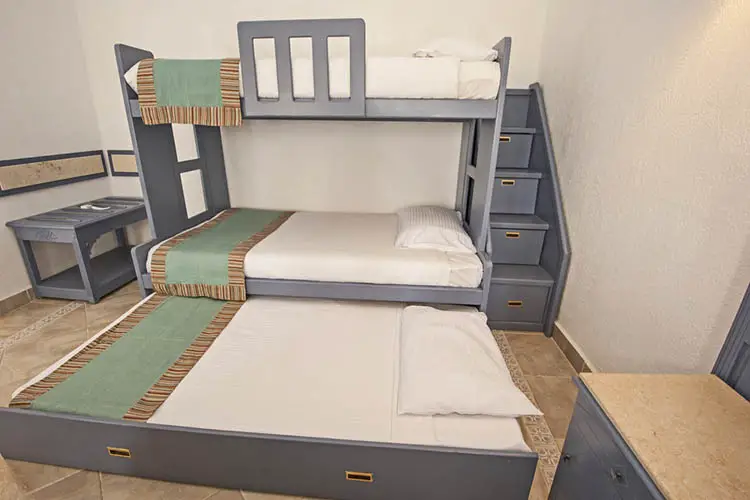 Trundle Beds
Like a murphy bed, these beds provide additional sleeping space that is hidden from view and allows more floor space during the day. Trundle beds roll out from a regular bed when you need the additional sleeping space and can be easily pushed under the bed when not in use.  This bunk bed models also include handy storage shelves in the stairs.
Rolling Furniture
This could be a cot that rolls under the bed and can be pulled out for additional sleeping space. This works well for children or house guests to provide additional sleeping space.  Rolling desks, tables and bars also work well in any room to provide additional function as needed. Think a bar cart that rolls out for entertaining but can be tucked into a corner when not in use. Or an extra kitchen island. Utilize furniture that can be rolled to a wall or under an existing shelf and tucked away when not in use provide extra functionality without taking up valuable space when it's not needed.
Under-the-bed Storage
We love storage space that is tucked out of sight to create a clean uncluttered look.  A bed with built in storage is the perfect way to maximize space in your attic or main floor of the A-Frame.  Beds come with rolling drawers or cabinets underneath that allow for additional clothes, blankets or toys underneath the mattress. These work great in kids rooms or anywhere you need additinal storage space.
Wall shelves
For the attic space, you can install shelves between side roof beams. It might require slanting the shelving boards slightly upward and adding guards. You can also fasten large pieces of plywood over beam openings that you would also attach to some shelving boards. This creates compartments for placing items of all sizes without them falling off the shelves.
Clever Closets
Add high shelves in the closet for items that are not in regular use.  Lower shelves or drawers installed in the closet help organize smaller household items like linens, office supplies or crafts.  You can add compartments in the closet to store other small items.  If your closet allows, you can tuck a dresser inside the closet to gain more floor space and add storage and function to the closet.
Hang it Up
Use hooks to hang things high and out of sight.  This might be within an existing closet to hang coats, handbags or other clothes.  Or use a decorative wall
come in different sizes, and they provide versatility when organizing hanging items. For instance, you can create a wall-mountable coat rack. You also could install hooks into a wall in place of a closet rod where you would store hanging dress clothes. Any other items, including handbags, would hang well here.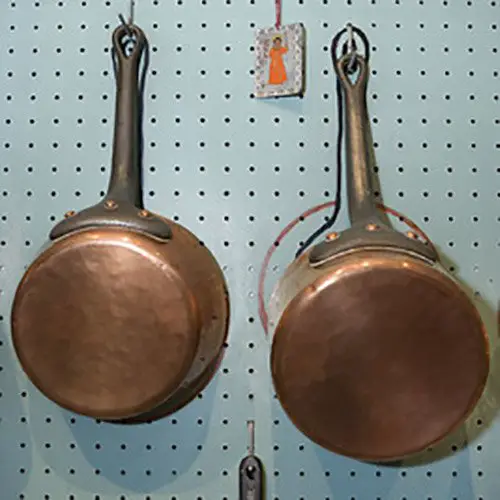 On a Pegboard
Pegboards are a clever way to use wall space and reduce the need for storage furniture or shelves.  Use them to keep small tools within reach or to hang any other supplies you use such as cords, craft supplies or kitchen items.   Pegboards are great for hanging pots, pans and other kitchen tools.
Rafter Hangers
Choose from a multitude of over-the-door hook designs to provide a creative way to use your attic rafters. Cubed shelving that typically would hook on a closet rod might also fit here, or you can customize the hangers to fit on the overhead beams. You could place them in spaces over tables, shelves or sleeping areas where you would not be able to easily reach overhead storage.
Overhead Partitions
This works well for making use of open space in the middle portion of an attic. You can install project boards in this area, which typically come in 2×2 and 4×4 sections. This allows you to turn portions of your overhead rafters into shelves.
Installing a built-in ladder helps you reach the items up high. With careful planning, you can create an "attic within an attic" here. Perhaps use this space to store seasonal or holiday items you might only need once a year.
On the Wall
It's possible to create built-in cabinets that attach right to your walls. These provide a similar function as running boards across two beams. However, they often will have a hinged door on them to allow for easier wall shelving item access. These might work best in lower levels, such as in living room or kitchen spaces. However, you also could apply them to A-frame attic walls.
Under the Floor
Like something out of crime movie, you can create hidden storage under the floorboards with boards that have hinges you can lift up.  This provides storage for valuable items and is particularly good for items that you don't need to use on a regular basis.
Hidden Storage
Think ottomans and dining benches with storage underneath. This is also useful for your outdoor furrniture. You can store cushions or other items in the furniture when not in use and keep clutter out of sight.
So whether you already have an A-frame or are considering buying or building one, there are plenty of creative storage options to use in this design to maximize space and function.