We've been spending more time at home and have become increasingly mindful of the spaces we create. With our homes working overtime as offices, gyms, and classrooms, we are looking to refresh our spaces to better fit our lives.
While the Marie Kondo system of getting rid of anything that doesn't bring you joy is hugely popular; decluttering and achieving a completely minimalist lifestyle is not for everyone.
If you're looking for a new clean look but you haven't embraced minimalism because it just felt too stark (or difficult) for your taste, warm minimalism might be just the perfect balance that you're looking for.
What is a Warm Minimalist Design?
Warm minimalism refers to an interior home design with a minimalistic and clean aesthetic incorporating earthy colors and natural textures to add interest and warmth. It's a modern style because of its lack of clutter, simple silhouettes, and clean lines but adds natural textures to bring depth to the minimalist movement which might feel too sterile for some tastes.
If you get the style right, you can achieve a serene and peaceful atmosphere that is still inviting and warm.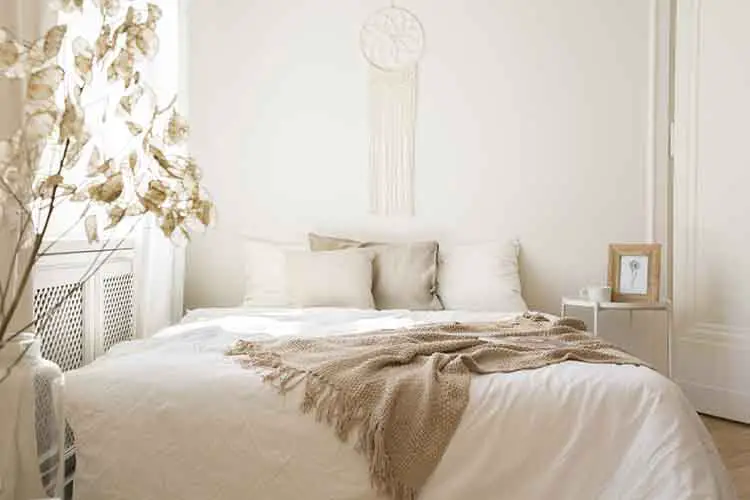 8 Tips to achieve warm minimalist design 
Create a sanctuary
With our homes serving double duty these days, it's more important than ever to find a style that can be soothing and peaceful.  Start with grounding, earthy tones as a foundation.   Open plan design and airy spaces create a calm feeling that is relaxing at the end of the day.
Neutral Color Pallette
Warm minimalism is built on a foundation of neutral colors but that doesn't necessarily mean you have to go all white. Sherwin Williams makes it easy with their color trend aptly named Sanctuary.  These warm neutral tones bridge a connection between nature and our modern lives and provide the perfect backdrop for the warm minimalism aesthetic.
Declutter
You probably can't pull off any version of minimalism without a healthy dose of decluttering. But that doesn't mean getting rid of everything or having a house that is devoid of personality. The key is having things you love instead of just filling a room. Statement furniture or art grounds a room where less is more.
Smart Design
One of the key elements of warm minimalism is spatial planning – the style is about clean lines and an open layout while still being functional and cozy.  While every house needs ample storage think about hidden storage to pull off the style. Try boxes or drawers underneath the bed or cabinets with doors to keep things sleek but organized.
 Texture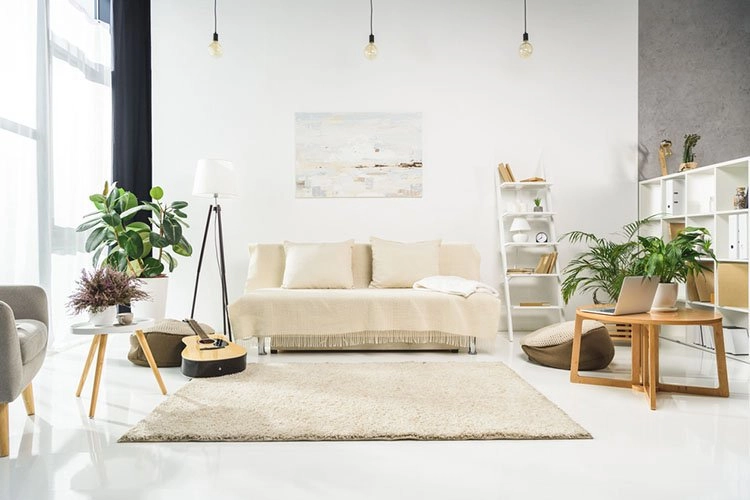 To prevent the house from looking too sterile,  add texture and elements found in nature.  Using a neutral backdrop, experiment with accents in natural stone, wood, or metal to add texture.  Accessorize with earthy ceramics, leafy plants, and organic soft furnishings.  Think linen sheets, macrame wall hangings, chunky knits.  These bring warmth to your home and make for an inviting and cozy atmosphere.
Curate
True to the minimalism philosophy, less is definitely more. This is a style that focuses on quality over quantity.  Carefully selected books or objects are curated on a shelf, keeping the overall look minimal while still showing off your personality and style.  One statement work of art might provides a focal point instead of a gallery wall.
Keep it Light
Lighting is important in every style but if you're going for a minimalist style, natural light is key to warm the space.  Forgo window treatments altogether if possible or if you need window coverings for some privacy, keep them sheer and light for an airy feel.  Lighting should be simple and sleek – recessed lighting or simple lamps work well – this is not a place for elaborate chandeliers or fussy light fixtures
Intentional Design
In a warm minimalist home, everything has its place and function.  It's not about just having items to fill a space, there is intention in what you put in your home.  If you don't find something you love, wait until you have the right piece.  Much like a capsule wardrobe, your closet and home are only filled with things you really love.
In today's busy world, choosing a warm minimalist style is the perfect remedy for our modern lives.  While minimalism might feel overwhelming, warm minimalism can be a little more forgiving.  And you can start small –  take one room at a time and begin by decluttering and then filling the space with items that you love and bring you joy.  At the end of the day, our homes should provide sanctuary, and embracing this style is a great way to achieve it.