Michigan is nicknamed the Great Lakes State due to the state bordering four of the five Great Lakes- Superior, Huron, Erie, and Michigan, making it home to the largest freshwater coastline in the world.  In addition to the Great Lakes, Michigan boasts plenty of rivers and smaller lakes, making it a paradise for anglers and water lovers.
With miles of trails that can be enjoyed in winter or summer, Michigan offers plenty of outdoor activity including hiking, biking, skiing, and snowmobiling.
While Michigan only has one national park at Isle Royale National Park, it's not only on the National Register of Historic Places, it's also a UNESCO International Biosphere Reserve. And if that's not enough, there are also over 19 million acres of forest to explore.
Now that you've got some ideas on things to do in Michigan, you'll need to find a place to stay. Check out these cool cabins to find your perfect basecamp.
Northport Cabin with Lake Michigan Views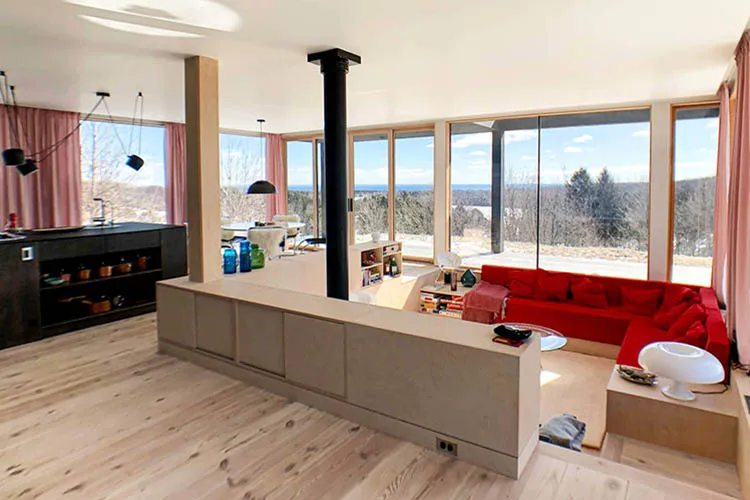 This three bedroom and two bathroom cabin is located in Northport with views of Lake Michigan's Grand Traverse Bay.
Take in the views from your porch or from the cabin's expansive windows where you can get close to nature including the orchards that surround the property. Relax and get cozy in front of the wood-burning stove. Put together a meal in the fully equipped kitchen, or if you don't feel like cooking, head just five minutes into the village for several dining options.
If visiting during the warmer months, you've got beach access for activities and views of Lake Michigan at Peterson Park and Christmas Cove. There is also hiking at nearby Leelanau State Park.
Cottage on Fine Lake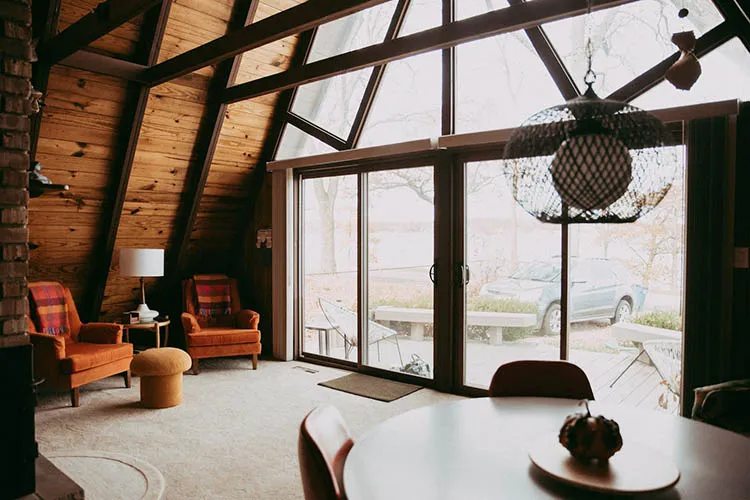 This two-bedroom and 1.5 bathroom A-frame cottage is located in Battle Creek, right on Fine Lake.
This cool retro cabin comes with two kayaks and you can also rent a pontoon boat for an additional charge. Or feel free to bring your own watercraft and use the boat launch. The lake is also great for fishing, as it is stocked with perch, bass, and bluegill. In winter, enjoy activities including ice skating and ice fishing.
Scour the backyard for berries and use them for a fresh fruit salad or baking a sweet treat in the full kitchen. Stargaze while sitting around the fire pit at night.
You've also got plenty to explore nearby, like the Gilmore Car Museum for vintage cars and motorcycles, the Kellogg Bird Sanctuary for bird watching, Fort Custer Park for hiking and biking, and plenty of shopping and dining options in Kalamazoo and Battle Creek.
Cottage on Paw Paw Lake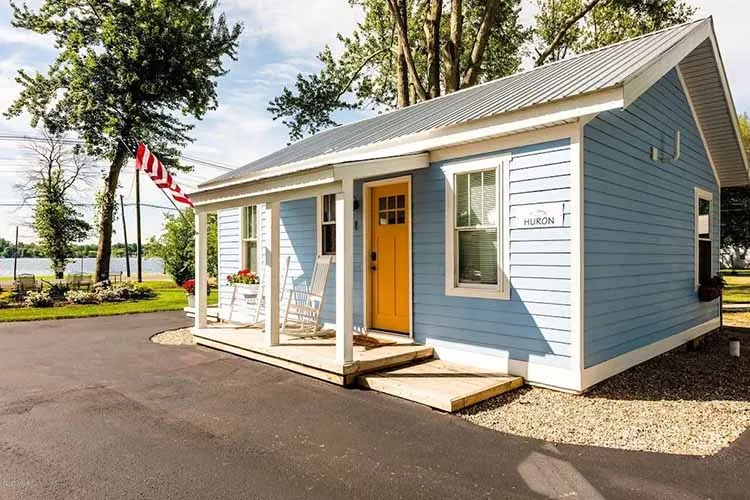 This adorable cottage is located in Coloma next to Paw Paw Lake, and has one bedroom and one bathroom. Here, you'll have convenient access to swimming, kayaking, and paddleboarding.
You can enjoy the views from your patio by day and sit around the fire pit at night and gaze at the starry skies. Cook in your fully equipped kitchen or use the dine outside with two pergolas and a sand play court for the kids.
You are also not far from all the recreation Lake Michigan offers including wine and brewery tours, golfing, biking, fishing, and of course, exploration of Lake Michigan itself. Head to Sarett Nature Center for hiking and wildlife watching or Van Buren State Park for other hiking opportunities and beach exploration.
South Haven Tree House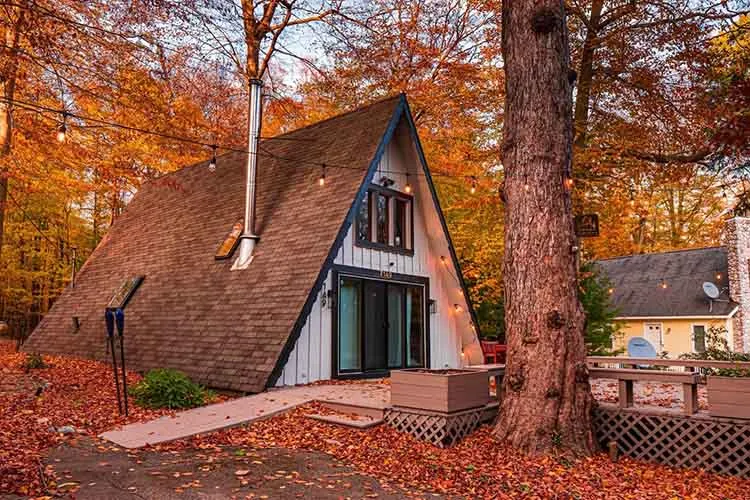 This two bedroom and one bathroom rental is located in South Haven is a cozy peaceful retreat in the woods.  From here, you can take in the views of Lake Michigan and its beautiful sunsets and even fall asleep to the sounds of the waves. You have private access to the lake from your rental.
Enjoy evenings around the fire pit or use the grill outside and have your meal al fresco.
While this feels like an escape, you're not far away from the attractions including the orchards, wineries, breweries, and public beaches of South Haven and Saugatuck.
Cabin with Four Season Room in Michiana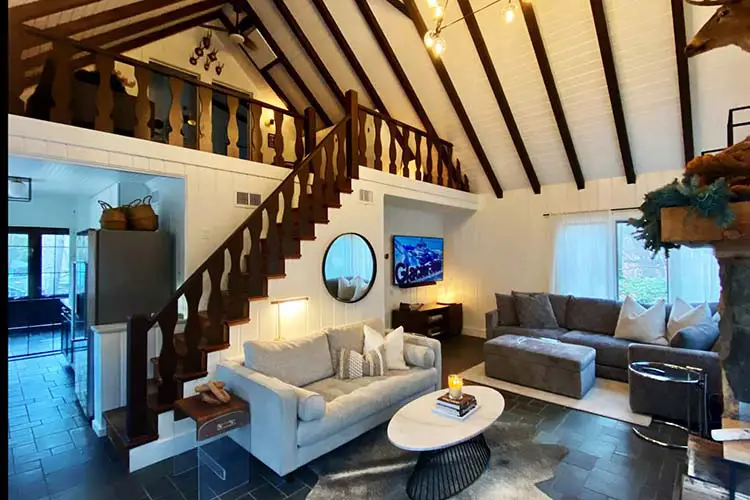 This two bedroom, one bath home is located in Michiana, with access to the beach on Lake Michigan only three blocks away.
This romantic cabin has a wood-burning fireplace to cozy up to. Take your meals or morning java out to the four-season room to take in all nature has to offer any time of the year without having to deal with the elements or any pesky insects.
Head just ten minutes into New Buffalo to take in the marina, dining, shopping, or try your luck at Four Winds Casino. Or there's Michigan City, which is about fifteen minutes away, where you'll find hiking and fishing opportunities, Washington Park Zoo, and Blue Chip Casino.
A-frame on Sturgeon River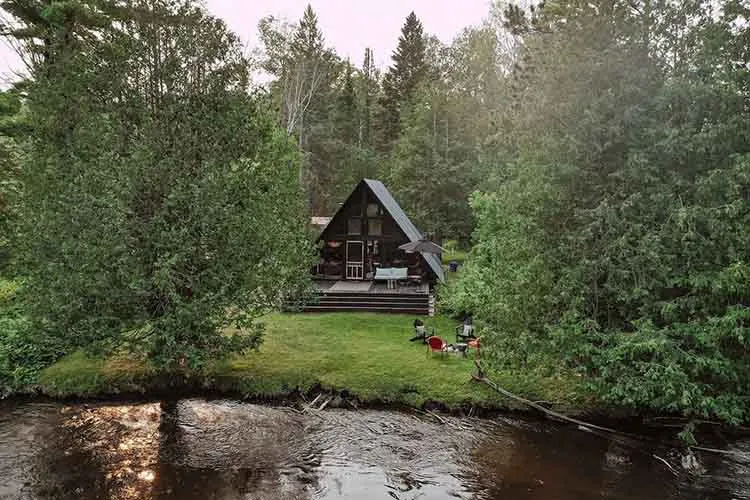 This two bedroom, one bath A-frame is on the 40-mile Sturgeon River, where you can float or fish.
With all the windows, it will feel like you are out in nature. You can also take in the open night skies from inside, head out to the deck, or gather around the fire pit. Make your meals in the full kitchen or use the BBQ outside to grill up some of your favorite things.
Activities include fishing at Mullett Lake, hiking at Seven Springs Nature Preserve, water recreation at Burt Lake State Park, and much more.
Cottage Overlooking Lake Huron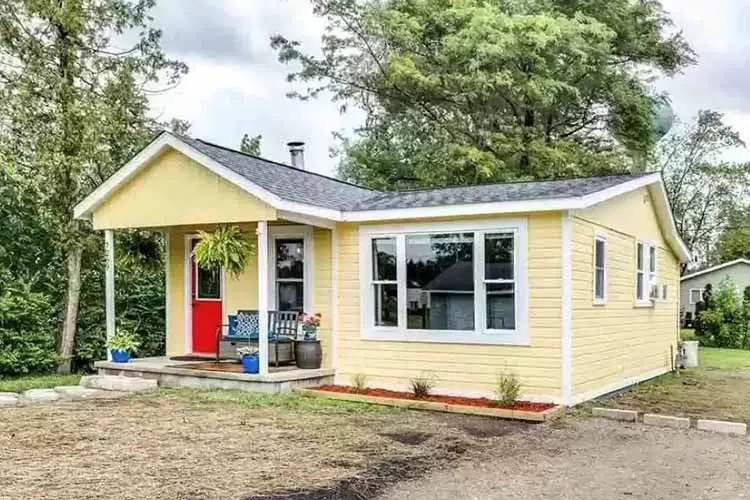 This charming one bedroom and one-bathroom cottage is located in Lexington, where you can easily take in the many amenities of this lakeside village.
If you don't feel like cooking, you are within walking distance of the Water Tower Sports Pub. You can also walk to the Lakeview Donut Shop in the morning for a fresh cup of coffee and a sweet treat. Or wander just a few blocks over to watch the sun come up over Lake Huron. Curl up on the couch with a movie after a long day out or around the fire pit under the open sky.
You are in close proximity to golfing at Mystic Mountain, water activities at Lakeside Park, or touring Michigan's oldest lighthouse at Fort Gratiot Lighthouse.
Lake Michigan Beach Chalet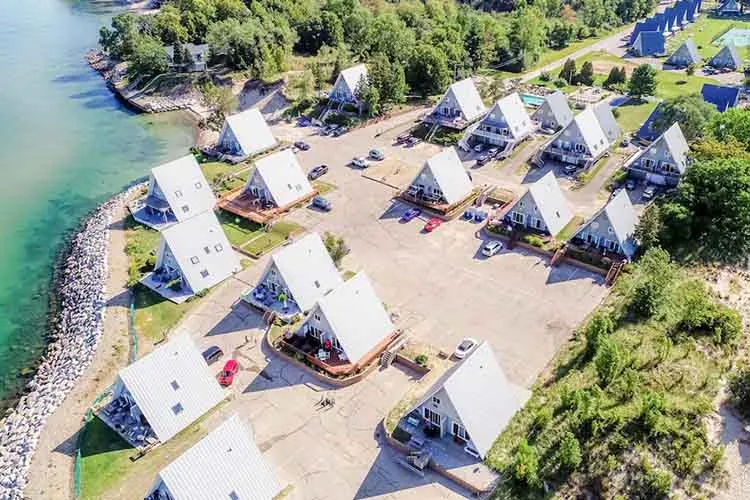 This two bedroom and one bathroom A-frame is located in Stevensville and will provide you with stunning views of Lake Michigan, with just a few steps to the beach.
Watch the sunset right from your deck or take part in the many activities in the shared community, including heated pools, basketball and tennis courts, playgrounds, a pond for fishing, and lots more.
Explore Indiana Dunes National Park, swim at Silver Beach, catch entertainment at Four Winds Casino, or take a winery or brewery tour.
Cabin on Sanford Lake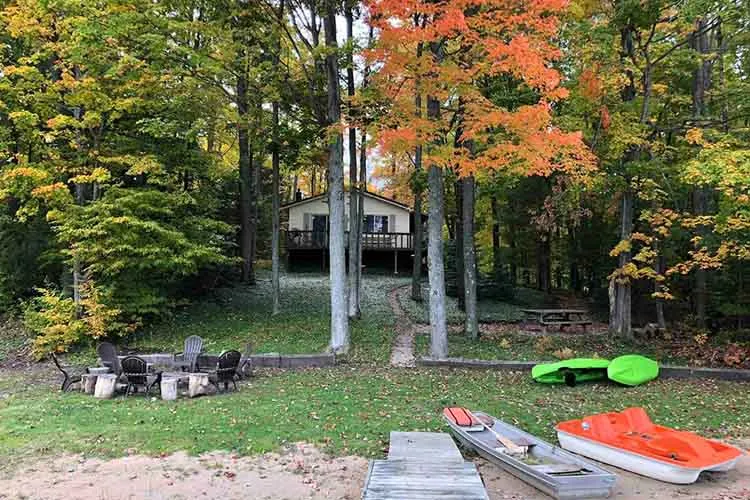 This two-bedroom and one-bathroom cabin is located outside of Traverse City, with a variety of activities including the Sleeping Bear Dunes National Lakeshore, which contains the biggest collection of freshwater sand dunes on earth.
Make use of the two kayaks on site, take a swim or fish. Make a fire in the pit outside and look for shooting stars.
Aside from the dunes, other nearby attractions include skiing at Crystal Mountain, nature exploration at Ludington State Park, or winery tours.
Lake Ann, which boasts a swim beach and boat ramp, is only five minutes away.
Beach House on Lake Superior
This two-bedroom and one bathroom rental is located in Calumet on Lake Superior, where you can swim, fish, and explore the skies for the Northern Lights. There are also winter activities available, such as skiing, snowmobiling, or snowshoeing.
Make a meal in the full kitchen or use the charcoal grill outside. Cuddle up by the stone gas fireplace in the living room. You can enjoy lake views from the deck that wraps around the house, with the added bonus of a covered area so you can enjoy the outdoors no matter the weather.
In addition to recreation at Lake Superior, Calumet Waterworks Park is under two miles away. There is also a firefighter's museum and a mining museum, and at Keweenaw National Historical Park Headquarters, you can tour the lighthouses and museums as well as hike.