Yurt living is a popular and affordable way to live if you're looking for a budget friendly and environmentally conscious lifestyle.  They are a popular option for outdoor enthusiasts wanting to live in harmony with nature and those just seeking a simple place to call home.
If you are considering living in a yurt,  you'll want to consider their pros and cons before planning your move.
Yurts are relatively easy to construct with their simple design of a circular tent-like structure with lattice walls and a dome skylight.  They can be scaled to any size and can range from a very simple structure to a luxurious and modern home depending on your style and budget.
If you want to test drive sleeping in a yurt before you move forward, check out sites like glamping.com and hipcamp for yurt stays.
If you're ready to build a yurt, you'll need some basic carpentry skills and probably a few good friends.  If you don't have skills, plan to hire some help.  The easiest way to erect a yurt is using one of these yurt kits that provide all the materials and custom options you'll need for your yurt.
If you're ready to take the plunge to yurt living, you'll want to know how to care and maintain your yurt to ensure its longevity for years to come.
While yurts are generally low maintenance compared to a traditional house, staying on top of caring for your yurt will not only keep it looking good, but will help make it last longer.  Spring and Fall are great times to do maintenance particularly if you live in a winter climate.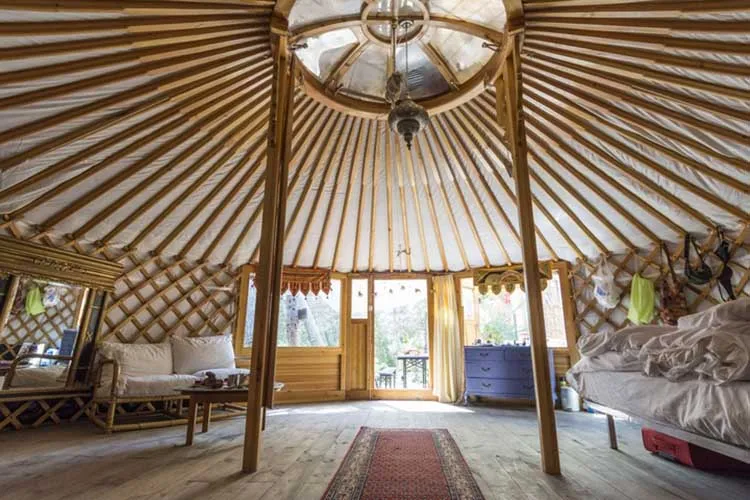 How to Maintain a Yurt
Roof and Walls
Check the roof and walls twice a year for any build up of dirt, leaves and debris.  You'll want to clean sides and top of yurt with a soft brush in a solution of mild soap and water.  A soft bristle brush with a long extension handle, like those used for swimming pools, will come in handy for this task.
If you have a hard time reaching the top of the yurt, another option is to remove the dome and clean from there with the use of a tall ladder in the middle of the yurt.
Ensure that the yurt doesn't have dirt build up like mildew, mold or debris to keep it staying new for longer.  Remove any dirt or mildew with soap and water.
If there are any rips or tears in the yurt fabric, talk to the manufacturer about a replacement cover.
Dome /Skylight
The dome of the yurt should be removed at least once a year for cleaning. The best way is to enlist some help to remove it and bring it to the ground for safe cleaning.  Use a soft cloth so as not to scratch the surface.  Use mild soap and water and make sure you rinse it clean with fresh water.
Doors
The door of the yurt is exposed to the elements and needs some upkeep. It's a good idea to refresh the stain on the door and door frame every year to keep it looking new.  Use an exterior grade stain on door and any other wood on the yurt such as window frames, decks and exterior trim.
You can also maintain door further with a coat of oil – such as teak oil or other wood oil to maintain it longer.
Windows
No spring cleaning is complete without a thorough washing of your windows.  Use mild soap and water to clean windows at least once a year.
Decks
If you have a wood deck on your yurt, spring is a great time to clean it off and give it another coat of stain to protect the wood from UV rays in summer and snow in winter.
Walls
The walls of most yurts are made of a strong fabric which is supported by a lattice frame. Similar to the way you maintain the roof, it's best to use a soft brush with a solution of light soap and warm water.

Fireplace
Many yurts feature a wood-burning fireplace to keep the yurt cozy in the winter.  An added benefit is keeping the yurt dry and free of humidity which can lead to mold.
Fireplaces should be maintained at least once a year to ensure the safety of your yurt which includes inspecting the inside and outside of the fireplace and cleaning it out as well as cleaning the chimney or having a professional chimney sweep do it.
With some regular maintenance of your yurt, you can expect it to be durable and provide years of enjoyment.