Yurt living is increasingly popular as a living solution providing a viable alternative to the high cost of a home.  They are a relatively affordable way to live and bring you closer to nature and the simple lifestyle so many are seeking.
While yurts might conjure up images of hippy culture and nomads living off the grid, today's yurt culture is sophisticated and can be as simple or luxurious as your budget allows.
They are also trending as vacation homes either for personal use or rental income.   A boom in glamping resorts and yurts for vacation homes is a trend that continues to grow with sites like hipcamp and Airbnb offering yurts to rent for weekend escapes and outdoor adventures.
Yurts can serve a variety of other uses in addition to full-time homes.  They are a great way to add extra space on your property for guests or in-laws, create a glamping experience for rental income, or be used for a home office, yoga or artists studio, fitness, or meditation space.
Yurts are used commercially as well – for growing businesses and for outdoor recreation such as ski huts, camping, summer camps, spas, and warming huts.
If you are thinking about building or buying a yurt for any reason, you might consider these companies that manufacture yurt kits, or if you're handy, you can build one yourself.
View this post on Instagram
There are many benefits to yurt living:-
Building without Breaking Your Bank
In contrast to the high cost of a home or vacation home, a yurt can be built at a fraction of the price.  The average price for a yurt is $10,000-$40,000.  Of course, factors like the yurt's size, the materials, the location, labor, and the amenities affect the final price.  The cost of land and clearing the land is another factor.
Environmentally Conscious
Yurts use fewer building materials and leave a smaller footprint, making them an eco-conscious way to live.   They tend to be smaller than the average home and some remain off the grid.  However, modern conveniences like electricity and plumbing are becoming more common.  The entire structure is relatively easy to build and can be moved with little impact on the surrounding environment.
Simple Minimalist Design
The ancient nomads or people of Mongolia made yurts for survival. Called ger in their language, the round temporal homes were ideal for the nomadic lifestyle as they were relatively easy to move.  The simple circular design provided an open plan concept that is still beloved today.  But while the design remains simple, modern yurts have evolved to include interior walls, electricity, bathrooms, stylish doors and windows, insulation, and more.
Close To Nature
Yurts are popular with outdoor enthusiasts for good reason.  Yurts are built for outdoor adventure, bringing you closer to nature and full-time outdoor living.  Living in a  yurt goes hand in hand with outdoor living with outdoor showers, dining al fresco, and sitting on the deck to stargaze.
If you are sold on the idea of living in a yurt, you might wonder how durable they are and how long they will last.  A common misconception with yurts is that they don't last very long or can't withstand the elements.
View this post on Instagram
How Durable Are Yurts?
While the construction or a yurt is fairly simple and tent-like, they are actually quite durable. Most yurts are made using high-quality materials that are built to withstand the elements like sun, wind, snow, and rain.
The frame of the yurt can last invariably if you use quality wood, much like any other wood structure.  Many yurt companies use chestnut wood for the frame which is durable and can last as long as any other wood structure. Douglas fir is another preferred wood that's hard and stable and can withstand heavy loads. It fares well against strong winds and storms.
The durability of the fabric of the yurt depends on the elements.  The average life span for the exterior is 10-12 years. Some manufacturers provide 15-year warranties with premium fabrics.  Some quality fabrics have been known to last 20 years.
Most manufacturers ensure that yurts can withstand wind resistance between 95 mph and 105 mph.  Additional support between rafters can also be used to help withstand snow load and to provide additional stability against the weather.
Some yurts use wood siding instead of fabric which can last longer and provide additional security against the elements.
Yurts can last for a long time but there are various factors that will affect their average life span.  There are also plenty of tips to maintain your yurt for longevity.
Weather
Consider the climate when erecting your yurt.  If you're in a hot dry location like a desert, UV rays can damage the fabric over the years.  To extend the life of your exterior, you should try to locate the yurt with some shade to reduce sun exposure.  A UV protector can also be applied to the fabric to reduce sun damage. It's possible to extend the life of the fabric by shading it in hot temperatures.
In a wintery climate, you'll want to ensure that the yurt can withstand the average snow load and winds.  Covering your front door with an awning is a good idea if the weather is a factor.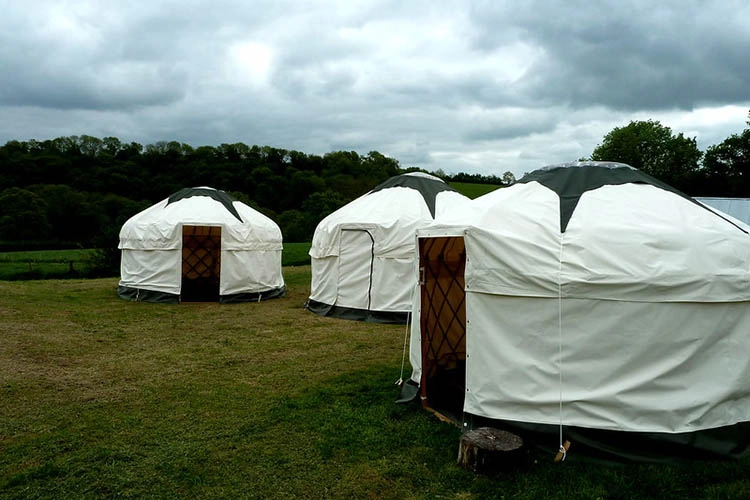 Yurt's Exterior
To maintain the exterior, you should wash the outside walls with water and dish soap. But avoid using a power washer. Start by removing debris or leaves from the roof. Next, use a soft cloth, water, and washing liquid to clean the roof.
Door and Frame
You can re-coat the external wood with a solid body or transparent cedar stain once a year or every two years. Before you apply the coat, sand the door and the frame. Use a lubricant with Teflon or graphite to keep the doorknob lubricated.
Dome Skylight
The dome skylight is a signature feature of the yurt.  While they don't last forever and may need to be replaced in about 15 years, you can also take care to maintain them.  Use hand washing liquid and lukewarm water to wash the dome. Avoid cleaning sprays or chemicals. To avoid scratching the surface, use a soft cloth, not paper towels. Use clean water for rinsing.
Conclusion
With the right maintenance and care, yurts can be very durable and can last a long time.  The life span will depend on the quality of building materials, where the yurt is located, and how well you maintain the structure.  If well cared for, a yurt can last far longer and provide many years of a fun outdoor lifestyle.