A-frames are a popular design and they're trending these days, particularly for cabins and vacation homes.  Owners love their modern style, open floor plans, and iconic design.  While they have plenty of fans for their style, they do come with a range of pros and cons to consider before buying or building one.
Heating and cooling an A-frame house can present some challenges, especially if you have an old house that is poorly insulated.  But they also have a solid structure and simple design that can be made energy efficient with the right solutions.
The structure of the A-frame means that heat rises to the top of the house naturally and can result in it being too warm at the top of the house and not warm enough in the main living space.  But there are solutions to these issues. Here are some things to consider for efficient heating and cooling of an A-Frame.
 

View this post on Instagram

 
Natural Light
Large windows are usually a key feature in A-frame design and let in plenty of natural light. However, older windows might also be causing heat loss in your home.  If you have an old A-frame, you'll want to look at replacing your windows with more energy-efficient ones to ensure that the heat in your home is not escaping through leaky windows.
If windows are positioned correctly, they should provide solar gain to help heat the home.  If the current windows are not letting in enough natural light, another option is to consider installing skylights or solar tubes on your roof.  A skylight on the roof will let in significantly more light and heat than a vertical window and will make the living space feel airy.
But when considering adding skylights, you'll want to take into consideration other factors.  If you live in a snowy climate, you'll want to ensure the skylights can handle the snow load that you get on average each season.  You'll also need to consider the path of the sun and where it lands in the house so you don't end up with a heat trap on hot days.  Skylights on the south or west part of the roof will generate direct sunlight while those facing north or east may not get any direct sun.
Warm Air Rises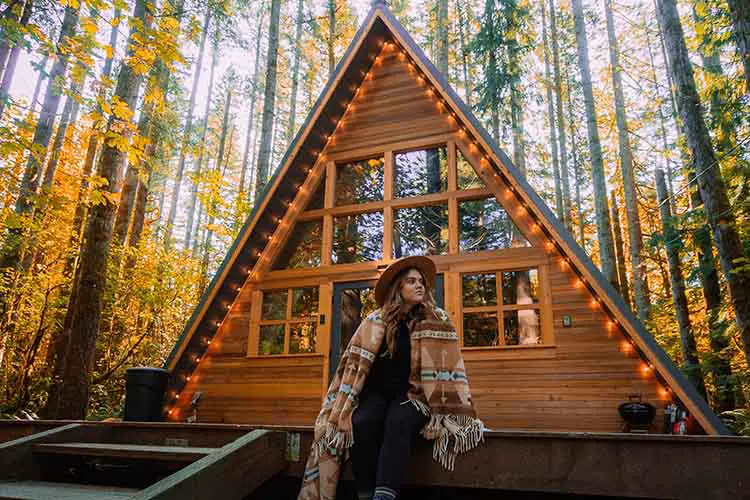 The unique structure of an A-frame means the heat that you're paying for rises to the top, often resulting in the top level of the house – often the bedrooms – being too hot.  This leaves the main living space below not being warm enough. To get the living space to a reasonable temperature, you need to turn up the heat.  It can result in needing to open the upstairs windows to cool off the rooms which of course means a waste of energy and higher utility bills.
One easy and affordable solution is to install a ceiling fan at the top of the home to encourage air circulation and move warm air down from ceiling level.  Using fans to create heat circulation will allow you to save money on energy bills by keeping the thermostat lower.
Insulation
If you bought an older home, you might have inadequate insulation in the home which could result in higher energy bills to make the home comfortable.  Investing in good insulation for your A-frame will be worth the money in lower utility bills for heating and cooling.  Consult with a trusted contractor before considering improving the insulation.
Ductless Heat System
Find a trustworthy HVAC provider to build a ductless heat system to enhance the home's existing heating system. This technology provides heat to those regions that require it but will not overheat other areas of the house. The most common type of ductless heat is wall-mounted mini-splits.
To heat an area, a ductless heat system employs tubing and paneling rather than ducting and vents. It eliminates the need to build and install additional ducting to deploy the panels where they are needed.Furthermore, each panel is self-contained. Homeowners can personalize the temperature control in various areas of their homes in this way.
Ductless heat utilizes less energy than other equally powerful HVAC systems. As an outcome, households that have ductless systems save a lot of money on their utility expenses.
Wood-burning
A wood-burning fireplace or stove is often the focal point of any cabin or vacation home.  But if you have a wood-burning fireplace or stove, you'll want to make sure you are properly maintaining it so you ensure that it's actually heating your house, not leaking heat.
If used and maintained correctly, a wood -burning stove can serve as the main heat source for a home. One of it's many advantages is that it will continue to work if you have a power outage during a storm.
If you don't have a wood-burning stove and have the budget to install one, this can be a great enhancement for your home – both in value and the hours of warmth and enjoyment you will get out of having a real wood-burning fire.
Because a stove needs an outlet to vent the heat when the wood is burned, a chimney is required for any wood stove installation. But if you don't have an existing chimney, it is possible to install one with a wood-burning stove.
Wood-burning stoves are popular when A-frames are situation near a natural fuel source. For instance, if your cabin is in the middle of the forest, then finding wood to burn might be an easy solution.
A-frames evoke a sense of nostalgia and leisure that make them a popular choice for vacation homes.  If you are buying an old A-frame cabin, there are plenty of ways you can make sure it's energy efficient and remains a comfortable and cozy place to host your family and friends year-round.