With the enduring appeal of mid-century modern design, A frame cabins are more popular than ever. A quick scroll on Insta or Pinterest and it's clear to see these iconic structures are trending.
A-frame homes are especially popular among both outdoor enthusiasts and design-minded folks.  They're being sought out be those seeking a primary home or a vacation home that provides an escape to nature and a retreat from the world.  A-Frames provide clean lines, simple, open-plan design and a nostalgia for a bygone era when life was simpler.
A-Frame cabins gained popularity from the 1950's to the 70s in North America and much of Europe. The popularity of the A-frame style in this post-war era was in part due to the higher disposable income of the American population, interest in obtaining a second home, the relatively inexpensive building costs, and a very adaptable style of these homes.
While there are pros and cons of A-frames, in general they are less expensive and simple to build, can be scaled to any size and are energy efficient.  Plus they're just plain cool.
A-frame structures were in such high demand that many companies started to offer prefabricated kits. These kits were available throughout North America, were affordable, could be tailored to the local environment and people's personal needs, and were easy to assemble. They made the dream of owning an A-frame cabin as a second home more accessible than ever.
If you're dreaming of your very own A-frame cabin, you can build it from the ground up or even better, get one of these cool kits to make getting your very own A-frame cabin easier.
What is an A-frame Kit?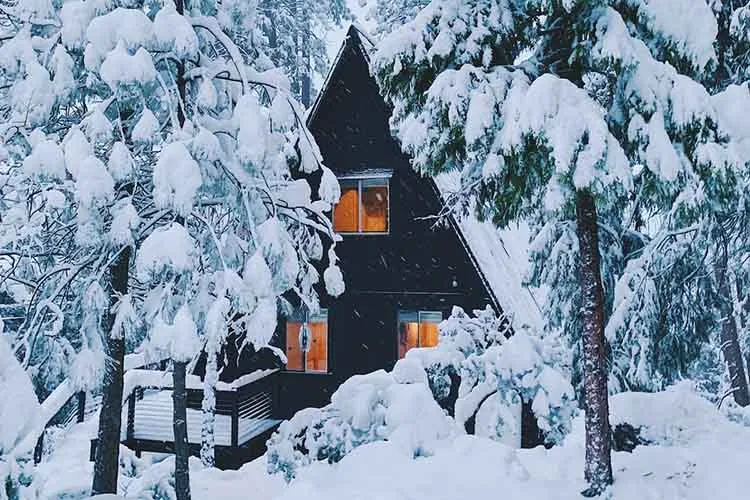 An A-frame kit provides you (or your builder) with the plans and all of the materials required to complete the build.  A good kit should make it easier and cheaper to build an A-frame cabin compared to going the traditional building route.
But kits vary on the materials provided,   how elaborate the build can be and how much you can customize the build.  Kits range from a basic tiny house that can be constructed in a few days to a completely kitted out A-frame cabin with multiple floors that's a more involved build.
Check with your kit provider on what is included and what's not.  Also, find out how much they support the building process before jumping in to make sure you're comfortable with the process.
How to Choose an A-frame Kit
Choosing a kit for your dream cabin comes with a number of considerations:
Size and Function
A-frame kits range from a tiny house to a complete home with multiple levels so consider how your home will be used before choosing. It's easier to build now to accommodate your needs than adding on to an A-frame later.  Is your family growing, are you going to want to accommodate guests regularly? Factor how the cabin will be used is the starting point.
Budget
All kits come with a base price and then you can generally add on from there. So if you're planning a lot of upgrades, do your homework in order to stick to your budget for the cabin. It's always better to round up when estimating costs so you don't have any hidden expenses that you didn't factor in.
Factor in all costs before getting started which should include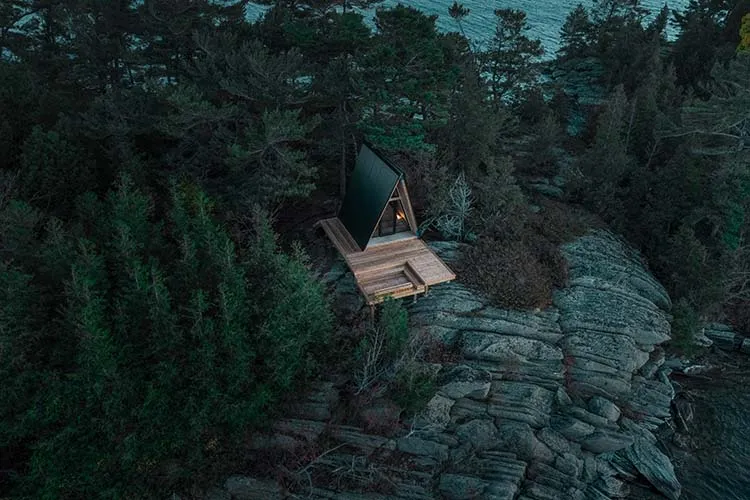 Land
land purchase (if you don't already own it)
site survey and soil testing
clearing and leveling land
foundation work
landscaping
Permits
As with any build, check with your local municipality on what permits are required for the build and what the cost and timing will be to obtain required permits.
Don't take anybody's word for it, even a professional builder, as costs and regulations are often changing so better to do your own research and make sure you factor this into the building process for both cost and timeline.
Utilities
costs for septic and well
or utility fees if using municipality – water, sewer, electric
Customization
most kits come with a base price but you may want to add upgraded items.  These might include front door, deck, fireplace, lighting etc so factor in your wish list and make sure they can accommodate your design.
The Best A-Frame House Kits
The Back Country Hut Company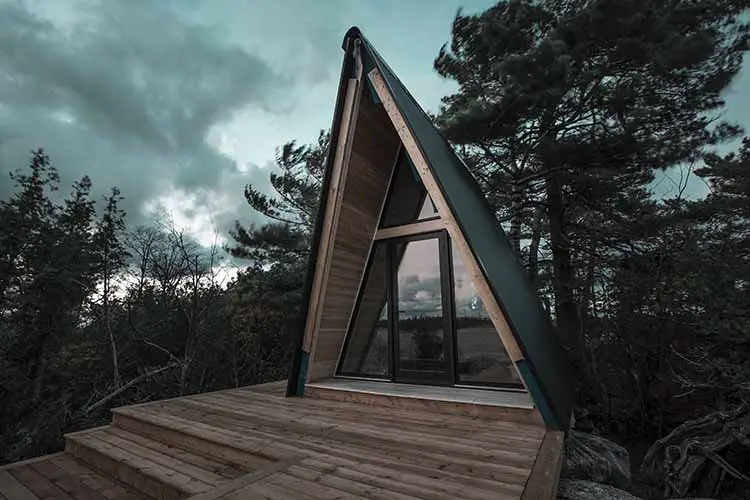 Photo Credit Kyle Chappell
This A-frame is designed to be put together easily on your own with a team of friends (4-5 people recommended) in under a week.  The project comes with step-by-step directions and doesn't require heavy machinery.
Not only is it beautifully designed, but we love the company's philosophy of zero-waste in the design which includes using environmentally-conscious building materials, planning efficient uses of space and energy, and delivering a product that makes a minimal impact on the landscape.
Based in British Columbia, the company can ship this kit in pre-cut, flat pack throughout North America.
Base Price: $56,495
 

View this post on Instagram

 
Den Outdoors
Build an A-frame based on your desired size and budget with Den Outdoors, where you can customize your build.  Their cost calculator will keep you in check as you create your dream cabin.
The cabins are thoughtfully and beautifully designed. They have a team of experts on hand to help you create your perfect place.
If you're not ready for the full cabin build, they also have a range of A-frame cabin plans that you can purchase.  Plans start with  the smaller A-frame bunk house plan for $99 to the family retreat for $599.
 

View this post on Instagram

 
Bivvi Camp
Not a kit, but. a ready made cabin. If you're lucky enough to live in Oregon, Washington or California, this Oregon based company can deliver a fully assembled A-frame.  How cool is that?
The company name Bivvi is derived from the word "bivouac," defined as a small temporary shelter that can be easily packed and deployed in the wilderness.  This was the company's inspiration for this turn-key cabin that is delivered ready to use.
You can even order a cabin on a trailer which is considered a recreational vehicle, thus avoiding the time and money involved in the permit process of a permanent build.  The trailer has a removable hitch so you can skirt the cabin and make it appear more permanent. This makes them perfect for outdoor enthusiasts who want something seamless and convenient.
Base price for the Bivvi Cabin is reasonable – starting at $19,000. Note: trailer and optional add-ons not included.
 

View this post on Instagram

 
Avrame delivers full kit homes in 3 different size A-frames depending on the size and budget you have.  Choose between the solo, duo and trio series.  The Solo is a small (read adorable) cabin that has a ground floor and a compact loft area or the larger Duo or Trio models.  The Trio comes with a second floor.
You can design your home based on your budget and needs ranging from a small guest cabin to multiple bedrooms.
Advantages to the Avrame kits are they are available to ship worldwide and can be built off the grid with solar panels. These efficient kits minimize your environmental footprint while maximizing your lifestyle.
 

View this post on Instagram

 
MADI is an innovative company that delivers modular A-frame design – flat packed and transported.
The smart homes come in one to three bedrooms and are cost efficient with prices ranging from 60-145K with additional fees for site inspection, foundation, delivery and installation – all of which they handle.
They offer high energy standards with solar panels
With offices in Switzerland and Norway, they ship all over Europe but accept enquires for other countries.
 

View this post on Instagram

 
Nolla
The nolla cabin is the world's first carbon negative Glamping cabin.  Nolla – which means "zero" in Finish refers to using only sustainable materials for a positive environmental impact.  It's a tiny but mighty design – at just 97 square feet.
The simple design of the Nolla cabin makes it easy to construct and transport.  No heavy machinery is required and a few people can easily put it together.  It can be erected in just about any terrain without permanent groundwork, making it perfect for many environments.
Depending on your budget and needs, any of these kits can bring you closer to your A-frame dreams.